Gabba gabba we accept you, we accept you, one of us! I've been compliant with
the rules
(laws of Germany,be nice to mommy,don't talk to commies,et al)as far back as I can remember, and thusly, have been rewarded by many years of punk-fueled four chord auditory bliss for my efforts.Face it, if you don't dig The Ramones, then perhaps your taste in music needs a wake up kick-in-the-skull.
It's lucky for us then, that director Arkush and co-writer Joe Dante revised their "Disco High" production to center around the seminal punk icons from New Yawk and not some ensemble of 'froed jackasses decked out in J.C. Penny's fall 1978 line on a light up discotheque floor.Not for
this
movie, anyway.As it stands, School is top shelf cult comedy with memorable turns from the always adorable P.J. Soles, Clint "Have some Tranya..." Howard, former child actor Vince Van Patten, director Paul Bartel, Mary Woronov,Corman reg Dick Miller, and The Ramones themselves, some tits FX work from maestro Rob Bottin, and a killer soundtrack featuring the legendary MC5, Eddie and the Hot Rods, Alice Cooper, V.U., and Brian Eno.Apart from the hokey chowderheaded humor painted on with heavy hands throughout the movie, there's a time capsule feel that brings you right back to the late seventies; custom vans, tube tops, satin baseball jackets, if you were alive back then, you know the drill.Everything about this movie, a cult classic of the highest order, is crazy good on your constitution.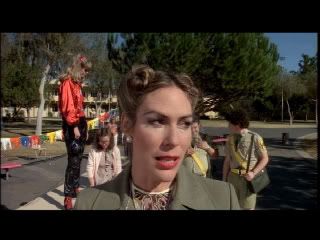 Principal Togar(Mary Woronov)breaks more balls than Jackie Gleason in The Hustler.
The year is 1980 and Vince Lombardi High has just welcomed the latest in a long line of would-be principals(they all suffer nervous breakdowns, it would seem), a castrating, totalitarian bitch with ice water in her veins named Evelyn Togar(Mary Woronov).Standing in the way of Togar's New School Order is rock/roller, Riff Randall(P.J. Soles), also the most fanatical of Ramones fans the world has ever seen.She's constantly hijacking school audio equipment and blasting Ramones tracks over the loudspeakers, causing the entire student body to suddenly burst out in uncontrollable dancing.Randall is being stalked by socially retarded prep-dork, Tom Roberts(Vince Van Patten), who is, in turn, being stalked by Randall's best friend, brainy wallflower Kate Rambeau(Dey Young).Both crushers visit Eaglebauer(Clint Howard), who's got an office just past all the pot smoke in the boy's room, for hook up help, while Randall camps outside the Ramones upcoming venue(where she hopes to lay a new song she's written, aptly called "Rock 'n' Roll High School" on the band) for three days to buy tickets for herself and most of the student body.Togar is aided by two portly hall monitors, Hansel and Gretel, who assist her in showcasing the damaging effects of rock n' roll on laboratory mice to the music teacher(my only argument here is
The Nuge should have been much higher
on the Rock-O-Meter), McGree(Paul Bartel) and the gym teacher, Coach Steroid(Alex Elias), while Randall leads the girl's gym in an impromptu rendition of her song.After Togar jacks Riff's tickets, she retreats to her bedroom to self-medicate with a phatty jibber, and daydreams that The Ramones are playing to her.
Three of my favorite food groups all in the same screenshot.
Randall and Rambeau score another pair of tickets off of Screamin' Stevens'(Don Steele)radio show at the last minute after setting up a van date(I need to get me one of those vintage bad boys) that night with Tom and Eaglebauer.At the show, Riff's attempts to get her sheet music backstage to Joey and company are thwarted by overzealous groupie, Angel Dust, and the band's manager.McGree shows up in a French pee-pee hat, pogoing next to a giant rocked-out mouse-turned-Ramones-fan.Eaglebauer and Tom show up and foil Dust's hasty getaway with Riff's music, as Tom decides that it's really Kate he digs afterall.A furious Togar hears Riff on the mic at the show, and calls the parents to schedule a Ramones record burning which causes the entire student body to rise up and take over the school, chucking filing cabinets out the windows and spray-painting graffiti on the walls.The Ramones arrive on the scene and play amidst the chaos, giving Riff a signature leather jacket, making her an honorary Ramone.Togar calls in the police, and when the chief(Dick Miller) calls for an evacuation of school property, Randall and friends exit the premises with a trick up their sleeves.The Ramones play the title track in front of the crowd of police and dismayed parents as Riff detonates bombs that Kate built in chem lab, blowing the entire school up and adding Togar to the growing list of basket case educators."Now that's what I call 'anarchy'!" as (P)Rik used to say...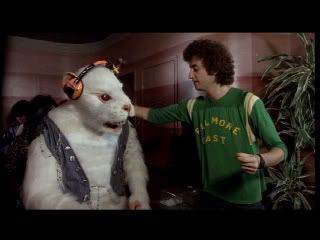 "Listen, Bottin, you can dress in as many giant mouse costumes as you want, you still gotta pay the cover charge, pal."
Everytime I hear Ramones classics like "Blitzkrieg Bop", "Sheena is a Punk Rocker", "Teenage Lobotomy", or "She's The One", it always takes me back to the good 'ol days at venues like CB/GB's, The Rat, TLA, E Factory, The Pipeline, Coney Island High, Stalag 13, and some others across the east coast I used to dig going to.As a lifer, I still never completely rule out a good circle pit now and then.Anybody who's ever taken the rebellious route in life, even for just a moment, will appreciate this movie for what it is.Loud, fast, and fun.On the scale, a perfect four Wops and my highest recommendation.Togar eats it!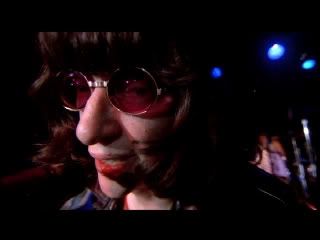 At least Joey's grill-cam didn't catch him at an unflattering angle...Ahem.Yeah.