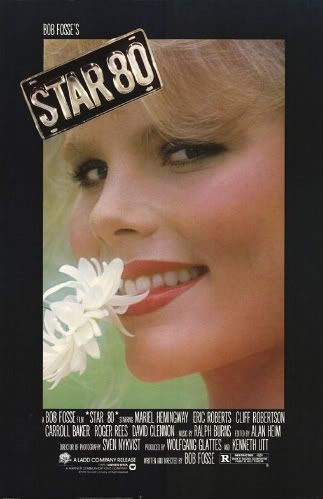 The story of Playboy's 1980 Playmate of the Year Dorothy Stratten is a sad one.The natural blonde knockout with the face of cherubic epiphanies and the body of Messalina had her meteoric rise cut tragically short at the age of twenty by her estranged husband and manager, Paul Snider, a small-time low life, who spent his days hustling, pimping, and organizing promotions at clubs in Vancouver before sinking his fetid talons into the part-time Dairy Queen worker he used to refer to as "his rocket to the moon".Two motion pictures were born out of the sordid tale, "Death of a Centerfold"(1981), a made-for-television feature starring cult scream queen, Jamie Lee Curtis as Dorothy, and this effort from Bob Fosse, the writer/actor/choreographer/director responsible for iconic mainstream movies like Cabaret(1972), Lenny(1974), and All That Jazz(1979), which starred Mariel Hemingway as the young starlet.Hemingway even went as far as breast augmentation surgery before shooting started, but later claims she didn't do it for the film's sake.Director Peter Bogdanovich, who began an affair with Dorothy shortly before her death, is referred to as "Aram Nicholas" in the film, though Playboy founder/publisher/CCO Hugh Hefner is portrayed by film vet Cliff Robertson.Hef later sued the film's producers and Bogdanovich, frowning upon the negative chicken hawk vibe his character exudes in both the movie and the director's book on the subject.Though I've yet to receive my first invitation to the Mansion over here, I'll never shit on the dude, as his eye for beauty certainly coached me through those difficult years of puberty.As for tonight's entry, Hemingway fails to capture Sratten's drop dead gorgeous looks, and the whole production would've been a dud, were it not for an amazing, over-the-top Eric Roberts, who's tangible cinematic sleaze is so thick here, you might find yourself getting itchy just watching him.Let's boogie.
"Even if ya don't shign the conshent formsh, I can shtill forge yer shignature, Charlie..."
Innocent high school sundae-slinger, Dorothy Stratten(Mariel Hemingway) crosses paths with street-level shyster Paul Snider(Eric Roberts) while putting in a shift at Dairy Queen, and is instantly swept off her feet by his constant attention and lavish gifts.He proudly takes her to her prom garishly garbed out in a powder blue frilly tux, jealously shanking one of her ex's in the leg-meat with a pocket knife in a dance floor crowd.Before too long, Snider's snapping nude polaroids of her in seedy motel rooms and sending the finished product off to Playboy magazine, against the wishes of Dorothy's mother(Carroll Baker), later even forging her signature on consent forms.Hugh Hefner(Cliff Robertson) is instantly taken with her unique look, inviting her to become a centerfold for his magazine, and giving her a job as a Bunny in his club.Snider starts siphoning positive energies and cash flow from his host/girlfriend, buying expensive clothes, cars, and houses for himself while trying to make in-roads at the mansion, where his sleazy veneer is apparent to just about everybody.As Dorothy's star continues to rise, appearing on television shows and scoring bit parts in movies, her male counterpart becomes more codependent on her, eventually pushing her into a hasty marriage, amidst the protests of Hefner and company.Soon, Snider realizes he isn't a passenger on her bullet trainride to success, and his floundering business endeavors(Hey, I dug the cool fuck-bench he built) leave him bedding whores on broken promises and even taking Dorothy's little sister out, for... future business possibilities?Ahem.
Mariel as Dorothy Stratten vs. the real Dorothy Stratten.No contest.
Dorothy finds herself in a swirling vortex of raw emotion, realizing her husband/manager is a small-time hood, yet feeling surrounded by similarly-minded Paul clones behind every camera and fake smile, and somehow, maintaining a twisted sense of loyalty to Snider.All this comes to a head when she's interviewed by film director Aram Nichols(Roger Rees), who casts her in his latest movie.Snider grows more and more possessive and jealous as she's forced to spend long hours on the film set, where she and the director find themselves entering into a torrid affair.As she grows closer with Aram, she puts distance between she and Paul, moving in with Nichols and filing for divorce from Snider, who's hired a private detective to spy on her and bought himself a shiny new shotgun.Hmmmm.Despite pleas from Nichols for Dorothy to stay away from Paul, she gives in and arranges to see him at their former residence, which Snider has morbidly decorated ceiling to floor with pictures, posters, and cut outs of his ex.She offers him half of her worth in exchange for the divorce, but Snider is too beside himself with self-loathing and bitterness to agree to any amiable breaks.He begs her not to leave, threating to commit suicide while mistaking Dorothy's concern for pity or charity, which angers him even further.He becomes furious when Dorothy starts disrobing, fucking her roughly before putting the shotgun barrel to her head and squeezing the trigger.He props the naked and lifeless Playmate of the Year up on his custom fuck-bench and penetrates her again, before turning the gun on himself, and spraying the photo-covered walls with brain matter.A flashback shows the innocence and charm of the starlet during an earlier interview as the credits begin to roll.
"Sho that'sh the way it'sh done around here, ishn't it??!!"
Coincidentally, the final murder-suicide scene was filmed in the actual bedroom where the events took place.Though the real-life Paul Snider must have been one fuck of a turd to deal with, I'm forced to see director Peter Bogdanovich in the same grimy light, as, after Dorothy's death, he married her little sister who was twenty-nine years his junior eight years later.Cut from the same cloth, methinks.Roberts, on the other hand, does a bang up job as the selfish Snider, exaggerating his gestures and expressions for the camera as only
he
can, and ultimately providing the most entertainment of anyone involved.A fascinating story, handled relatively well by Fosse, using the same style editing as his efforts "All That Jazz" and "Lenny", and a must-see for any genre fans if mainly for Roberts' incredible performance.On the scale it earns a solid two big ones.Look for it.
Yeah, leave the Swiffer in the kitchen, I don't think it's gonna cut it this time.