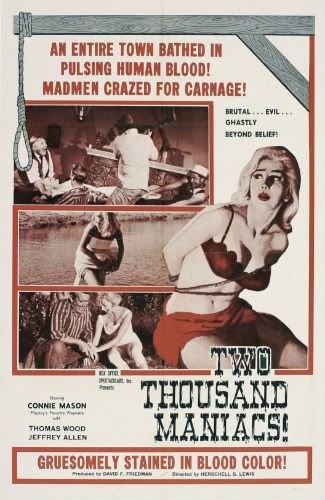 In the early part of 1964, the 'Godfather of Gore', Herschell Gordon Lewis followed up his wildly controversial pioneer foray into explicitly violent drive-in movies, 1963's primitive splatter opus,
Blood Feast
, with tonight's entry, a more urbane and imaginative affair that deals with a town full of Confederate ghosts seasoning the centennial of their brutal massacre at the hands of Yankee troops with violent retribution and rebel yells.With an alleged budget of sixty-five thousand dollars and the effervescent participation of the
entire
town of St. Cloud, Florida, Lewis triumphantly succeeds in creating a more jocular, piquant viewing experience this time around; Maniacs would be the second film in Lewis' "Blood Trilogy", and the second to feature Bill Kerwin as the (aging) male lead opposite to Playboy's 1963 playmate, the scrumptiously nubile Connie Mason.Amazingly, the director avoids the obvious race angle altogether, with nary a colored fella to be found among the supporting cast.Of course, it's
still
an H.G. Lewis movie, through and through, with buckets of unconvincing grue splashing mannekin limbs and a cringe-cajoling familiarly amateur vibe permeating the production, but it's light fun, and stands as Lewis' own favorite of his films, and mine, too, if anybody's keeping score out there.Even the soundtrack, which includes some upbeat country/bluegrass thigh-slappin' humdingers from 'The Pleasant Valley Boys'(and a theme crooned by H.G. himself!), is upgraded this time around.The South
does
rise again, only it's from the grave to exact bloody vengeance from the descendants of Union forces here, resulting in a rip-roarin' good time to be had by all.Forwards!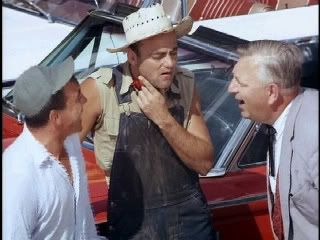 Those Pleasant Valley boys got them some good 'uns.Dogged if they don't!
An impromptu roadblock leads six northerners into the center of rural Pleasant Valley for its centennial celebration, unaware that their backwoods hayseed hosts have targeted them for violent retributive death for having license plates from states on the
wrong
side of the Mason/Dixon line.Mayor Buckman(Jeffrey Allen) informs the unsuspecting Yanks amidst much forced-sounding Southern drawl, and a-hootin' and a-hollerin' from Lester(Ben Moore) and Rufe(Gary Bakeman), his drawer-draggin' constituents, that they're guests of honor for the event.The adulterous Bea and John Miller(Shelby Livingston, Jerome Eden) are too busy flirting with their favorite confederate locals to effectively scrutinize the fucking pickle they've just gotten themselves in.Beverly and David Wells(Yvonne Gilbert, Michael Korb), a Wonderbread couple from the North, are equally Lethean to their inexorable fortunes.Only the beautiful blonde, Terry Adams(Connie Mason) and her aged ride-thumber, Tom White(William Kerwin) are the slightest bit circumspective of their abrupt hospitality at the hands of the good ol' boys.Harper(Mark Douglas),a firm believer in common household rope as a clothing accesory, lures Bea out to the woods for a discreet session of extramarital make outin', and after playing "Feel that blade!" with her, laughingly lops her thumb off.Her severed arm provides the comestibles at that night's barbeque by the fire, where Betsy(Linda Cochran) moonshines up Bea's husband, John, who finds himself tied to four horses all galloping in different directions.We like to call that "drawing and quartering" in these here parts.Despite the Millers' sudden disappearances, Buckman's reluctance to explain the necessary Yankee ingredients in the reb-celebration, and an inability to get an outside telephone line in the town, Terry and Tom
still
haven't figured it all out.
Harper(Mark Douglas) done tole ya thet knahfe were sharp.
The next day, a recalcitrant David is dragged out to participate in the "Barrel Roll"; only after he's forcibly held inside the barrel does he notice the nine inch nails being gleefully hammered into his wooden prison.And then there were three.Beverly whimperingly judges 'Ol Teetering Rock, which Rufe dislodges from its tentative roost with a good curve ball, sending the massive prop crashing down on the tearful Yankee, permanently removing her from the equation.Finally, it all dawns on the two remaining Union descendants:This is a revenge-fueled centennial where the northerners provide a
blood sacrifice
.Really couldn't figure that one out a little sooner, kids?Tom brains one of the Bufords guarding their rooms with his own acoustic twanger, grabs Terry and an annoying cat-lynching, confederate brat version of 'Dennis the Menace' named Billy, who divulges the yank's convertible key whereabouts in exchange for candy and a chance to
draaaaaaahve
the car.During the scramble to recapture the last guests of honor, Harper unwittingly quicksands himself.The would be vics ditch the young loudmouth and drive directly to the local sheriff, while Buckman and co. start dismantling all evidence of their celebration.When our heroes return to the scene of the crime, the entire town has vanished with an empty, swampy marsh in its stead.They find a large rock with a memorial plaque paying tribute to the denizens of Pleasant Valley who were brutally massacred by passing Union troops some one hundred years earlier.Elsewhere, the ghosts retrieve Harper from the bog, and ponder what the next centennial will bring.Tom discovers Billy's toy noose still hanging off of Terry's rearview mirror, proof that it
really
happened.The two yankees drive off, vowing never to take a detour again.You said it!And how!Boy, I'll say!Okay, I'll stop...
Well, you could just about rub me with stick butter and call me hominy grits!
The 82 year old Lewis continues to churn out cheezy B movies to this very day, with a fueled resurgence in popularity spurring on such titles as Blood Feast 2:All You Can Eat(2002) and The Uh Oh! Show(2009), and marking his return to the exploitation world after a thirty year absence.Personally, I prefer his old stuff, as it was more daring and shocking the first time around, while his recent material just seems to come off as rehashed nostalgic leftovers served up as fan boy-fodder.He followed tonight's entry up with Color Me Blood Red(1965), his last foray into gore before tackling the vampire mythology the following year with A Taste of Blood.We'll examine both of those movies here at the Wop at a later date, for sure.Whether you're a-layin' 'round the shack 'til the mule train comes back, or rollin' in your sweet baby's arms, Maniacs is a
Pleasant
eighty-seven minute excursion to the
Valley
, and with a top mark two wop score on the rating scale, it stands as H.G. Lewis' finest.Y'all check it out now, hear?
Ol' Teeterin' Papier-mâché claims another centennial victim.