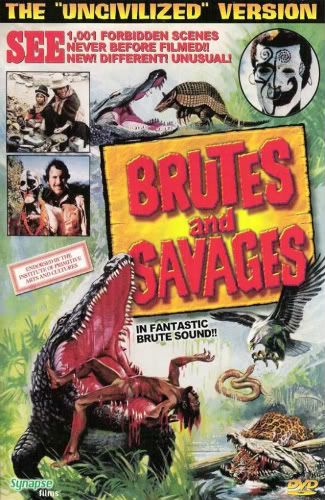 In the midst of a heatwave, with temperatures still at a sweltering 101F at eight pm tonight, your humble N is sweating like Oprah Winfrey wearing a full-length sable on an elliptical trainer during the scirocco in El Azizia.To break the streak of three straight four wop movies, we focus our collective lenses upon what looks to be another Italian mondo documentary upon first glance, but is little more than a cheap British clone of little renown and even less scruples, that's guaranteed to disappoint regardless of what you came into it expecting to see.First(and
only
, thankfully)time director Arthur Davis promises "1001 forbidden scenes", but delivers "Let's see how many different animals we can throw to the alligators in ninety-one minutes" instead.For serious.Davis plods methodically from one boring South American Indio sequence to another and before the entire production dies a slow and unnatural death, he peppers in staged animal cruelty, and, in at least one seam-ripper of a resounding failure, a phony animal attack that's sure to have you rewinding and laughing out loud at least twice before you frisbee the cursed thing across the room and ragefully call for the heads of all persons responsible for this dismal Synapse release with the misleadingly choice cover art that you paid good money for.It consternates me that soundtrack maestro Riz Ortolani and Richard (Dr. Menard from Fulci's Zombi 2(1980))Johnson lent their presences to this ignoble lampoon.I opted to pass on the Synapse "Special Edition", as my custom DVD burn from the long out-of-print MPI VHS print is all I'll ever need to see.I suppose a synopsis is due.Onwards!
Truth in advertising, my cock.
After the film's producers have the cazzies to flash the words "A Factual Report" across the screen, and a snazzy disco beat(that I'm sure I've heard ripped off in one or more Bruce Li z-grade chopsocky epics) is dropped by Riz Ortolani, we see a montage of unrelated images:Indios-in-Spin-Doctors-hats in canoes, a leopard forced into pawing a wild boar, a snarling cougar, a lanky black dude with a spear in enough theatrical grease paint to choke Marcel Marceau, a cougar pouncing on a bunny, some Yanomamos in a canoe blowdarting a monkey then chucking it onto an open flame before the voice of Richard Johnson leads us to South America, where Davis' "expedition" is about to take place.First we see Arthur Davis and his meatslicer haircut and porn 'stache cozying up to Inca authority Dr. Sanginas, who's gonna chart out the Andes for the foreigner's cameras, and apparently also gonna let Davis choice of a gaudy and wide lavender tie slide just this once.More Inca descendants fishing around swampy reeds in canoes.Next, all lovers of the llama should probably skip ahead in the review, as a head's up.You aren't gonna groove on the next sequence.As a religious event on the Inca calendar, everybody dons their best colorful gypo duds and blow flutes, marching in circles on the beach.A heavyweight Indio gal is primped and preened by the men in the cowboy hats, and it is noted that not long ago,
she'd
have been the sacrifice.An ornately decorated and unsuspecting llama is brought to shore in a reed boat, after which all its limbs are held down in the sand while it's throat is cut and heart is pulled out, still beating, from it's chest.Then we're treated to more shantytown footage than they'd use in a Desmond Dekker and the Aces video.Then a brown-skinned peon with some lax dental habits lays carnal waste to a native virgin in a Sabrina the Teen Witch headband while swaying in a hammock.Some might say he laid the pipe,
Tracie Savage
of Friday the 13th Pt.3 in 3D fame would probably vote for the hammock.
"If youuuu...wanna bring me llama hearts...then go ahead nowwww", sing the Spin Doctors in their latest failed comeback attempt.
A juvenile opposum survives a constrictor's venomless strikes only to get its eyes pecked out by an eagle's beak.The bird then grasps the lifeless rodent by its eyesockets and flaps off.Then a hawk makes a meal of a snake, then an alligator chomps one down like writhing live spaghettoni.A juvenile anaconda is coerced into getting snapped down the throat of another large alligator.WTF moment:"When an alligator mates with a crocodile, the offspring is usually a very vicious monster."(When the fuck would that be, since the species don't interbreed like, ever?)Next an armadillo is thrown to the alligators, and we're forced to watch it get crushed in the reptile's formidable jaws.Then some blacks in gresepaint eat raw fiddler crabs and cross a river until an unbelievable alligator hand puppet(
why
would you substitute something so hokey and fake for an animal you've wasted half the length of your documentary showing?) attacks one of the slower tribesman and through quick cuts and splashing around, is shown to have lost a hand and been maimed by the phony prop.A boring coca leaf farm is followed by equally snore-inducing sheepherding set to the groovy theme music.Out of nowhere comes some impromptu brain surgery footage.Also pretty yawnable.Then we see some pornographic Inca waterbowls with various sex acts depicted upon them.Just when we thought they'd exhausted their staged mondo alligator footage, a mortally wounded jaguar is then thrown to a gaggle of sizeable alligators.Back to the llamas, who are getting it on for the cameras.Finally, two Indios in Spin Doctor hats pretend to bugger a llama from behind.Johnson remarks that violence lurks in all of us, and so does the 'brute', and so does the 'savage'.Then, thankfully, it's all over.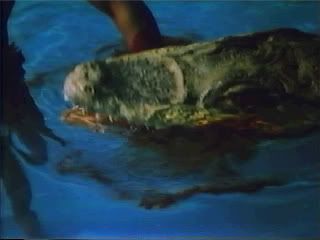 "Mom sees that alligator hand puppet and food dye in the pool, and she's gonna cream ya, Beav', you kook."
Usually a legit shockumentary is packed with enough gritty reality to rend it difficult to watch at certain points, while a hoke-u-mentary is stuffed full of boring filler material, staged hokum, and grainy death camp footage you've seen a hundred times before, making it difficult to watch for all the wrong reasons, and Brutes is no exception to the latter, minus the WW2 sequences, thank the gods.This entry is a piss-poor example of the subgenre, and one that should be avoided at all costs, unless you're an sadistic alligator enthusiast who always wondered what it'd look like if you chucked helpless animals to their watery graves at the jaws of these brutal reptiles.I never really fit into that category, myself, so I give Brutes a very disappointing one wop on the rating scale.Skip it.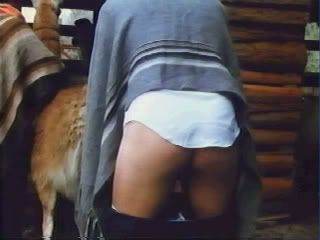 See! Backwards stonatas unashamedly give it to llama-caboose simulatedly!