There's sex, there's drugs, there's wine, there's women, there's fun, there's sin as I think we're yearning for Japan-sleaze tonight here at the Wop, and where better to turn than the exploitative underground lens of Kazuo Komizu, responsible for three of the more notorious examples of eighties gorenography from the land of the rising sun.Komizu, who's credited as 'Gaira' here, had been previously working in the genre known as pinku eiga, a mostly flaccid softcore style of sexploitation films, notable for irksome genital fogging, a four nude/sex scene quota per the brisk sixty minute run time, and economical budgets.As the exhausted slasher subgenre turned towards frank portrayals of sex, Gaira in turn injected cheap-yet-explicit gore into his erotica, and helped create what would come to be labelled "splatter eros", first with 1986's Shojo no harawata, internationally known as Guts of a Virgin, a crude/rude little effort that developed notoriety during the bootleg VHS trading heyday of the late eighties, then with the follow up, Entrails of a Beautiful Woman, or Guts of a Beauty.With his sophomore outing, Gaira strayed diminutively from what succeeded(and ultimately failed)in the premier movie, ladling even more misogyny and amateurish splatter into the monstrous mix, bound together and embellished by a more contemporaneous(slightly!) plot, making for a more satisfying result in the end.Though most of the initial shock value of the film has diminished with the current onset of torture porn in the industry, Entrails still manages to maintain a qualmish green about its gills, playing out like a twisted live action hentai with enough harrowing imagery to sate the more jaded proponents of vile viddying.Forwards.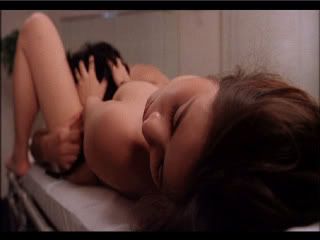 When consuming raw clams, using your fingers is perfectly acceptable.
We're introduced to a small-time Yakuza mob setting back the equality of the sexes movement a few centuries by heaping abuse both verbal and physical upon a terrified young girl named Yashimi in a desolate warehouse before acrobatically tag-team raping the poor dear(at one point thugs one and two suspend her in mid-air by her thighs and manually bounce her on number three's kendo stick of love) and finally jabbing her with a powerful cocaine variant called "Angel Rain", which only serves to transform the gal into an insatiable nymphomaniac.I guess it could be effectively marketed as an antidote for
not
becoming an insatiable nymphomaniac?Anyway...Amidst her wanton fuck-lust, she manages to somehow abscond the grasp of the two-bit criminals, lurching through the halls of the vacuous Aquarium clinic nearby, where a nurse-cum-psychologist on duty(she seems to be the only employee, too) named Hiromi tries vainly to tend to her failing health to no avail,as the yakuza's former chew toy swandives to her melon-esque demise from the building's rooftop.With Yashimi's sordid tale of mobster savagery(apparently, they also sold her
sister
into slavery...thorough bastards, this lot) fresh in her mind, Hiromi sets out on a path of vengeance by masturbating/hypnotizing(!) one of the lower level members named Higashi into offing all the other gang members when he returns to the clubhouse.A few latex slash applications later, it's plain to see that this plan didn't go according to specs...
"Run the analgesics, Fuji, I feel a trigeminal autonomic cephalalgia coming on!"
Higashi is viciously prodded with metal rods n' whomped by his former partners-in-organized-crime into divulging all concerning his hypno-happy ending from Hiromi and calling her afterwards to falsely inform her of his successful elimination of his colleagues, who set upon him at the warehouse garbed solely in plastic yellow aprons while they howlingly smash his agonized frame into little pieces.Hiromi, thinking she is meeting Higashi at the club, doesn't even get to taste her spiked highball before exchanging words with the impotent yakuza boss, who says, matter-of-factly,"We can't live without doing awful things."At the warehouse, his flunkies strip and hit her from the top and bottom while his oversexed arm candy(she gives a silhouetted blowjob to a blatantly rubber wang early on) stimulates herself with his uninterested digits.Then, the third crony pops a zoned-out Hiromi in the keester while she's forced to perform cunnilingus on the boss' squeeze, biting her goodies in sexual protest.Afterwards the ravaged woman is dosed with Angel Rain and her lifeless body is to be dumped together with Higashi's bits, but the super dope unexpectedly transforms the corpses into one helluva inside-out looking hermaphroditic hell spawn, bent on retribution, and packing both male and female monster naughty bits.One by one, the yakuza are graphically eradicated(the beast's gnashing phallus explodes out of the boss's gal's ribcage a la Alien(1979), a bald thug is snapped backwards, another goon's facial features are obnubilated when his dome is smashed against a wall, and finally, the boss himself is asphyxiated when the monster stuffs his entire head into its slimy vadge) until Hiromi, alone, is left to build a mountain of super coke on her desk, snorting to her heart's content, writhing around in her panties on the floor, and transforming back into the creature.That's a wrap...
Prickzilla, awful from the crown to the base, about to harpoon itself some face.
The folks at Synapse graciously released both of Gaira's whacked out exercises in softcore sex and graphic violence on disc, with a brief interview clip on the Entrails effort where he cerebrally explains the inspiration behind such films with nods to philosophers like Rousseau and Descartes, Japan's lack of focused religion, and even man's duality, of all things!Though my descriptions of what transpires here may sound pretty extreme(and they
are
, but in a fun way, if that makes any sense), nothing here is as visceral or sickening as what you'll encounter screening the Guinea Pig series.Instead, watching rising sun craziness like this will instantly transport you back to the gore-splashed, anything goes eighties, and that's
always
choice, no?Tonight's entry is dedicated to Aiko, as deranged as she is beautiful.On the scale, two solid wops.Look for it.
Her heinous hookery has left her boogers perma-sugary.