Ah, the politically charged era of early to mid seventies America.Though I would later go on to invest enough of my own time addressing affairs of state, I was luckily only four years old when Tricky Dick resigned from the Presidential chair amidst the Watergate scandal, giving rise to Machiavellian satire from both sides of the civic spectrum.I don't lend too much credibility to
either
camp these days, as you'd have to be a nescient protozoan to believe that either conservatives
or
liberals have the interests of the nation's citizens in mind beyond seizing or maintaining power for themselves.I'm wearily uninterested in blatant hypocrisy and empty rhetoric over here.I like horror movies.
Naturally, it was only a matter of time before someone blended tongue-in-cheek political satire with drive-in level horror, and that someone turned out to be native New Yorker Milt Ginsberg, who, afterwards, would coincidentally never direct a full-length feature again.A pity, as tonight's effort turned out to be an offbeat, topical, and extraneous little flick, made all the more watchable by lead actor Dean Stockwell, who's always been a favorite of mine.He turns in a performance that's equal parts reservation and chuckle-worthy physical comedy as a hopelessly cursed press secretary destined to dine on politico windbags when the full moon rises(
five
nights in a row, apparently, consult your 1973 Farmer's Almanac, woprophiles).As far as the synopsis goes, my fellow Americans, let me make myself perfectly clear...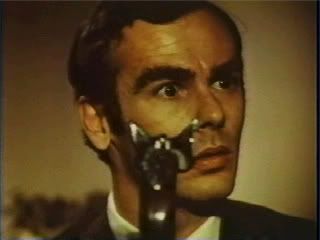 Jack(Dean Stockwell)'s familiar walking stick, for those moments when his feet are howling.Sorry.
Through a voiceover, we're introduced to Jack Whittier(Dean Stockwell), a rising star in the Washington press corps who pounded the President's daughter's vadge and took an assignment in Budapest to avoid the fireworks back home.The Prez, unaware that Whittier was horizontal bopping his little girl, offers him a job as a press aide, assuming he was banished for his political views.Meanwhile, back in gypo country, Jack examines a cane with a silver wolf's head with his side piece, Giselle(Katalin Kallay), and ponders its purpose."You mean you don't know?" she responds.On the drive to the airport, he nearly hits a man on a motorcycle, and is run off the road.When the car won't start, he infiltrates a local gypo camp for help.They don't help.Giselle is caught facing down a wolf in the night fog when Jack arrives in the nick of time to wallop the beast with his new silver cane, getting bitten in the chest in the process.A dead gypsy lies at his feet.The local constabulary is uninterested by his wild story, telling him that no one has been reported missing, and that he should go.Outside he and Giselle encounter the head mother of the gypsy camp, who tells them that he has killed her son, who wanted to die anyway.She blames it on the pentagram."Ah!The Pentagon is behind this!" he exclaims.The woman then explains the mythology behind lycanthropy, and gives him a charm to wear over his heart.Cut to a POV shot from inside a toilet, where a tuxedo-adorned Jack abruptly flushes the gypo charm.Outside at a formal party, the President(Biff McGuire) informs Whittier that he'll be a press aide for the Attorney General, and that he should work on Judge Captree's wife Martha, whose lip-flapping will damage her husband's chances of getting appointed to the Supreme Court.He notices a primitive pentagram that appears on the woman's hand via jump fade.After the party, she drunkenly shuffles past some storefront windows(walking alone at night in D.C.?You gotta be kiddin' me.)and hears some ominous growling.She screams.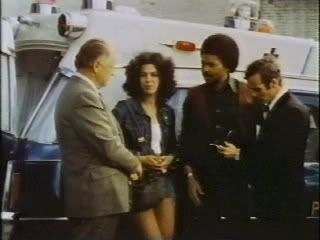 "Nahhhh, it was a weerwolf, you raciss pig!"
While the Prez barters with a news publisher(Jacqueline Brooks) over Captree's appointment(since when do publishers vote on Supreme Court appointments anyway?), when Jack glancingly notices a pentagram on her hand.That night she pulls into a gas station, completely oblivious to the fact that she's got a werewolf on the roof of her car.Cue that good ol' seventies slo mo terror.The next morning, the gas island is swarming with investigators, and a black couple is being questioned.The Atty. General(Clifton James) subverts all of their answers with humorous black nationalist suspicions.Jack inspects the girl's palm and tells them they'll be locked up or assigned some FBI protection.Hmmm, press aides wielded some kinda power back in the seventies, huh.Jack later tries to inform the Prez about the murders and that he wants a guard on himself, but he shrugs it off and turns up his game on tv.His convo with a psychologist is equally fruitless, and he's soon transforming via forties-style time lapse photography into the snarling beast once again.He attacks the black couple, trapping the woman in a tipped over phone booth, but is shot by an FBI agent guarding them, and runs off.Later, in a war room meeting, the president says, "Now about my plan to recognize Red China…"Everyone laughs.During the pow wow, Jack's been secretly metamophosizing, and excuses himself.He somehow winds up in a factory that houses the laboratory of one Dr. Kiss(Michael Dunn), a pint-sized scientist who's even got a hulking body with giant corrective boots(sound familiar?) on a slab.He drops to all fours and licks the midget(!) before bolting off again.Back in human form, Jack maps out the prior attacks for the Attorney General and psychologist, the crime scene points forming a pentagram with one missing(five consecutive full moons gotta be some kinda record), and shows them his shirt which has been riddled with perfectly round bullet holes.After the President's daughter frees him from self-imposed chains in a wicker rocker(!), Jack finds himself in the cabin of the Commander-in-chief's helicopter, transforming in front of the disbelieving eyes of an Asian Prime Minister.The President commands him to sit and heel like a dog(!!),and gets bit before he runs off, to the horror of a plethora of stunned press people.After the Prez's daughter fatally dispatches him with a silver bullet,and credits begin to roll, we hear the Commander-in-chief himself transforming into a werewolf during a press conference(!!!).
Rumor has it, precious little crepe wool was applied to Stockwell's already woofin' eyebrows.
Light and original, Washington pays homage to The Wolfman(1941) and lycanthropic origins, with decent retro-makeup provided by Bob O'Bradovich, who went on to work in Joel Reed's cult hit, Bloodsucking Freaks(1978).Stockwell's business suited werewolf with white/grey mane fur is certainly memorable; his body language as the beast probably should have landed him a role in a sequel to The Shaggy D.A. or something.Michael Dunn would also appear in The Mutations and Frankenstein's Castle of Freaks the same year, tragically, his last on earth.Overall, a decent flick that you might enjoy on one of those do-nothing Wednesday nights.On the scale, it scores a respectable two wops, and is certainly worth a look.Check it out!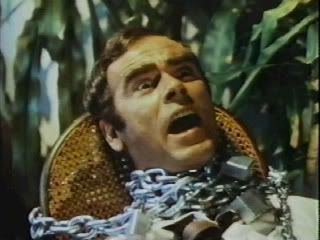 "No more Michael Moore mockumentaries!Uncle!Uncle!"