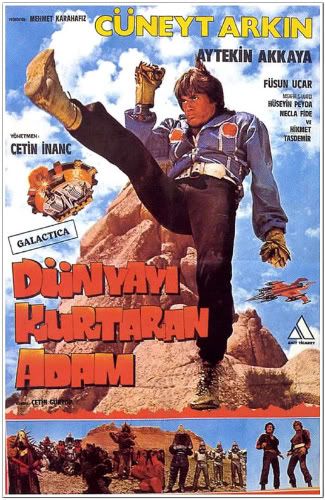 When it comes to bad movies, there's a veritable salmi of ratiocination behind the deplorable facets essential to a film's malodor, methinketh.Low-budget folderol can be extremely entertaining to viddy, directors like Steckler, Buchanan, or Milligan leave the viewer oftimes busting at the seams at their ineptitude with the medium, while big budgeted pieces o' piss from Boll, Zombie, and Snyder leave an audience painfully cringing in wonder at the inferiority that rolls off the screen.Then there's the clangor of tonight's entry which defies classification and flushes all prior definitions of bad down the cinematic lavvy forever.Calling Çetin İnanç, the man behind this legendary embarrassment, a director, is tantamount to calling Leonard Nimoy a crooner.He makes Andy Milligan look like Alejandro Jodorowsky.Nevermind the fact that American productions like Lucas' blockbuster "Star Wars" weren't easily obtainable on Turkish soil, wracked with political turmoil at the time, leaving the nation to copy the productions with Turkish casts and locales.Judging by laughable pissers like "Turkish Spiderman", "Turkish Exorcist", and "Turkish E.T.", it's pretty safe to say that the aptly-named country of Turkey grasps the concept of filmmaking in the same manner that Granny Clampett grips up a greased pig tipping the scales at five bills with her arthritic mitts.Ambitious though it may be, cloning a space opera/global phenomenon was for this film's producers, a determination that should probably go down in cinema history as the worst idea since Jerry Lewis decided to make a holocaust-based comedy back in the seventies.Spark up a healthy bowl, wash down some potent opioids with the beverage of your choice, sit back in your comfiest recliner, and bear witness to
the
single worst movie
ever
made, right here at the Wop.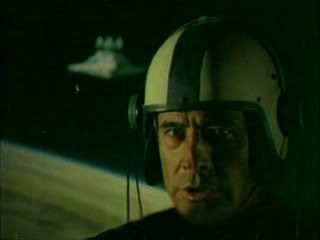 Cüneyt Arkın, sitting in a kitchen chair with a motorcycle helmet on, hasn't noticed the Star Wars footage ominously projected(in the wrong aspect ratio) on the wall directly behind him.
After what some might call a space battle sequence(I'm more inclined to call it a middle-aged turk in a motorcycle helmet sitting in a kitchen chair while actual space battle scenes stolen directly from Star Wars and stock newsreel footage of American and Russian rockets are projected on the wall behind him, but what the hell do I know), Murat and Ali(yeah, I pulled the character names off the interwebs, my copy is from a grainy VHS with no English subs, and I prefer it that way) crashland their TIE fighters(!) on a desert planet that bears a striking resemblance to a central Turkish tourist hot spot called Cappodocia.After climbing out of the ground that's conspicuously free of crashed space vehicles and trudging past some footage of the pyramids and Sphynx in Egypt, Murat(Cüneyt Arkın) wrongly presumes the planet's inhabitants to be solely female, and his subsequent echoing cat call draws the attention of some hokey dudes in skeleton costumes on horseback, initiating a poorly choreographed, poorly edited martial arts battle complete with spear noises that sound like someone going "sssshhhh!wwwwwwsssssh!" into a tape recorder.As they ride off on two horses they managed to snare themselves to strains of the Raiders of the Lost Ark soundtrack, men in dollar store rubber Halloween masks pop out from behind the rocks and growl.Pots n' pans stormtroopers laser(translation:choppily scratched film) them off their steeds, and they're soon brought before cheesebox robots who choke little kids and their ruthless master, a guy in a spiky cardboard helmet whose plans of Earth domination are regularly thwarted by the planet's
shield of concentrated human brain molecules
.After a sloppy fight with Cardboard-Head's henchmen, the two men seek refuge in a cave full o' children with an eighties-tastic blonde-in-a-headband who smiles a lot.Then they're attacked by mummies wrapped in toilet paper, life-sized muppets, and a shag rug monster that whips the children to death with the Christmas tinsel that dangles off of its cardboard claws.This calls for a ridiculous training montage set to disco music...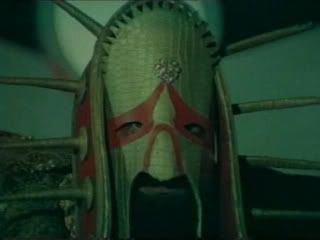 No amount of brightly painted cardboard can mask how disgusted this guy must be at himself for being in this.
After both space pilots ineffectively slap-chop some real boulders,Murat runs and trampoline jumps with beach ball-sized styrofoam ones tied to his ankles(Lady Headband heals their battered hands by dipping them in a bowl of confetti).He then kicks them into the side of a mountain where they explode.They then find themselves in the Woolworth version of the Mos Eisley cantina, and brawl with guys in dimestore rubber derogatory Asian masks and monkey masks, respectively, while a guy in a red devil mask(complete with horns and moustache) looks on.A man-sized red muppet gets involved before Cardboard-Head appears and captures the aging hero/titular "Man Who Saves the World".Cardboard-Head possesses a golden brain that holds Earth's power in it, but still needs a human brain to conquer the planet for some reason, offering to share the throne with Murat.He uses his unimpressive Queen to seduce Ali, but after Murat declines his offer, he forces the hero to sloppily slap-chop and awkwardly kick men in partial skeleton costumes and some more muppets(one sorry red one gets his arms karate chopped off and stabbed into his own neck).Outside, Murat is forced to fight the carpet-remnant monster with tinsel-whips, only defeating it due in part to some well-placed trampoline jumps.An old guy in a headband tells him of a fabled lightning bolt-shaped sword made of plywood crafted when the 13th clan melted a mountain thousands of space years ago, which he procures for himself to rescue Ali from Cardboard-Head's clutches.Wait.What.Ali, controlled by the villain, who resembles Luigi Montefiori with a cheese grater wrapped around his face, insults his former pal, who is forced to snuff his candle for it.Mourning the loss of, Murat naturally boils the plywood weapon and golden brain in a pot of fire, forging some gauntlets(translation:gold spraypainted work gloves) and super-snazzy gold jumping boots out of them, to go with the ugly blue satin pullover he's been wearing.After clumsily blowing through all the muppets, skeletons,rubber masked guys, and toilet paper mummies that Cardboard-Head can serve up, he squares off against the evil leader, and slap-chops the rascal into two pieces, as we hear about how the human brain is the most powerful weapon in the entire universe.Too bad nobody involved with this thing knew how to use theirs...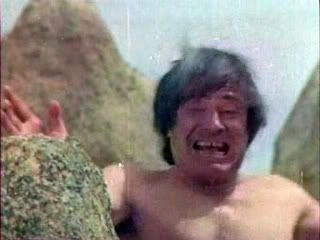 "Eeeeeyyyyaaaah! Take that, you fucking boulder, you."
Where the average rotten movie usually has a few outrageous drink-spitting moments, this one delivers them by the wheelbarrowful.To go along with the footage stolen from other films, the soundtrack is a further scoff at copyright laws, naturally ripping off music from Raiders of the Lost Ark, Battlestar Galactica(disco version), The Black Hole, Planet of the Apes, Flash Gordon, and even Moonraker.Adam should be required dvd shelf-fodder for any self-respecting bad movie connoisseur, and what's more, its appeal is two-fold, because, no matter how rotten and pointless your miserable life might be, at least you had nothing to do with the production of
this
thing.It's no coincidence the director's first name is one R away from the word cretin, as his work runneth over with choppy edits, wooden performances, embarrassing fight choreography, and laughable costumes, props, and sets.As enjoyably bad as tonight's entry is, it merits zero wops on the scale.You
gotta
see it!
"Bwahahaha! Those phone cords oughta hold ya!"