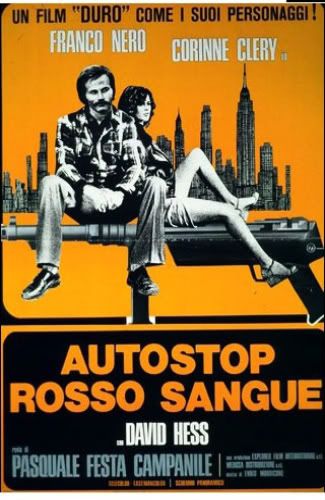 La mia Italia cara, infine ho ritornato a te.Tonight we draw focus upon an exploitation exemplar as realized by paramount Italian artisan, Pasquale Festa Campanile, winner of three Silver Ribbons, a Cannes award, and an Oscar nomination for his screenplays, and director of "comedia alla'Italia" like Dove vai tutta nuda?(1969), Il corpo della ragassa(1979), and Culo e camicia(1981).In 1977, Campanile switched gears from his usual light sex comedies to create a fascinatingly nihilistic spectacle of misogynistic immorality and grindhouse grandeur that has rarely been equalled and certainly isn't soon forgotten.On this cinematic canvas, the skeptical director paints a selfish and cruel world with grim strokes, with no easily perceptible protagonists and a less-than-felicitous denouement.To achieve this sombre tone he enlists the dramatic talents of genre vets like bountifully blue eyed antihero Franco Nero, the nectareous Corinne Clery, and one of the finest blackguards in modern cinema history, David Hess.Providing the soundtrack is no less than maestro Ennio Morricone, whose unique, dissimilar effort is rife with western twangs and folk singalongs that cut in at the most unseemly moments, creating a comparable feel to Riz Ortolani's distressing score in
Cannibal Holocaust(1979).
One missing element here is the graphic on-screen violence that filmmakers so often rely on to shock their audiences.It's no surprise, then, that the film, released as "The Naked Prey" and "Hitch Hike" outside of Italy, utilizes gritty cerebral shocks instead, and is fully successful in doing so.Anchor Bay released a restored, uncut print in 2002 that should find its way onto your shelves immediately if it isn't already there, where it belongs.Forwards...
The dear...uhhh, deer in Walter's(Franco Nero) scope has gams for days.My kind of venison.
We first meet Italian journalist Walter Mancini(Franco Nero) and his delectable wife Eve(Corinne Clery) as they hunt a mule deer while on vacation in Northern California(translation:L'Aquila, Abruzzo) but Walter seems more preoccupied with setting his gun's sights on Eve's inviting face than plugging an animal full o'lead.On the ride back to their camp he tells her he shot the deer instead because "the stag doesn't fuck like you do!".He tears open her shirt and grabs the right-sided steering wheel, forcing them off the road, and promptly rapes her.That night at the campsite, a knackered Mancini verbally degrades his wife to fellow campers, forgets his own name, and rapes her again.Later, the sight of a young couple sneaking off to get sexy during a hippie campfire singalong spurs on another round of insult-slinging between Eve and her drunken husband, who trips over a tent spike and breaks his hand.The next day as they drive back to Los Angeles, Eve picks up a roadside hitchhiker named Adam Konitz(David Hess) despite Walter's protests.Adam runs back to his stranded vehicle and turns the radio off before joining them on their journey.A corpse with a bullethole in his temple is strewn across the front seat.She apologizes for her husband's suspicious nature, while he apologizes for her whorish disposition, then Mancini calls Konitz "Cunts" and Konitz calls Mancini "Martini".A radio news broadcast details an armed bank robbery nearby but Walter and Eve are too busy bickering about their troubled marriage to put two and two together.Konitz asks Eve if she'd like to suck his cock(!), buying himself one of Walter's elbows to his prominent nasum.Knock down, drag out fisticuffs on the side of the road ensue until Adam pulls a handgun and holds Walter at bay with it as he paws Eve's pink pantied snatch and executes some spirited squeeze-tittin'.The honeymoon's over alright, Martini, or whatever your fuckin' name is.Back on the road, Konitz bullies the couple, exclaiming, "Easy, Martini!If I wanna fuck her, I'll fuck her and there's not a damn thing you can do about it!"Cue:Maniacal David Hess laugh.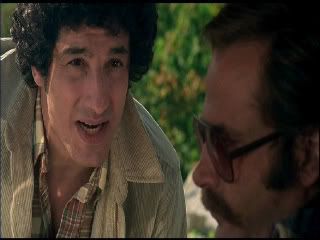 Exploitation Rule #7:If David Hess is thumbing a ride, you should probably keep driving.
Konitz blows away two highway patrolmen(a slow-mo motorcycle helmet headshot blows brains skyward), rambles incoherently, shows an awed Mancini his suitcase full of two million in stolen money, suggests Walter writes a book about his adventure with Adam("It's a sexy outta sight story", Konitz tells him) in Mexico for a hundred grand while Eve gets them smokes(Camels, bleech) and hooch at a gas station(where gas is six bucks a gallon!), and does a lot of maniacal laughing.Camped out by a waterfall that night, Konitz' two gay gun-wielding co-conspirators drop in and cockblock him before he can ravage Eve in front of a helplessly hogtied Walter.The next day on a narrow canyon lane with the robbers in tow in the Mancini's hitched camper, Konitz returns the favor, driving them off the road in a big red industrial truck(where did he get it?) and wounding one of his former accomplices in a shootout.He loads them into the truck and steers it over the cliff jumping out before it explodes, happily exclaiming, "Goodbye faggots!"Adam rejoins Mancini and wife, and that night after she accuses both men of being "damned fags", he re-ties Walter, strips Eve by the light of the fire, and fucks her in front of her husband's tear-filled eyes.She resists Konitz for about a New York minute, but it's soon painfully obvious that she
loooooves
the psycho-cock.Afterwards, there's more cocky rambling and maniacal laughter out of the killer when Walter deducts that Konitz must have been the third mental hospital escapee and his wife suggests that Adam accompanies her into the camper, leaving Walter tied up outside(!).When Konitz steps outside momentarily to put Walter out of his misery permanent-like, a completely naked Eve puts a rifle shell in his chest from the camper doorway, killing him.No more maniacal laughter.With their station wagon stuck in the mud, Walter talks of keeping the stolen money, mockingly calling Eve "the girl with the gilded ass"(one of Konitz's pet nicknames for her), putting Adam's body in the camper just as they receive a tow.After some young motorcycle punks hit Walter up for some cash and Eve obliges, they catch up to the couple on the road and run them off the road(there's a lot of that in this movie), forcing their station wagon to overturn, and seriously injuring Eve.Walter pulls Konitz's lifeless body from the camper and slumps it down next to his paralyzed wife, then sets the upside down leaking wreckage on fire, walking off with the suitcase full of cash, and throwing up a hitchhiking thumb of his own...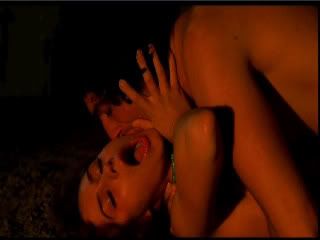 Adam helps Eve(Corinne Clery) rewrite the Story of OHHHHHHHH.
During the initial Hess-Nero fight scene, Franco got a little too overzealous and broke Dave's schnoz for serious(I'd still lay my dough on D.A.H. in a fight, though).Though I certainly appreciate some of Campanile's other work, this is, by far, my favorite of his movies.Nero is a marvelously drunken smartass with more wisecracks than integrity, who treats his wife like a piece of meat, whereas Clery is an equally bankrupt nymphomaniac willing to be the meat-in-question whenever she can.Nobody's character can be labelled a "good guy", and speaking of bad guys...What can I say about Hess that I haven't already? He's my favorite modern actor, but you knew that.All three performances are top shelf.Thus, we've got our third movie in a row that earns a perfect rating scale score of four wops.Absolutely recommended.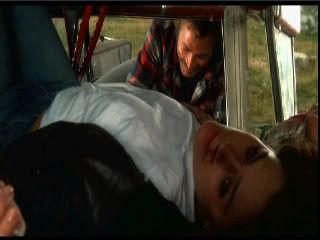 "How much liquor will two million dollars buy, darling?!!!"