While Loni Anderson and Donna Dixon were setting a course for adventure during the fourth season of popular television series, The Love Boat, director Alvin Rakoff was taking his latest film project in the opposite direction. Signed on for the ghostly gestapo goings-on are the likes of George Kennedy, who'd appear in Jeff Lieberman's Just Before Dawn, the same year, Richard Crenna, two years removed from his work on Devil Dog: The Hound of Hell, Nick Mancuso, who'd just battled phony vampire bats in Nightwing (1979), and Sally Anne Howes, who formerly fancied flying through the air in a fantastic jalopy with Dick Van Dyke.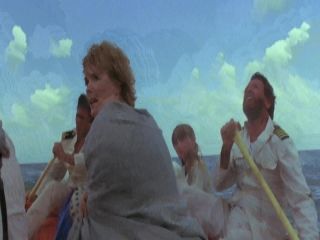 "Once I was Truly Scrumptious, now I'm Barely Appetizing!", exclaims Margaret (Sally Anne Howes).
Ashland (George Kennedy) runs the last pleasure cruise of his no nonsense captain-dom aboard a luxury liner, with its passengers enjoying a costume ball that's suddenly interrupted by a phantom Nazi-era freighter that abruptly sinks it. After pulling Ashland out of the brine, the life boat party consisting of Ashland's successor, Trevor (Richard Crenna), his wife, Margaret (Truly Scrumptious with a groovy perm), his children, Robin and Ben, Jackie (Saul Rubinek), the ship's lounge singer, Nick (Nick Mancuso), unknowingly comes upon and boards the very ship that put them in their current predicament. The freighter dumps evil Nazi ballast water onto Nick and Trevor as they struggle to get a semi-conscious Ashland on board, turning the three men's uniforms an ominous shade of grey, and foreshadowing things to come. An animate hoist winch snags Jackie's foot, and as the anchor is raised, dumps the Jew into the ocean to drown. An otherworldly Kraftwerk-esque voice tells Ashland to take command of his new ship in German, as Nick gets brained with the hoist winch. "This ship seems to have a life of it's own...", notes Sylvia (Kate Reid).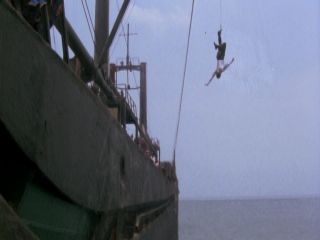 "This vessel will be hearing from my lawyer!!", whines Jackie (Saul Rubinek).
The forty year old rustbucket for the Reich runs itself, doors open and close on their own, dusty 78 rpm records play themselves, and a film projector turns on and off at will. The kids flip through issues of Signal magazine dedicated to the fuhrer. Nobody seems all too concerned by any of this. Eating forty year old hard candies gives Sylvia a poisonous ugly grillpiece and she's strangled the fuck out by Ashland who's spurred on by those haunting German voices inzide his het. In full German naval officer's garb, Ashland tells Trevor that he's merely a pretend captain, and he plans to sail his new ship to eternity. The kids are scared shirtless...err, shitless. At least
somebody
is. Lori (Victoria Burgoyne) takes a blood shower as a German military war march is broadcast throughout the ship. Ashland overhand tosses her nude, red body into the water, and Nick calls him a "cuh-razy bastard" for doing so. Nick and Trev trail Ashland to the nazi-ed out captain's quarters (with obligatory framed Hitler portrait behind a curtain) in Gargoyles (1972)-style slo-mo, and Nick swan dives into a net full of human remains. The ship, afterall, needs blood to survive, as Ashland so eloquently states, into a microphone full of reverb. Then more things happen...
"Ve hope you vill find ze V.I.P. Cabin to your likink, Herr Gibson..."
I can remember being drawn in by the fantastic one sheet art, as seen above, in British quad form, back in the day while thumbing through the entertainment section of the New York Post, a habit I'd picked up to see what new horror movies were being released in the city. I still ended up waiting until it turned up on late night premium cable: Prism, Showtime, etc. to finally see it for myself, and hadn't really watched it since, as I'd never felt a great desire to revisit it for any reason, until now. A little lethargic in building up to the final reel, but there's some decent atmosphere throughout, if not especially burdened with gore like many of it's peers during the era. On the scale, Death Ship scores a deuce for originality, mixing haunted house gimmicks with nazis on a ship a la de Ossorio, and surprisingly doesn't live down to its many damning critics over the years. Check it out.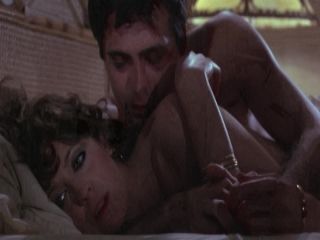 "I don't let just anyone swab my poop deck...", laughs Lori (Victoria Burgoyne).