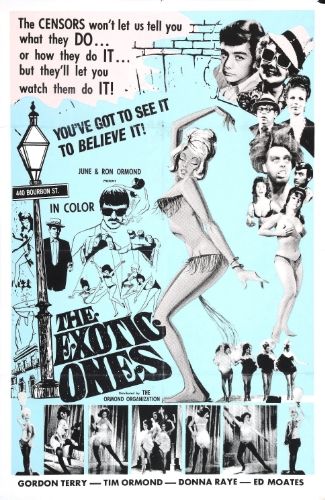 From the creative team of Ron and June Ormond, who also happen to both appear in leading roles here, comes a lost exploitation gem that spans from New Orleans, Louisiana to the Okefenokee Swamp in Georgia in spinning a wild drive-in friendly yarn about exotic dancers and a swamp thing that'd have Berni Wrightson breaking all his pencils at a mere glance. H.G. Lewis-esque gore and go-go gals going gaga are just some of the goodies the Ormonds have on tap for you in tonight's review, which is chock full o' Ormonds like a Mormon church full of Osmonds, and all starts with a five minute long narrative monologue about the rich history of beautiful and scenic New Orleans over some stock music and the opening credits...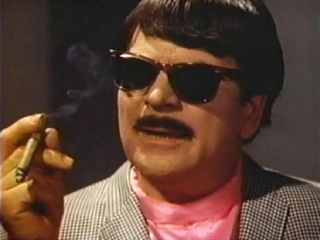 "If you handed me a church envelope sized box of drugs, I'd call that a shipment.", notes Nemo (Ron Ormond), big-time drug dealer.
Nemo (Ron Ormond) is a mustached goon who runs the classiest boobie bar on Bourbon Street for the syndicate, who rough up toothless associate ne'er-do-well's by slapping them around and pouring spittoons in their faces, when they aren't pushing less than an ounce of drugs at a time and forcing tricks out of the beehived breast-bouncers, or combing the local swamps to capture a murderous eight foot tall swamp thing (rockabilly singer Sleepy La Beef) who's been drowning fishermen and pulling the heads off of cows before gutting them, that'd go
just swell
in one of the dancer's routines at the club, fer sure, boss! At least, that sort of thing is hinted at from time to time during the first forty-five minutes, which is mostly consumed by footage of a mostly terrible talent audition at Nemo's club, from fat go-go dancers, to young white soul singers, and even a feather-tease from Bunny (June Ormond), the kindly old madam with a Kewpie Doll tic in her face that causes her to suddenly grin sheepishly and flash come hither winks for no reason at all. Put it all back
on
, Bunny, for fuck's sake.
"Oh, sure...let Ted Nugent milk the cow. It'll be fun, you said..."
There's bad blood between the soul singer, who's Nemo's new favorite, and his
old
favorite, a bloated chunkster named Titania (Georgette Dante), who's got flaming pasties and a bad attitude, and let's not forget the local straw hat-wearing Inspector (Ronald Drake), whose modus operandi for arresting criminals consists of spending long hours at strip clubs, barking at suspects, and coming on to new dancers with square pick-up lines. Finally, Nemo sends a crack team of adventurers that includes little Timmy (Tim Ormond), whose very father was killed by the beast, into the bog after the uni-browed creature with goofy teeth and a geometrically cut loincloth, who manages to tear a guy's arm off and beat him to death with it (!) before being captured. The hulking throwback is displayed in a rubbery-looking onstage cage, while the singer serenades it with melodies and Titania breaks its primitive cazzies with her flame throwing shtick. It tears a live chicken to pieces before escaping, and ultimately tearing one of Titania's tits off, and squashing Nemo's head like a toupee-wearing zit before making a beeline back to the swamps from whence it came. Some more New Orleans montage? Why the hell
not
, at this point...
She could dance in my club, if her sense of rhythm ever catches up with her enthusiasm.
Ormond directed such fare as the famously rotten Mesa of Lost Women (1953), and the cult Christ-sploitative commie takeover classic, If Footmen Tire You, What Will Horses Do? (1971). Georgette Dante would later land a role in sex comedy, Up Your Alley (1971), opposite the likes of Haji and Uschi Digart, and blaxploitation miss, Miss Melody Jones (1972). The 6'5" La Beef, son of an Arkansas melon farmer, continues to record rockabilly and country music to this day. Keep up with all his latest
right here
. As you might have assumed, Exotic Ones, which was later re-released as The Monster and the Stripper, is a guilty pleasure, if
anything
, and a stone's throw away from anything resembling remotely competent or effective film making, and as such, earns but one Wop on the scale. Approach with caution, or for laughs.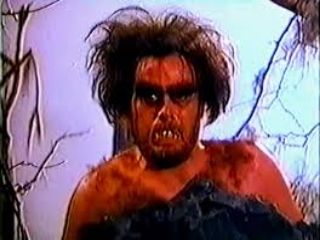 Looks like the makeup artist is even sleepier than La Beef.