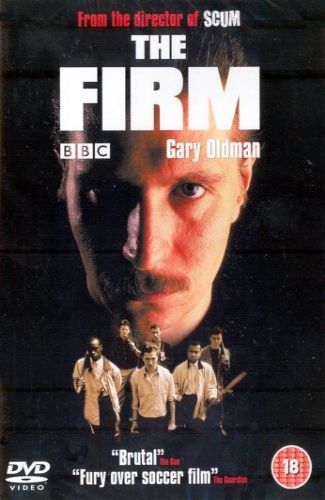 You thought the British football hoolie movie reviews were over, are they
fuck
? Tonight's, in particular, is Alan Clarke's take on the subject, a 1988 made-for-television affair starring a mustacchioed, maniacal Gary Oldman at his fanatic and frenetic best, and Philip Davis, who you can't have
yet
forgotten directed I.D., our
previous
football hoolie movie review, as his ponytailed, motor-vandalizing rival with a toothy grin. Interestingly, Oldman's on screen wife, Lesley Manville, was also his first wife in real life, leaving her thee months after his son Alfie was born, the same year Firm was debuted. Oldman leaned on his friend in Pennsylvania four years later, when he checked himself into Marworth, in Waverly Township (!), for alcohol abuse. Twenty minutes away from my old place, you could have gone on the piss-up of your life, Gar, you daft cunt. In any case, on to the footie...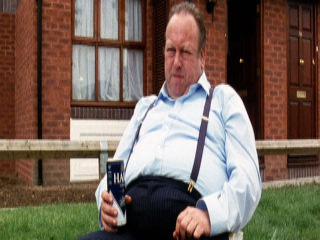 "You let a ponce with a pony tail do your motor." grumbles Dad.
Bex (Oldman) has got it fucking
all
, boys; a cushy gig selling real estate, a loving young wife and toddler son who can already say "Piss off!", a nice car, and nice flat...but he's still regularly beckoned to return to his parent's place, where his old bedroom is wallpapered with footie and newspaper clippings, and a hidden suitcase full of tools for clobbering blokes violently about the head and body, is tucked away in the wardrobe. He's the head of a firm called the I.C.C., or Inter City Crew (based on West Ham's infamous I.C.F.) that regularly butts heads (Bexy gives 'Manchester Kisses' to just about everybody, for any reason, the darling.) with a rival firm, the Buccaneers, as led by uber-blonde Yeti (Philip Davis) who's not only got the bottle to trash expensive cars and petrol bomb them on I.C.C. turf, he also sports Wayfarer sunglasses and a dork knob, on purpose. Bex is so obsessed with payback, that he fails to notice his infant son brushing his own gums with a Stanley knife while he's organizing future aggro on the phone. While his wife doesn't half understand her husband's need for "the buzz", his Harp-slurping father is on board, one hundred fifty percent, even taking Polaroids of the tooled up crew for them and encouraging his son to "go 'round and kick the bastard's head in", like he used to do, in his heyday.
"I'm nicknamed after a fictitious Himalayan snow beast.", quips Yeti (Philip Davis).
Bex dreams of the rival crews all united under a national banner, taking legendary bovver to all of Europe for the 1988 Championships, but a full-on war is escalating between them for leadership, with property vandalism, tile-cutter slashed faces, back alley scraps, and pry bars, sledgehammers, and baseball bats all being utilized to their full destructive capacity. While Sue (Lesley Manville) pleads with Bex to end the insanity, as he's not a common bootboy or thug, but a thirty year old man with a family, he refuses to listen, desperate to maintain order in his crew, even if it takes violence, and desperate to maintain the "buzz" that he can find nowhere else in his life. Ultimately, Bex and company descend on the Buccaneers' home pub with baseball bats, and bash the fuck out of everyone, whether they be a hooligan or an innocent woman having a pint a'. Having had the embarrassing fuck kicked out of him, Yeti surprisingly pulls a shooter and puts a fatal one into Bex. Later, we see representatives from all three crews drinking together, and remembering their late chum Bexy, whose untimely death has united them into the national firm that he'd always dreamed of...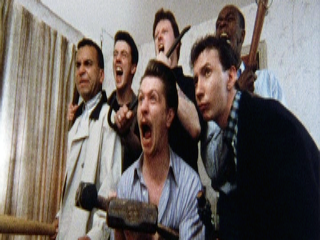 "We need a commemorative bovver-ready Polaroid, don't we, lads?", shouts Bexy (Gary Oldman).
Initially, critics held mixed feelings about the violence in Clarke's film, as per usual, though it's widely acclaimed as a cult classic, and perhaps the most honest cinematic representation of football hoolies in Thatcher-era Britain, and after digging my region 2 copy out of the ol' library for the first time in a decade or longer (Cheers to Nigel of IFR), I'm not a disbeliever in that notion, by any means, and don't believe I ever have been, for the record. It's a brief but powerful work, thick with tense energy, conducted by a volatile performance from Oldman, at the top of his craft, three Wops and a strong recommendation may have never been an easier call than this. Still enjoy I.D. a bit more though, personally. It's gotta be the mustache.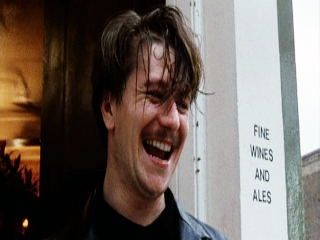 "Where you blag that fucking shooter? The fucking Imperial War Museum North, in Manchester?"