We'll leave beach towels and wrestling rings behind for the terraces of British football, where turf is staked, war is waged, and lives are sometimes lost in the fanatical melee. Tonight's review, is loosely based on Scotland Yard's attempt to infiltrate the I.C.F., official hooligans for West Ham Utd., though the film's club, Shadwell, is a fictitious nod to Millwall. The incediary lead, Reece Dinsdale, you'll probably remember from the recent Coronation Street series, though you may recall him from his earlier work in Threads (1984). Also along for aggro are Warren Clarke, no stranger to laying a boot in, himself, having portrayed Dim in A Clockwork Orange (1971), Sean Pertwee, in a crazy pair of two-tone jeans, and director Philip "Chalky" Davis of Quadrophenia (1979) fame even has a nice cameo here. Got your tool ready? It's jumpin' off...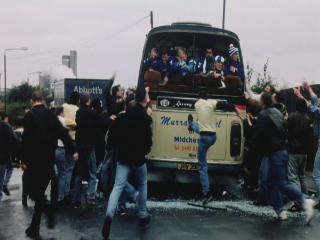 "We know this is Rick Astley's tour bus then, send 'im out or we'll tip the bloody thing over!!!"
In 1980's Britain, four police officers are given an undercover mission to blend into Shadwell Town's firm of violent hooligans, affectionately nicknamed the "dogs", after the last group was sniffed out and nearly murdered, to try and i.d. the secret leaders behind the mindless weekend thugs. John (Reece Dinsdale) throws on a burgundy bomber and immerses himself in the role, portraying a functionally illiterate working class yob right down to the pint a'. His bespectacled superior, Trev (Richard Graham), isn't nearly as convincing, even when he's on the piss, running away from rucks, blurting useless Shadwell trivia, or groping the bartender, Lynda (Saskia Reeves), at the Dogs' headquarters, The Rock. Though all four are clearly enjoying their assignment, John's growing affinity for going for the gusto leaves him in hot water with his co-workers and girlfriend, Marie (Claire Skinner) (he drunkenly punches Trevor in the face and roughly screws Marie up against a wall), but he's the dog's bollocks to his new football mates, like the burly bat-wielding Bob (Warren Clarke), Martin (Sean Pertwee), and a dirty, toothless, quivering wretch named Gumbo (Lee Ross) who's barely competent enough to put the lids on pickles since he electrocuted himself.
"Bloody fake-looking tattoos?? Who's having you on, Dim!"
The deeper his obsession with football, he's filmed by police cameras during a bloody ruck and gets the team shield tattooed on his arse, the less he's able to cope with regular day-to-day existence, as his relationship with Marie dissolves when he's too busy listening to footie on the radio to pay attention to her on a beach getaway, and he comes to look at the old bill he's increasingly at odds with at the matches, with the same disdain that his rowdy peers do. He pays a drunken booty call to Lynda, and gives hilarious orgasm-face. Just as he gains the trust of higher ups in the firm, that deal in
real
crime and drugs beyond football punch ups, the entire operation is dismantled, with The Rock being shut down, and several minor arrests made. John, unable to cope with losing the adrenaline thrill of hooligan life, destroys his apartment, setting his things on fire in the street, destroys his locker at work, tearing the uniform he can no longer stand to see himelf in, and drunkenly confronts Marie's parents, before sitting down to a dirty, bloody bowl of dry corn flakes and cocaine and some smashed telly. After Trev is surprised to see Gumbo in an interrogation room for stealing a jar of pickles(!), he later spots John, heiling and marching with the National Front, with shaved head, Harrington, and scarlet downturned braces. He shoves Trevor away, claiming to be undercover on assignment, but we all know better than that.
"...aaaaaaand ker-splooosh goes the frosting from the squeeze-bag!"
Though Davis hasn't directed all that many features to date, he's acted in everything from Pink Floyd's The Wall (1982) and Howling V: The Rebirth (1989), to Alien 3(1992) and Doctor Who and Tales From the Crypt on television, where's he's been quite busy, indeed. Claire Skinner would turn up in Sleepy Hollow (1999), while Saskia Reeves worked with Lars von Trier on his controversial 2013 release, Nymphomaniac: Vol. I. Warren Clarke was seen most recently on the Chuggington series that ran four seasons, and Sean Pertwee is signed on to face more U.K. full moon-based horrors in Howl, scheduled for release some time next year. When it comes to movies about football hooliganism, some folks prefer Alan Clarke's The Firm (1989), which starred Gary Oldman, but as far as your pal, Wop, is concerned, this is the slightly better movie, more focused on the psychology of the mob mentality, and the allure it holds for people, than the sport itself. Three wops, and a strong recommendation.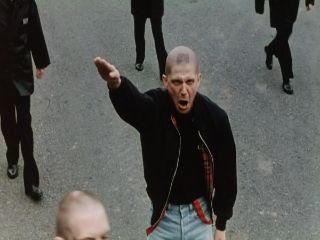 "Did any of you lot see Kyle? He's about this tall..."