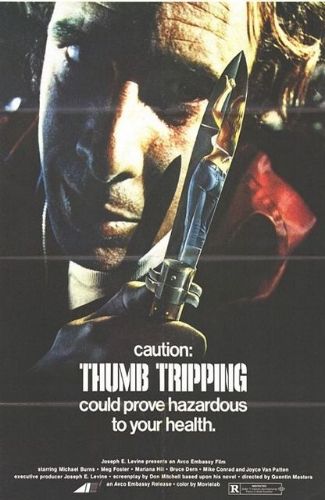 Here's a lost counterculture gem from the guy who would later bring you the Joan Collins-fest, The Stud (1978)(a cinematic streeetch for Joanie, it were, playing slappers n' all), about hitchhikin' hippies, such a popular exploitation film subject back in the seventies, i.e. The Hitchhikers (1972), Teenage Hitchhikers (1975), Hitch Hike to Hell (1977), and even Autostop rosso sangue (1977), whose U.S. release title was, of course, Hitch Hike. Tonight's review borrows less from films of that ilk, though, and more from Joe(1970) or Easy Rider (1968), a non-judgmental time capsule of the era starring the likes of Meg Foster, Michael Burns, Marianna Hill, and, as you may have guessed from the interesting one sheet art above, the one and only Bruce Dern.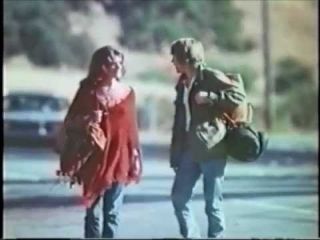 "Shoplifting turns me off, maaaaan.", exclaims Gary (Michael Burns) the good hippie.
After getting dumped in a more hippie conducive area for loitering on the Cali beach by the local fuzz, Gary (Michael Burns), a collegiate ride thumber on hippie-hiatus, meets Chay (Meg Foster), a party girl with eyes that could chill a glass of Kentucky bourbon, and they decide to hitch hike together, vowing to accept every possible ride along the way. Gary scolds Chay for shoplifting, and they eat bread in the grass together. Smitty (Bruce Dern) and his aptly-monnikered driver, Simp (Larry Hankin), make them regret their promise early on, speeding recklessly along, hogging the road in their yellow hot rod, while Smitty rambles wild-eyed, playing with his switchblade. Things get worse when they're picked up by an angry, abusive mother (Joyce Van Patten) whose own teenage daughter flew the coop to Hippie-ville on her. They parts ways after Chay lays the moral skitz on her, and they're soon picked up by a bennie-popping trucker named Diesel (Michael Conrad) who offers Gary fifteen bucks to pop Chay in the slice, while she hippie-grooves by the jukebox, turned on by the older guy's grasp on life, herself.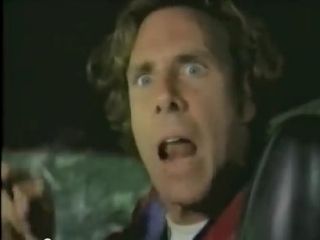 "You're in no position to laugh at my satin baseball jacket. I've got a switchblade, and I will use it. I will. I WILL."
Gary's objectification of Chay and phony moral high ground amount to naught in the end, as Diesel locks him in the back of the eighteen-wheeler over night, helplessly forced to squash leftover oranges in jealousy over the sounds of his "girlfriend" locating her G spot's twenty with her horny good buddy. After a brief spat, they're given a lift by a young married couple in a convertible, Jack (Burke Byrnes) being the obligatory testosterone-n-booze fueled working stiff, and Lynn (Marianna Hill), a bubbly, busty blonde who knows how to pass a fella a can of beer as he's speeding down the highway in broad daylight. As a result of their reckless only-in-the-seventies asphalt sauce up, the men swap partners while drunkenly cooling off in a lake. Too much vodka leads the girls to stumble into a bar packed with yokels, making an embarrassing spectacle of themselves and leading to their eventual violent "don'tcha come back now, y'hear?" expulsion from the establishment, after a jealous, juiced up Jack gets roughed up in the process. Gary drives them home, and the young hitchers adventure ends, as they part ways as friends.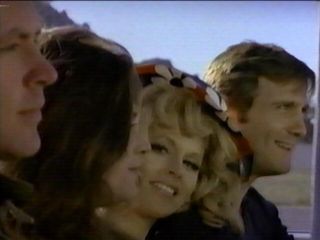 "You kids ever drink vodka from the bottle while driving down the highway in a convertible in broad daylight before?"
Michael Burns enjoyed a long career of television roles, before and after this effort. Recently, Meg Foster showed up in Rob Zombie's Lords of Salem (2012), a movie I have yet to see. Her eyes are unforgettable. Burke Byrnes later turned up in made-for-tv The Strange Possession of Mrs. Oliver (1977) and Prophecy (1979), and even later in Witchboard (1986) and Child's Play 3 (1991). Mike Conrad you may or may not remember as Sgt. Esterhaus on long running television series, Hill Street Blues, while Hill would later show up in genre efforts like Blood Beach (1980) and Schizoid (1980). If you can track down a copy, you'll appreciate it, especially for Dern's scene, another quality mental case performance to add to his resume. On the scale, Tripping scores a pair of Wops, worth a look.
Awwwww. What an adorable little freeloader.