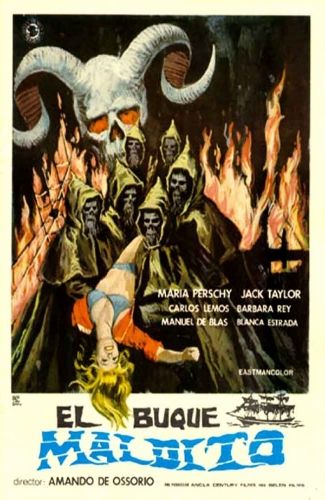 We really oughta check out another cult classic from Spanish director Amando de Ossorio as things heat up with August just around the corner, this time around, the third in the "Blind Dead" series popularized by the eyeless, bloodsucking ghouls who share the name of the knighted order, of French origins, protecting those on holy pilgrimage, dating back to the First Crusade, the Knights Templar. In the first two efforts, Tombs of the Blind Dead (1971) and Return of the Evil Dead (1973), we saw the murderous hooded zombies drawn by sound terrorizing their hopeless mortal victims on Terra firma, in tonight's review, known alternately as The Ghost Galleon and Horror of the Zombies, the Templars take their atrocious acts out to sea. Genre regs Jack Taylor, Maria Perschy, and Barbara Rey are all on board for the mummified, mist-enshrouded, miniature model mayhem.
"...but I don't wanna listen to Lightfoot records down in the hold!"
As Howard Tucker's (Jack Taylor) latest publicity stunt, two young Spanish models in bikinis are shipwrecked in a small boat in the middle of no-fucking-where-at-all. Their employer, Lillian (Maria Perschy) discloses the secret details to Noemi (Barbara Rey), also a model and one of the stranded girl's roommate/lover, to boot, so she's extra sassy about her little darlin' being returned safely to her. Meanwhile, a strange regional phenomenon occurs when our floating heroines are suddenly surrounded by humid climate, and a thick fog which conceals an otherworldly galleon ("It's only a model." "Shhh."), which they naturally decide to explore in their bikinis, one at a time. Of course, below deck, there are six or so wooden sarcophagi containing about a dozen Knights Templar (like clowns in a Volkswagen) who slowly rise when the sun sets and methodically surround the inquisitive bits of Spanish crumpet, killing them violently,
eventually
.
"I don't know, the bunny from Donnie Darko? I'm terrible at shadow puppets!"
Tucker vows to find his missing models, after letting one of his henchmen kidnap and rape Noemi, all of which Lillian doesn't seem to have much of a problem with, as she joins Howard, Sergio, Noemi, and a schizo-professor named Gruber, who at first, insists that the girls will never return, then later jumps at the opportunity to do the exact same thing, as they all embark by boat to the area where the girls were last heard from (judging by the apparent size of the miniature galleon, I'm guessing somewhere in an Alicante bathtub). The search party finds what its looking for, and after boarding the galleon, Noemi gets screamingly parted out by the hooded ghouls while the others stumble upon the Templars' amassed riches in a hidden room below deck. After fending the eyeless Knights off with a burning cross and hokey exorcism cantation from the professor (lucky he had that memorized, eh wot), the men toss the caskets overboard, and float off on a plank of wood while the whole enchilada goes up in flames, which engulf the professor, still aboard. Sergio gets neck-shanked in an aqua-ruck, leaving only Lillian and Howard to wash ashore, exhausted, in the end. But then there's those pesky Templars, resilient as all Hell...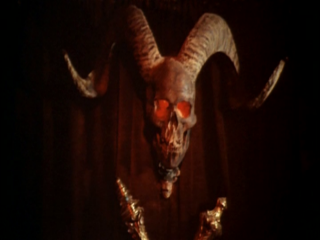 This might not be very scary, but you have to admit, it is pretty metal.
de Ossorio would follow this one up with La noche de los brujos / The Night of the Sorcerers (1974) and 1975's The Possessed before revisiting the Knights Templar for the fourth installment, Night of the Seagulls (1975). Perschy's genre credits during the seventies were many, appearing in such fare as House of Psychotic Women (1975), Exorcismo (1975), and El jorobado de la morgue (1973), all opposite Spanish lycanthrope extraordinaire, Paul Naschy. The same goes for Taylor, who appeared in things like Franco's Female Vampire (1973), Leon Klimovsky's Vampire's Night Orgy (1974), and Conan the Barbarian (1982) and Rest in Pieces, later in his career, in 1987. Tonight's review has enough atmosphere and vintage horror feel to muster up a pair of Wops on the scale. Check it out.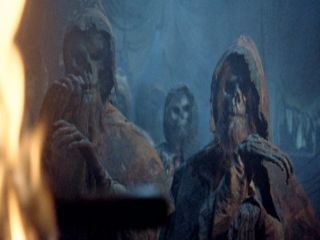 "We've got these cool (After) Life Alert bracelets. See?"