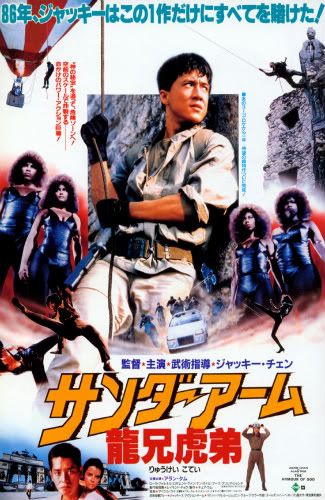 For our next entry in Chan-uary, we look back to the year 1987, which saw the release of tonight's review, Chan's box office record breaking hit filmed entirely in the former Yugoslavia(because of their lax insurance policies for motion picture stuntmen, no doubt), and his biggest to date.Chan's legendary d.i.y. approach to stuntwork nearly got him killed this time around, after misjudging a jump from a high wall across to a tree branch and falling fifteen feet to the ground below, with cameramen rushing to salvage the expensive camera equipment before tending to the seriously injured action star(!), who required cranial surgery to remove pressure from a fractured piece of skull lodged against his brain, leaving him temporarily comatose, with a permanent plastic plate in his head and partial hearing loss in one of his ears.That he survived proves he must've been wearing the titular armour of uppercase G during the shot.Content-wise this time around, Chan crafts an often hilarious, always entertaining James Bond-meets-Indiana Jones adventure one-upping his previous high watermark for excellence in comedy, fight choreography(helmed by middle Liu, Chia Yung here), and gravity-mocking physical stunts that defy the realm of possibility for any human being on the planet not named Chan Kong Sang.Sharing the spotlight with Jackie here are the
delectable Miss Spain 1979, Lola Forner,
who also appeared in his earlier Wheels on Meals(1984), Cantopop sensation Alan Tam, whose late seventies musical outfit, "The Wynners", is parodied in tonight's script, and Rosamund Kwan, who'd appeared alongside Chan in Sammo Hung's Twinkle, Twinkle Lucky Stars in 1985.Years later, Miramax Pictures, after acquiring the U.S. distribution rights, would re-release the film's 1991 sequel, Armour of God II:Operation Condor, re-edited, re-dubbed, and simply re-titled Operation Condor, then give tonight's review the same treatment, re-titling it, Operation Condor 2:The Armour of Gods.Let's see, that effectively makes the first movie of the series it's own sequel, and vice versa.Wait...huh?Let's just get to it already, sheesh.
Asian Hawk(Jackie Chan) introduces the joys of chugging slavic pilsner to some angry primitives.
We first meet international adventurer/mercenary-for-hire, Asian Hawk(Jackie Chan), as he plunders an ancient sword from some African-ish natives, dazzling them with a technological okiedoke before somersaulting, flipping, sliding, and diving to safety; barely avoiding the indigenous folk and their sharpened speartips and taking to the skies in a nifty getaway glider strategically hidden in the bushes, both his pilfered booty, and his
own
Asian booty, intact, once again.In Italy, he attends the public auction of the recently stolen treasure where a planted phantom bidder boosts the final price for Hawk's benefit, but the artifact is ultimately snagged with an extravagant bid by a sultry brunette named May Bannon(Lola Forner).Back at his hotel room, he's besieged by a mountain of messages noting the arrival of Alan(Alan Tam), who he'd been in an embarrassingly dated seventies pop band called 'The Losers' with, until his jealous buddy ousted him from the group to have female band member, Lorelei(Rosamund Kwan), all to himself.In the years that have passed, Alan maintains his high profile singing career while the girl that came between them has become a major fashion designer.At one of her shows, she's set upon by machine gun-wielding kidnappers, who mow down throngs of innocent attendees in a violent hail of lead before abducting her, demanding the three remaining pieces of the legendary "Armour of God" set as a ransom for her life.Desperate, Alan convinces a reluctant Hawk to help him break into Bannon's mansion and steal back the relic for use to barter with the kidnappers, but May's father, the Count(Bozidar Smiljanic), easily foils their half-baked robbery plan.They convince him to loan them the three pieces of the fabled armour in his collection on the promise that Hawk will return them intact, with the two missing pieces as payment, and on the condition that his daughter can tag along.
"Mitsubishi two-wheeling it down the steps?!!?My shouldered basket of perishables!!!"
The three effortlessly infiltrate the remote monastery of a brotherhood of some particularly unhip and evil monks in the mountains, and rescue Lorelei from the stronghold, thanks to the fists, feet, and acrobatics of Hawk, unaware she's been drugged by the monks and re-programmed to gaffle back all five pieces of the Armour of God for the sinister cultists, which she does, slipping Alan a mickey and hijacking him back to hideout, in the process.Hawk is forced to re-infiltrate the stronghold to rescue his friends and steal back the relics for the wealthy count, staving off coming hordes of the brown hooded brothers with an enormous flaming pole(there's even a food fight in here somewhere) before sneaking off to snatch the armour.The only problem is there happens to be a personal bodyguard of high-kicking steroid-ripped kung fu soul sistas with metal heels standing between him and the treasure.Hawk takes quite a licking from the ladies before he manages to use the wooden construction of the balconies to break off their deadly heels and give them the hearty ass-beating they'd been so begging for.Afterwards, he's once again set upon by the entire brotherhood, but he tears open his coat to reveal that he's strapped himself with explosives, threatening to blow everything and everyone to smithereens with them(hey, that's not very gung fu of you, Hawk).After a melee of chucking sticks of dynamite in every direction, inadvertently destroying the entire ball of wax, he somehow manages to escape in the nick of time by diving from the high mountain cliff onto a hot air balloon piloted by his three friends.Roll credits over the signature Jackie Chan blooper reel and this one's in the can, boys.
A martial negress' steel heels would tear Hawk asunder... if he didn't sting like he was hymenopterous and float like a Gandaberunda.
Interestingly, Bo "Snowbeast" Svenson scores an uncredited cameo here as one of the monks.Chan would follow up his massive success here with a return to another lucrative series, Project A, Pt. 2(1987), and Dragons Forever and follow up to yet
another
of his popular series', Police Story 2, the following year.Rather than subjecting yourself to the inferior Miramax cut of the film, you're much better off seeking out Fortune Star's Armour of God boxset or Hong Kong Legends' Region 2 PAL disc instead.The featured mayhem in tonight's entry makes the action in most Bond films look like a leisurely walk to the grocery store with your grandmother in comparison.Though much of the comedy is of Chan's usual hokey variety, and the fights don't really take off until the last third of the film, there oughta be plenty of incredible stuntwork to keep your glassies glued to, in between.An excellent modern era Chan film, recommendable to any and all enthusiasts of such.Three Wops.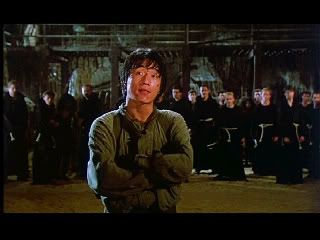 "Dining hall full of evil monks right behind me?I'm not falling for that old one."