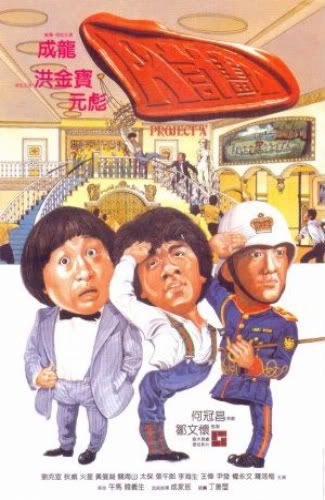 The first visible signs of Hong Kong martial arts movies evolving into viable international action hits can be seen in tonight's review, the first of several movies that would feature all three Peking Opera stars, Chan, who wrote, directed, and choreographed the fights while performing all his own most treacherous stunts himself(though Mars doubles for him in spots), the rotund Sammo Hung, who also choreographed fights and stunts while directing in an uncredited capacity here, and acrobatic Yuen Biao, who also earned a choreography and stunt credit on the groundbreaking film, also known as Pirate Patrol.While the Shaw Brothers set the standard with their incredibly intricate sets and cost efficient productions in the seventies, Project A would raise the bar to a height that the former genre giants found great difficulty in matching, effectively signalling a permanent changing of the guard at the top.Though a period piece on a truly epic scale like this would
certainly
have broken the American market at the time for Chan(this unfounded credit I give you Americans, you must cherish and protect
always
), it wouldn't be re-released here until well after Jackie had finally achieved recognition over a decade later.I've heard some crazy talk from jaded action fans who've been weaned on a steady diet of the film's wirework and greenscreen-driven successors that involves words like "boring" and "overrated" when discussing tonight's entry, but to these and
any
detractors of the movie's effectiveness or historical importance, I say:Had you seen the film in 1983(as I did, courtesy of a rental VHS from Happy Sound in Chinatown), you'd be singing a different tune entirely.This one's packed to bursting with jaw-dropping fights, life-gamble stunts, physical comedy, and adrenaline pumping action from start to finish like no movie had ever showcased before it.Go ahead and stack it up against 48 Hours(1982), I triple dog dare you.Onwards.
You're a silly, silly man, Jackie Chan.
Somewhere between the late nineteenth and early twentieth century(In HK film, the more vague the timeline, the better), the Hong Kong Marines and Police Force find themselves at competetive odds, while the port's ships have been under siege by a particularly foul army of pirates, as led by San-po(Dick Wei), a privateer as tattooed as he is malignant.Cue: Glass-smashingly/chair-breakingly elaborate bar fight between both services to the tune of a nearby victrolla that jumps off when the cocky young son of a police captain named Hong Tin-tsu(Yuen Biao) dumps his lager on the lid of one Dragon Ma(Jackie Chan), a young Marine, resulting in the consequent arrest of all the seamen, who are released just in time for a suicide mission to topple the pirates, the titular 'Project A'.Before any of them can become martyrs, two of their ships are sunk, forcing the entire force to disband and integrate into the police, leaving them at the mercy of prickish Hong, who teaches them how to take sixty second showers and how to avoid live grenades in the field, among other things.Meanwhile, the pirates have allied with local gangsters, who, in turn, have approached Fei(Sammo Hung), a chubby hustler, about procuring a hundred rifles illegally for the scurvy sea dogs, when the gangster's club is suddenly raided by Hong, Dragon, and associates.Cue: Window-shatteringly/table-pulverizingly amazing ruckus with men swan diving off of balconies, through tables, and into walls and steps.Afterwards, when the police captain demands that the men release their collars, Dragon turns in his badge, weary of the corruption roadblocking any true justice to be had.Fei, an old friend of Dragon's, divulges the arms deal info to the ex-cop, and both men sabotage the exchange, with several double-cross attempts to follow.
K.T.F.O.ed by a bicycle tire, how humiliating for you.
The empty-handed gangsters put the squeeze on Fei, who gives up Dragon, leading the thugs to chase the former officer and the Admiral's daughter, Winnie(Isabella Wong), all over town, up steep brick walls, jousting on bicycles, and finally, handcuffed and hanging from one of the hands of the Kowloon Canton Railway Clock tower, from which Dragon plunges sixty feet through several awning canopies to the ground(you'll want to see this a few times, believe me)
head first
.After overhearing the Colonel negotiating guns for the hostages(the Admiral included) that were taken by the gunless pirates with Mr. Chow, Dragon(remember him?Yeah, he survived that clock tower fall earlier as evidenced by the single take of him
getting up and walking away
moments later.Drink that all in for a second, would you) confronts the Colonel, arguing that men who are as morally bankrupt as the pirates and gangsters will never fear the police force if they are corrupt, themselves.Good point.Dragon then accepts all responsibility for the upcoming rescue attempt/ pirate base dismantling so long as the Colonel okays the Marines return to full strength for the ressurected Project A.Dragon infiltrates the pirate base masquerading as the top hat-and-monacled Chow while Hong waits in the wings with his men at the ready.The sneaky Fei dons pirate garb and tags along, with designs on helping his old friend and blagging some pirate treasure along the way, if he can help it.When Mr. Lee(Lee Hoi-San) recognizes Dragon from the fight in the clock tower, it sets off a frantic finale of fights, dynamite-explosions, and a tremendous three-way battle between Dragon, Fei, Hong, and San-po, the pirate king, the result of which you'll have to experience when you snag a copy of this highly recommended kung fu classic for yourselves.
Clock tower fall, take three.Go ahead and let go again, Jackie, we're rolling...
Before we wrap up tonight's review, I wanted to take a moment to thank those of you who've been regularly checking in during Chan-uary, making this one of the biggest months the site has experienced, traffic-wise, in quite a while(and traffic's always choice 'round these parts, don't you know).We'll have to try and pull off some different themed months in the future, no?In any case, we'll be tornado-kicking Chan-uary into the history books with one last entry to come, so keep your eyes peeled for that martial morsel, grasshoppers.Detail-attentive fans of cinematic pugilism will instantly recognize Dick Wei, who plays the main antagonist/inked-up sea dog, as the old master soaking in the cauldron at the outset of Chang Cheh's Five Venoms(1978).It'd be four years before Chan would reprise his Dragon Ma role in attempting a sequel, Project A II(1987), which, for the record, was also an enormous hit, winning two HKFA's for best choreography and editing, while netting over 30 million HKD at the box office.I'm sure we'll tackle that one sometime in the future, but as for tonight's review?Essential viewing, and top five all-time material, without question.Four Wops.
What your favorite action star's wet dreams are made of.