For those of you that might be pondering which movie singlehandedly revolutionized the modern action film, tax your grey stuff no longer, we're about to cover it here in Chan-uary at the Wop.If you've been captivated by breathtaking, mile-a-minute action accomplished through wirework or computer generated-means in recent action fare, there's a solid chance that whoever coordinated those sequences drew inspiration in some way from tonight's review, the film that Chan himself declared would be the ultimate cop movie that his Hollywood failure, The Protector(1985) should have been.One-upping himself after already broadening the scope of Hong Kong action standards with Project A(1983) might have proved a tall order for anyone else in the world, but Chan makes it look nearly effortless here, were it not for the brutal blooper reel during the end credits that reveal the inevitable contusions and fractures that come with serving up stunts that border on certifiable insanity, the like the world had never seen before.A far cry from the budget-heavy explosion fests Hollywood was showing audiences at the time(yet influential to movies like Tango and Cash and Bad Boys II), the hugely successful film(and Jackie's personal favorite), a Best Film and Best Action Choreography winner at the 1986 Hong Kong Film Awards, has spawned four sequels to date.Sharing the marquee with Chan this time around are Brigitte Lin, Maggie Cheung, and Feng Ko An, among others.This one saw regular airplay at my place in the VHS days of yesteryear, as my co-conspiritors will attest to, and stands as my personal favorite modern Chan-man flick, bar none.Forwards.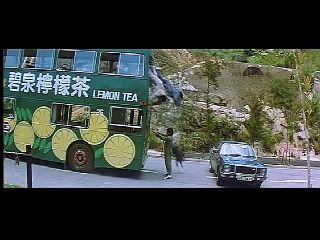 No CGI or wirework here, folks.
During an early morning shantytown drug raid, botched by Inspector Man, a crooked cop on the take, his partner, Kevin Chan(Jackie Chan), orchestrates a car chase through a mountainside full of collapsing huts and exploding gas cannisters, then traverses the entire mountain when his suspect, a drug lord named Chu Tao (Yuen Chor), hijacks a double decker bus in a rush to avoid justice.Chan hooks a ride on the speeding bus with his umbrella, gets knocked off in traffic, and still somehow manages to get in front of the vehicle and send it to a screeching, glass-shattering halt just inches from him, as he collars his disbelieving perpetrator.Afterwards, Chan is awarded a spot as a media representative of the police force, then given the task of bodyguarding Chu Tao's secretary, Selina(Brigitte Lin), who's scheduled to testify for the prosecution against her former boss.One of Chan's buddies(Mars) on the force breaks into her apartment in a mock attempt to silence her(comedy ensues), and on the way out to her car, they're attacked by real bat-wielding thugs, barely escaping in one piece due to Chan's amazing fighting skills.When they arrive at Chan's apartment, his girlfriend May(Maggie Cheung) and her friends surprise him with a birthday party, but a nightie-rocking Selina on Chan's arm causes the jealous squeeze to smoosh the cake into his moosh.Scooter hijinks, false bravado, more cake-facedness.Selina, who notices the face of her earlier attacker in a police academy photo, tampers with Chan's tape recorded testimony and breaks the fuck out like a yeast infection in the middle of the night, leaving Chan to embarrass himself in court with a cassette full of sexual innuendo between he and the missing witness.Chan loses face, Chu gets bail.
I bet there's a lotta broads who'd rather jump off a roof than put up with another second's worth of my shit.Just sayin'.
Chan later arrives to rescue Selina, who's feigning having been kidnapped, only to get framed in the murder of Inspector Man by a vengeful Chu.When he's placed under arrest at the station, he snaps, temporarily taking the Superintendent(Lam Kwok-Hung) hostage at gunpoint to buy himself enough time to clear his name and apprehend Chu.When the gangster's men botch rubbing out Selina, she spitefully downloads all of Chu's incriminating computer data at an office in a large indoor mall, alerting his thugs to the sudden theft, and ushering in a violently adaptive martial finale inside the shopping center between Chan and Chu's thugs, who take turns smashing each other into various perishables and belt-driven interfloor transportation in the quest for Selina's briefcase.In the melee, the valise plummets several stories to the ground floor, where May retrieves it, only to get roughhoused by Chu and his men.In
the
"Holy Fuck" moment of the movie, which is ripe with several to begin with, from the top floor, Chan jumps from the ledge onto an electrified pole and slides down through and ocean of breaking bulbs and raw electricity, smashing through a glass ceiling before reaching the ground level, where he's finally able to cuff Chu.His fellow officers turn a blind eye as he punches up the druglord's silver-tongued lawyer, and kicks Chu through a glass display case.We freeze frame on Chan in mid-attack, being held back by his associates.Cue theme song and blooper reel over end credits.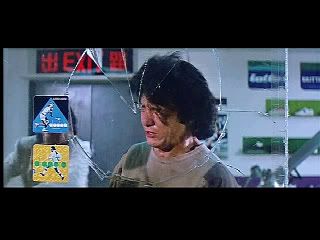 "No thanks, I was just window shopping...with my face."
As always, avoid the New Line redubbed, re-edited cut on dvd or bluray, and spend the extra scratch on a Chinese or Japanese print(Dragon Dynasty, if you can snare one), which oughta include anywhere from ten to sixteen extra minutes of footage, if that's your bag, man.Chan would cameo in Kara Hui's Naughty Boys(1986) vehicle, before tackling Armor of God the following year.Brigitte Lin would again share the spotlight with Chan in Peking Opera Blues in 1986, before landing roles in genre staples like The Bride With the White Hair(1993) and it's sequel a year later, and Chungking Express(1994).Cheung would reprise her role as Chan's girlfriend in Police Story 2(1988) and 1992's Supercop, the third in the series, before appearing opposite Jet Li and Donnie Yen in Hero(2002).Chan's epic pole slide resulted in burned mitts, breaking two vertebrae in his spine, and dislocating his pelvis.I honestly don't know how anybody could ever settle for less in an action star after pondering such amazing footnotes.On a note of much lesser importance, Chan also croons the theme here, which was a huge hit, borrowed by a HK tv series, the HK police in recruitment commercials, and finally, New Line for their later Chan vehicle, First Strike(1994), the fourth of the series.This one should be on your shelves in some format.A perfect four Wops.See it now!
I would have taken the escalator, but that's just me.