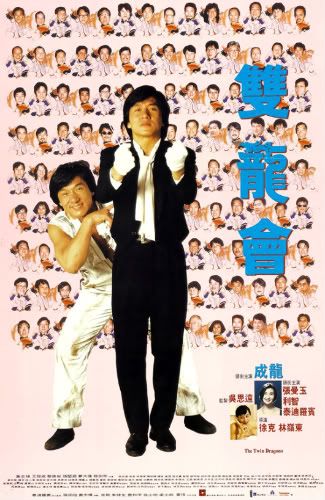 We'll spinning wheel kick-off the martial month of Chan-uary with a choice chunk of chopsocky comedy co-directed by the able duo of Ringo Lam, of City on Fire/Prison on Fire(both 1987)fame, and Tsui Hark, the man who gave you We're Going to Eat You(1980), among others.With all proceeds from the film benefitting the Hong Kong Director's Guild, the men assembled an impressive list of co-stars for Chan(who was coming off the international success of Armour of God II a year earlier), including genre vets like David Chiang, Maggie Cheung, Nina Li Chi(who would go on to marry Jet Li), Wang Lung Wei and an assload of cameos from directors like Hark and Lam themselves, John Woo, Ng See Yuen, Kirk Wong, Wong Jing, and even Liu Chia Liang himself.The plot, sort of a kung fu Corsican Brothers, allows for Jackie to showcase his mastery of physical comedy a la Buster Keaton while supplying the viewer with multiple rewind-worthy "Holy Fuck!" stunts and smoothly choreographed fights, as was par for the course by this point in Chan's career.The result is a dizzying, laugh-packed joyride that you're bound to enjoy, heads and tails over Jean Claude Van Damme's similar Double Impact(1991) with a lot less denim-wrapped cazzies hitting the floor(Van Damme never passed up an opportunity to throw a side split into a scene that didn't need one), despite some shoddy blue screen effects work when attempting to frame Chan's twins in the same shot.This one might not rank in the top five Chan films of all-time, but it's not a bad hundred minutes full of fight scenes, pretty girls, car chases, explosions, and comedy, and besides, where else are you gonna find a bulky fro-sporting asian named Rocky in a spiked up vest with an Iron Maiden back patch?Nowhere but here, I'm here to tell you.And compared to frown-inducing recent Chan wirefests like The Medallion(2003) or The Tuxedo(2002), this may as well be Project A(1983), ferchrissakes.Onwards!
Prince(Jackie Chan) helps Ah Wei(Wang Lung Wei) inspect a sheet of coffee table glass for imperfections.
A big nosed Chinese family's twin boys are separated when Crazy Keung(Kirk Wong) attempts a daring hospital escape in a black and white flashback, and one of the twins ends up on the doorstep of a booze-chugging party girl(Mabel Cheung), while the other is raised by the natural parents.Ma(Jackie Chan) becomes a critically acclaimed concert pianist, while his brother Prince(also Jackie) becomes a street-wise petty criminal/ automechanic/race car driver with a twisted midget sidekick named Tarzan(Teddy Robin).Tarzan, always getting his pal into trouble, barges in on a private karaoke session at Boss Wing(Alfred Cheung)'s place, cueing a massive nightclub scrap between Prince and all of Wing's thugs, led by Ah Wei(Wang Lung Wei), that culminates in a failed rescue of a blue-wigged singer(Maggie Cheung) and Prince's reluctant agreeance to race for big money stakes.Meanwhile, Ma prepares for a high profile recital, mostly unreceptive to the busty charms of a childhood sweetheart named Tong Sum(Nina Li Chi), who's been sneaking around on her brutish boyfriend, Rocky, behind his back, adorned with obligatory Maiden back patch, naturally.Both twins, totally unaware of the other's existence, find themselves compelled to act out each other's own motions and gestures, with the pianist cranking invisible monkey wrenches and the criminal fingering out arpeggios on an invisible keyboard at odd moments.Inevitably, they bump into each other in a hotel restroom and get switched, with side-splitting results.Ma takes an instant shine to Barbara, the nightclub singer, who sings a tender ballad while he accompanies her on piano, while Prince provides the muscle necessary to send Tong into a tizzy when he upgrades her backrub to full-blown intercourse.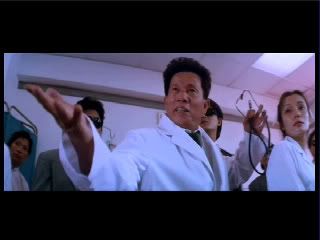 "Take a backfist into the wall and call me in the morning!", prescribes the doctor(Liu Chia Liang).
Meanwhile, Ma is forced to drive a getaway bus at gunpoint during Crazy Keung's latest escape attempt, with asphalt-based mayhem resulting, and Prince has no choice but to conduct Ma's recital, cigarette dangling from his lip, as he stumbles, backflips, and horseybacks around the auditorium full of shocked music lovers and compliant musicians who are following his frenetic baton.With all involved parties ignorant to the fact that there are
two
identical brothers, the men learn to use their uncanny resemblance to each other to their benefit; Prince makes short work of Rocky in a department store, causing the brute to later kautau to Ma(thinking that he's Prince) and beg to be taken on as a student.In the hotel room, the confusion reaches boiling point as Tong interrupts the men to take a relaxing bath, unaware that she's naked as nature intended in front of both of them, as both playfully share the tub with her.When a jilted Barbara barges in, they are forced to reveal themselves to the girls, who faint at the sight of them together.After the thugs kidnap Tarzan, Ma and Prince pool their resources with a daring rescue scheme involving a Hong Kong pier and a magnetic crane, before ending up in a nearby auto-testing facility.After much gravity-defying martial action in temperature-controlled climate rooms and in and around crash test vehicles transpires, the twins end up victorious, with the mob boss slamming head first into a wall inside a car with no seatbelt at a speed conducive to instant concrete and twisted metal death.We later see the twins' father passing out at the first sight of his long lost son, Prince, as he's about to be married to Tong in a dual ceremony with his brother Ma marrying Barbara, except Prince gets cold feet and tries to duck out the side door.When the wedding party rushes outside to catch up with him, neither woman can identify her husband-to-be, with Barbara noting that it doesn't matter afterall, to the freeze-framed horror of both men.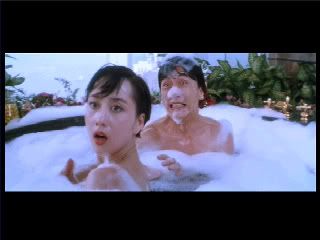 "Why yes, Jet Li, I am in a bathtub with your wife.Very observant of you."
The movie earned over HK $33 million upon release, but just over 8 million when re-released to North American audiences by Dimension Pictures, this cut being eleven minutes shorter, with a different musical score, and different ADR provided by Chan himself five years later, the least successful of Chan's movies re-edited for American moviegoers, torn to pieces by fickle critics on this side of the pond who most likely knew nothing about the guy before 1995's Rumble in the Bronx anyway.Hell, most hardcore genre nuts only turned on to Jackie after his episode of The Incredibly Strange Film show aired, while those of us in the know saw his worldwide success coming
at least
twelve years prior to any of that mainstream exposure.We'll be covering films from each of Chan's different periods this month, of course, so stay the course with the Wop and acquire the martial movie knowledge to maintain the daily levels of smartassery necessary to loom titan-sized over all your ignorant friends.The proceeds for tonight's entry were originally intended to be used for construction of a headquarters for the Hong Kong Director's Guild, but never got off the ground.Don't let the visible matte lines scare you away from checking this one out, with light comedy and some breath-taking action sequences and stunts(though Chan would top everything he does here several times over before he was finished), Dragons scores an impressive three Wops on the scale, and comes recommended.
"Look closely at this shoe!"