Here's one of the more likable Chan efforts while under Lo Wei, around the time the uber-serious Dragon Fist(1978) was completed and utilizing much of the same cast, though this production doesn't take itself nearly as seriously, a plus, in this case.With Chan handling much of the fight choreography in tonight's period gung fu mystery that plays like Hercule Poirot with crane beak strikes, the action is mostly top notch, save for a few less-than-stellar contests between the so-called clan grandmasters.The original English dub as featured on the VHS(the longest cut of the movie available to date, thus far) or the early Simitar dvd is a real fuckin' hoot, with some of the most memorable martial one-liners you're liable to encounter on your genre travels.Regardless of the format you can track it down on, it's definitely a title that'd benefit from an exhaustive treatment from Dragon Dynasty or the like in future.The cast showcases the talents of Bruce Lee regular Nora Miao, who previously shared the screen with Chan in Wei's New Fist of Fury(1976), and looks good here, Kam Kong, a student of leg fighter Tan Tao Liang who appeared in sixty less-than-amazing titles imho, the best of which were his Chan works, and Tung Lam, a familiar face in the Shaw epics of the early seventies.It should be duly noted that, though Jackie's a cocky wiseass throughout here, most of the humor, or Lo Wei-flavored attempts at such, comes from Korean pipsqueak Kim Jeong-Nam and Lee Man-Tai, who plays one of those familiar dusty beggar-types.Did I mention the film begins with a dramatic form sequence?This one's right up there for those panning for early Chan-man gold; there may not be enough to scrape into an ingot here, but you'll score a little brilliant flake, none-the-less.Onwards.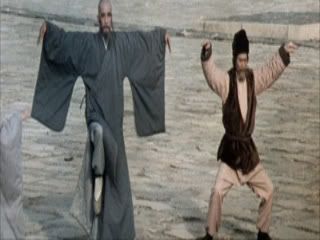 "It's fun to stay at the...wait, where are C and A?!!?"
Some time ago, the top eight Shaolin masters of their respective gung fu styles got together and created the ultimate technique, The Eight Steps of the Snake and Crane, and managed to document the movements in a training manual, which disappeared, as did the martial artists responsible for it.Enter Hsu Yin-Feng(Jackie Chan), a mysterious stranger in town, who cockily flaunts the knowledge that he possesses the book, when he isn't dispatching opponents with brief and vulgar displays of martial power.The local clan heads seek out Hsu to try and test the Snake/Crane style against their own skills, believing he has personally killed off all the grandmasters in gaining the book for himself.Among the folks constantly pestering Hsu is one Tang Ping-Er(Nora Miao), who's looking for her missing father, and who offers him her fleshy wares for access to the manual, to which he responds, "Women are just like children. Too vague and indecisive." Amen, brother.Also perpetually on Hsu's jock is the miniature Hung Chu(Kim Jeong-Nam), a daughter to a local clan leader who's taken to gearing up like an unconvincing beggar and nagging Hsu about the book herself.Hsu offers very little information to the interested parties, instead lambasting anybody who's fool enough to challenge him along his travels, and the fights keep mounting.He defeats all comers with a cocky finesse and economy of movement(only displaying the Snake/Crane technique towards the end of the fights, after he's well perturbed by the challenges), haughtily remarking, "Having that book gives me a certain charm, though.", all the while searching for an elusively mysterious scar on the bodies of his opponents...The plot thickens.
"Just you nine lousy bastards? You must be tired of living!", says Hsu(Jackie Chan).
After much backstabbery, where clans flip sides quicker than an orangish Jersey Shore terrone baking under a sun lamp, eventually, Hsu reveals that he's been trained in the secret style by the eight grandmasters in question, one of which, Master Huang(Tung Lam) having survived the attack, sends Hsu out into the martial world with a
fake
manual to lure out the
real
killer of his colleagues, equipped with the knowledge that said killer bore a unique scar on his body.It turns out that Master Chien(Kam Kong), the head of the Black Dragon clan, has just such an identifying mark, and what's more, is the very unscrupulous sonuvabitch that Hsu has been seeking all along.The local clans band together with Hsu, and Tang follows suit as well, after the Black Dragons manage to kill off waif-esque little Hung.What unbridled unscrupulosity.Driven by a desire for revenge and to save face for his honorable teachers(and anyone who's lost it to this point, really), Hsu goes toe-to-toe with Chien, who seeks to gain the manual, and ruthlessly rule the world of pugilism with an iron fist(what else would he want the damned thing for, I ask you).Hsu comes out on top, of course, after a lengthy final battle, restoring harmony, justice, and gung fu for all practitioners everywhere.Freeze frame, please.
"Hung Chu(Kim Jeong-Nam), who dressed you, the Manson girls?"
Chan also helped coordinate stunts for this one; a well-trained eye will detect slight flares of vintage Jackie in the multitude of fights that pass before the lens during the film.I can only imagine old Lo visiting the set and schitzing out over all the film being wasted on fight choreography.Chan'd follow this entry up with the 3D period flop, Magnificent Bodyguards(1978), before embarking on his historic loan to Seasonal Films the same year.Kong also appeared in villainous garb in Jackie's Shaolin Wooden Men(1976) and Half a Loaf of Kung Fu(1978), as well as generic kung foolerly like Shaolin Kung Fu Mystagogue(1976), The 18 Bronze Girls of Shaolin(1978), and Shaolin Invincible Sticks(1979).Besides her co-starring roles in Bruce Lee's first three movies, Nora Miao also scored credits in Bruce's Deadly Fingers(1976), To Kill a Jaguar(1977), and The Kung Fu Kid(1977), later appearing in Jackie Chan's Dragon Lord(1982), as well.After directing Chan in Half a Loaf of Kung Fu(1978) also, Chen would later go on to become executive director on such epic martial fare as titles like Police Story(1984), Project A II(1987), and Police Story Part II(1988) with the actor.Like I said, this is about as solid a Lo Wei Chan-man feature as you're liable to find, though nowhere near as entertaining as Jackie's later efforts.On the scale, two Wops.Worth a look.
"Here is my handle and here is my spout!"