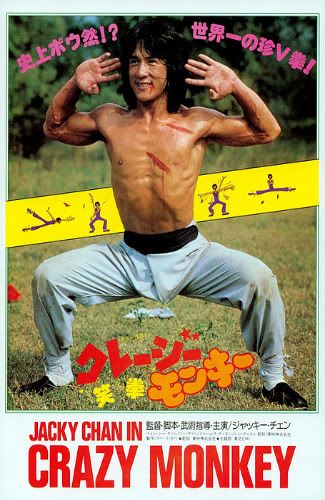 Here's a favorite Chan-man flick of mine, a glorious return to Lo Wei's studio from a highly successful two picture loan to Seasonal Films that yielded both Snake in Eagle's Shadow(1978) and Drunk Monkey in a Tiger's Eye(1979), a charmingly rough variation on those two films co-directed by Jackie himself, his debut.Before the departure, Chan's unmistakable flair in front of and behind the lens was becoming more and more obvious to old Wei, and with each new picture he was given more creative license than the last.Though Hyena certainly offers nothing new or innovative concerning plot("You killed my teacher!"), it serves up boatloads of fight choreography, techniques, and slapstick comedy that was hitherto unheard of in the martial movie world.The film stands as one of the vehicles Chan used to change the face of said world forevermore, and though kung movies have evolved several times since then, it makes for an enjoyable look back to when Jackie singlehandedly got the ball rolling.Along for the ride here are James Tien in old age makeup and wig, Once Upon a Time in China's Yen Shi Kwan as the main heavy, Tien Chi Cheng of Five Element Ninja(1982) fame, Hui Lou Chen, and wiry Dean Shek as a coffin seller.The soundtrack ...ahem, borrows from The Pink Panther and Superman:The Movie, but you won't dwell on the larceny for very long whenever Chan fills the frame, especially the finale here, lengthy as it is fucking awesome, trust me on that.Classic martial mayhem as
only
Jackie Chan could deliver it.Onwards.
Pssst, that bumpkin on the left? Yeah, that's Jackie.
Shing Lung(Jackie Chan) lives a meager existence with his overbearing grandfather/sifu(James Tien), whose rules are simple:Don't show your martial skills in public, and don't gamble, or I'll thrash you.Lung, unaware that the reason his grandfather demands pugilistic modesty, is that a caped bastard named Yen Chuen-Wong(Yen Shi Kwan) has been tirelessly scouring the countryside for all proponents of that particular style of kung fu, and snuffing their candles, immediately, if not sooner.Looking to make some extra money after a stint at the funeral parlour goes instantly sour with the director(Dean Shek) getting trapped inside one of his own second-hand coffins(!), Lung offers his services to a local would-be gym as run by 'Tee Cha'(Lee Kwan), a conniving weasel and friend to three bumbling idiots(Great Bear, Iron Head, Stoney Egg) that Lung easily defeats, and who doesn't know a lick of martial arts,
naturally
, fighting all challengers and drawing potential new students to the school in the process.To avoid news of his pugilistic contests getting back to Grandpa, he poses as various disguised characters, battling "The Willow Sword"(Tien Chi Cheng)(who he calls 'Shit Sword', mind you) and others, first as a simpleton in a foppish hat, then as a hairy Chinese schnoz-heavy broad(!!), clobbering a fat womanizer repeatedly in the face with bricks.As per usual, Yen stumbles upon the school, now dubbed "The Everything Clan", fights with Lung, recognizes the style, and uses the young man's naivete to lead him directly to his grandfather, who he pulverizes into a corpse in minutes.Lung is prevented from aiding his pummeled pops by an elderly cripple, who also foils his attempts to run off and exact revenge in revealing himself as 'The Unicorn'(Hui Lou Chen), one of his grandfather's old classmates.
"Is that a monk's spade in your pants, Fatty, or are you just glad to see me?"
The Unicorn becomes Lung's sadistic interim sifu, plaguing him during dinner by keeping the meat off of his chopsticks in a show of hand skills, and torturing him with impossibly difficult training exercises, like pulling huge sacks tied to ropes(sometimes with the Unicorn on top), and upside down situps.For the special purpose of vengeance, Lung is taught 'Emotional Kung Fu'(seriously), where Joy, Sorrow, Happiness, and Anger are separate techniques to be utilized in discovering an opponent's 'emotional weak spot'.After busting out a nifty form montage showcasing each of the styles with Unicorn narrating over the top, Lung is finally prepared to avenge his grandfather's death(yeah, I know) and return prestige to the Sien Yi clan by issuing a hearty beatdown to Yen and whoever else he's got in his corner.First up, Lung squares off against three of Yen's associates, who are armed with folding bladed staves, trying to dice up Lung's teacher with them.After getting some hair cut in the acrobatic process of whooping their asses, Lung turns to Yen for the big finale.At first, the caped bastard in the ponytail gets the better of Lung, mocking him and any techniques he utilizes as ones "he learned as a small baby"(how's that done, then?).Then Lung unleashes the secret Emotional style on him and the tide instantly turns, with the older fighter unable to figure out his younger opponent's attacks, which fly at him with riotous laughter in one instant, and uncontrollable sobbing the next.In the end, Lung does the villain in with a flurry of Anger style, exhaustedly turning to his injured sifu as the movie reaches it's end.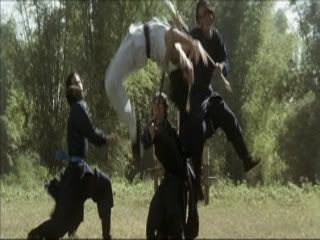 Shing Lung(Jackie Chan) leaves 'em all slicing at air.
Chan followed this one up with Lo Wei's Dragon Fist(1979), a period piece that's unusually serious for a Jackie Chan movie, and 1980's The Young Master, which we'll be looking at this month.The first exposure to Hyena, for me, was as a 'Crazy Monkey' trailer with a disco pop theme song sung by girls(!!!) on another rental VHS from Chinatown, with no English subs.Years later, I scored the Columbia TriStar dvd, which, despite the goofy box art that has zero to do with the movie inside, provides the best print I've seen of the movie to date.I doubt it'd set you back more than a couple of bucks, at most.Though it might not match up to the apex films of the genre after forty-plus years, it more than displays a glimpse at everything that set Chan apart from the rest of the pack at the time.The fourth three Wop movie in a row.Will the streak continue, my pugilistic pals? Time will tell.
Jackie be nimble, Jackie be quick, Jackie go undah de limbo kick.