Tonight's review marks the second time(or
fourth
time if you count both Cannonball Run movies, but I try not to, at all costs) that Hollywood attempted to unleash the Jackie Chan phenomenon upon the unsuspecting American moviegoing public, with much the same indifference, in the form of a box-office shit sandwich, it received five years earlier, with the release of The(mostly unspectacular) Battlecreek Brawl.Try to keep in mind that the rest of the civilized world had already seen and loved Jackie Chan in period piece epics like Drunk Monkey in a Tiger's Eye(1979) and recent modern adventures like Police Story(1984).I sat in a theater that was empty, save for about seven seats, most of which were occupied by cats who weren't terribly impressed with Chan's unique brand of fight choreography and stuntwork.In fact, the only chuckles out of them came when Chan choppily delivered dialogue, showing that his English had actually regressed since Brawl.A week later, there was another movie on the marquee, with the feature netting less than
one million
in U.S. ticket sales when the smoke had cleared.So what went wrong
this
time?Well, firstly, the material was pedestrian buddy cop fare with precious little on-screen chemistry between Chan and his co-star, Danny Aiello(Danny friggin' Aiello, really? He and Jackie go together like a parmesan pu-pu platter).Most detrimental to the project, I think, was Glickenhaus' refusal to let Jackie handle the fight choreography or stunts himself, and insistance that Chan's character mirror Dirty Harry, with loads of excessive nudity and profanity, none of which would fly in the average Chan movie.Comparing the slow-moving U.S. theatrical cut to the much sleeker HK version that a frustrated Chan re-shot and re-edited afterwards, I'm gonna go ahead and say that Jackie was right all along.
That's a mighty Studd-ly bump o' hubba yer insufflatin' there, Big John.
After watching a post-apocalyptic punk gang elaborately jack up an out-of-town trucker of his shipment of computers at a red light, we're introduced to officers Wong(Jackie Chan) and Alexander, who stop at a bar after work, unaware that a gang of coked-up bad guys are about to rob the place.Wong does some mighty fine slo-mo divin' and shootin', but his partner catches a fatal one in the melee.Not content to let backup hunt down the last fleeing robber, Wong chases the wounded gunman across a marina on foot, then borrows a speedboat to spectacularly crash into the yacht the criminal has stolen, with an air unit lifting him to safety at the last possible second.We've had enough of your cowboy antics, Billy Wong.It's back to crowd control with Officer Garoni(Danny Aiello) for you.Only, on their first undercover assignment together, they manage to allow Laura Shapiro(Saun Ellis) to get abducted from under their noses.On the belief that she may have been kidnapped by Hong Kong crimelord Harold Ko(Roy Chiao) as leverage against her father as evidenced by phonecalls Shapiro's bodyguard, Garrucci(Bill "Superfoot" Wallace), made to a massage parlour there, the two cops make for Hong Kong.At the massage parlour they namedrop Garrucci, and are abruptly attacked by knife-wielding happy ending girls while sprawled out on rubdown tables.Cue breathtaking-yet-funny fight between Wong and the entire establishment, complete with jump spinning crescent kicks off of walls and tiddly-dipping in overly hot sauna.After a stern talking to by the HK authorities and a visit to Lee Hing(Kwan Yeung)'s supply boat to cash in a favor owed, and
another
lengthy chase sequence, the boys return to their hotel room to find a suitcase full of cash and two plane tickets, before a failed snipe attempt results in two more dead bodies and totalled burning vehicles in the street.Garucci pays Hing a visit, and kicks the snot out of one of his friends(Lee Hoi San) before giving him the same treatment.Hing is found dead, his tortured body hanging off of his own burned-out boat, sinking in the harbor.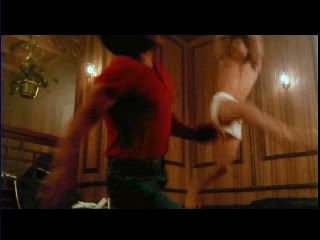 Parkour was created in the nineties, eh?I wonder...
Not so easily swayed by death threats or warnings from authoritative figures, Garoni and Wong make an appearance at Ko's press conference to announce the purchase of a new race horse, and disrupt it, chucking his briefcase of money into the air.Garoni and Hing's black buddy follow Gurucci to one of Ko's makeshift opium labs, where, depending on the cut of the film, fully dressed or totally nude brawds stuff opium into hollowed out melons, and rescue Laura Shapiro, with Garoni, wounded, and abducted in her place.Wong sends Laura to the authorities, then descends upon the shipyard where Ko has demanded the switch(Laura for Garoni) take place, only to find it crawling with thugs, not least of which, being Gurucci, who jumps into battle with the cop, trying to shear him in half with a miter saw and electrocuting himself in the process.Wong fights his way through the underlings, video game-style, ultimately squaring off against a box-throwing Chinese musclehead on a high platform suspended by crane.Meanwhile, Ko is in his private helicopter, hovering around with his Mac-10, and trying to pick Wong off.That Harold Ko...is a real snake.Naturally, Garoni gets his hands on a 20 mm cannon and blows a sniper's tower away in slo-mo, before Wong manages to drop the crane's contents onto Ko's chopper, transforming it into a badly edited fireball, and ending the boss's reign of terror once and for all.Back home, the two grinning cops are halfheartedly awarded medals of honor as the credits roll.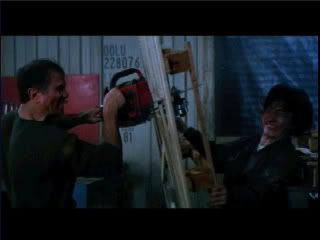 Garrucci(Bill "Superfoot" Wallace) could hardly wait for Officer Wong(Jackie Chan) to don his safety goggles and work gloves to start cutting pallets down for his wood stove.
Glickenhaus, who helmed the 1980 cult classic, The Exterminator, claimed that his effort would always be Chan's biggest success on this side of the pond, reasoning that American audiences would never sit still for Chan's style of action.Insert your "Wah wah wah WAAAAAAAH" Price is Right buzzer right here.Though Jim's cut of the film is widely accepted as lethargic, exploitative garbage and a failure selling tickets, the Hong Kong version achieved moderate success afterall, and is a much better time to be had, believe you me.Besides, there's a lot less Danny Aiello running around in boxers in the latter version, and that should seal the deal for anybody reading this entry, besides maybe Mrs. Aiello.Chan would follow this one up with 1985's sequels to Winners and Sinners, My Lucky Stars and Twinkle, Twinkle Lucky Stars, before moving on to do Armour of God(1987), while Aiello would later declare the video for Madonna's 'Papa Don't Preach' he would appear in was "crap"(!).Interestingly, the late Butler, Pennsylvania native and reverse bearhugger extraordinaire, John Minton, aka/"Big John Studd" would go on to appear in several more movies like Harley Davidson and the Marlboro Man(1991) and Shock 'Em Dead(1991), before succumbing to liver cancer four years later.Our string of three Wop movies for Chan-uary is broken by this mostly average effort that merits two.If we're talking about the U.S. theatrical cut, subtract one more of those and avoid like Grady "Lobster Boy" Stiles did pinky rings.
"Departmental medals of honor??!It really does pay to recklessly play by your own rules afterall!"