Upon seeing the trailer for tonight's review, I turned to my associates and evoked the rite of "callsies" for our next trip to the cinema, it visibly being no clone of Skyline(2010) or Battle Los Angeles(2011), which would cause it to fall outside my genre jurisdiction, and thus, fieldable by the Doctor, who, indeed, grooveth upon the space fodder out of us.As most of the regular readers already know, the films that tend to get labelled "demonic possession" films are usually the ones I get the biggest kicks out of.The more over the top the exorcism criteria, the more my dimples get to poppin'.I could tell ten seconds into the aforementioned trailer what I was gonna be in for with this one, the second effort in the chair from Bell, with lots of Cannibal Holocaust-style found footage and unholy hijinks, and after sawing logs three quarters of the way through Sir Anthony Hopkins bleccch-xorcist copy, The Rite(2011), it was just what ol' B-Dub ordered.Sure, there's nothing much original about Inside, and it borrows heavily from prior less-is-more basement budgeted documentary-style flicks like Blair Witch Project(1999) and Paranormal Activity(2007), but there's plenty of joint-locking, ancient language-speaking, blasphemy-growling chicks with over-dilated pupils skittering in and out of the shaky handheld darkness here, if that's your bag, too, and really, why wouldn't it be.Why wouldn't it be.Despite being panned by critics and moviegoers alike early on, the movie still managed to gross nearly fifty-seven million after topping the box office with a strong opening weekend, proving many of us are just as succeptible to devil women as Cliff Richard was back in 1976.Forwards...
Baby, you had me when you crawled in upside down, screaming "Non Salvus!" in a chorus of baritone voices.
Twenty years earlier on the night of October 30th, Maria Rossi(Suzan Crowley) committed a triple murder while undergoing an exorcism, having spent the past two decades locked away in a psychiatric hospital under Catholic care in Rome.In the present, Rossi's daughter, Isabella(Fernanda Andrade) is producing a documentary on exorcisms, and looking to better understand what happened to her mother all those years ago in the process.After visiting a Vatican-approved exorcism school in Rome, she joins forces with two young priests, Ben(Simon Quarterman) and David(Evan Helmuth), who perform the rites regularly, tagging along as they continue to try to exorcise the demons from a young joint-locked unfortunate named Rosalita(Bonnie Morgan), using modern medical equipment to document her body functions, such as pupil dilation, to help discern whether she suffers from true demonic possession or merely some undetermined mental illness.Rosalita spouts blasphemies in various voices and languages before attacking the film crew, and even calls Isabella by name, despite having never met her.The young woman musters up the guts to visit her mother at the asylum, only to be met with a cell's worth of obsessive paintings and a mammy who's decked herself out in gouged inverted crosses that whispers to her daughter of the murder of children and God's will before letting loose with a wits-rattling shriek.You crazy hot old bitch you. I saw that coming and you
still
managed to jostle my popcorn bag.Isabella tells the priests that she underwent an abortion some time earlier, and that her mother, institutionalized like Mike Muir, had no way of knowing that tidbit.
"If you'll excuse me, I have a drowning to attempt, errr, baptism to oversee."
With mounting evidence of demonic possession, or, as I like to call it, "aggressively sexy/horny", the priests move ahead with plans of an unauthorized exorcism for Maria, during which she spouts off about "knowing what Ben did" and her daughter's unborn child, before breaking the fuck loose from her restraints and treating both holy men like soft punks, earning some yummy vein sleep-candy from the doctors who rush in afterwards.Ben agonizingly scrutinizes the audio from their session, managing to discern multiple demonic voices speaking in unison during one exchange.Meanwhile, David is performing a baptism for a newborn when he suddenly takes the immersion slightly too literally, and tries drowning the baby in holy water(!) before passing the fuck out, it having been a service of great energy expenditure, little droogies.Later at home, in the throes of possession himself now, obviously, he'll blow his own brains out with a ganked officer's service revolver just as Isabella goes into seizure.At the hospital, Ben sees mortally wounded emergency room nurses as possible evidence that Isabella is
also
possessed at this point.Certainly a theory, right?Together with Michael, he leaves in a car with her to get her a much-needed emergency exorcism, but she manages to creep him out with talk of that "thing he did" and tries to force Michael to crash the car.Moments later, Michael's also looking pretty possessed as he drives headlong into oncoming traffic, and the video cuts out after the vehicle flips several times.Cue: unsolved case/phony website info before the credits roll.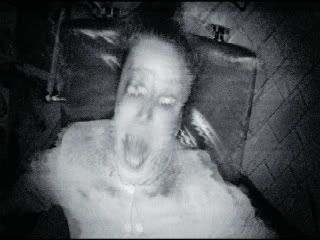 "No! Not the bore worms!"
Fernanda Andrade, apart from being lovely and Brazilian, worked almost exclusively on television before landing a role in tonight's review, on shows like CSI:Miami, CSI:NY, Law and Order:LA, and Sons of Anarchy.We dig her, highly.Evan Helmuth has also done a lot of work in television, video games, and movies like Garfield(2004).Suzan Crowley has appeared in BBC fare like Grange Hill, The Knock, and Backup, while director Bell took the chair for 2006's genre entry, Stay Alive, prior to tonight's review.I'd file Devil Inside somewhere behind The Last Exorcism(2007) but
well
in front of The Rite(2011), in terms of effective recent supernatural chills.There's just something inherently cool about losing control of one's body and soul to an agent of pure evil, and when it's a female of the species, well then, I'm gonna need some quality alone time, if you follow me.An overall mediocre affair, but an enjoyable one thats chock full of jump scares and atmosphere, especially if demonism and possession are your bag.On the scale, Inside earns a score of Two biggies.Worth a look.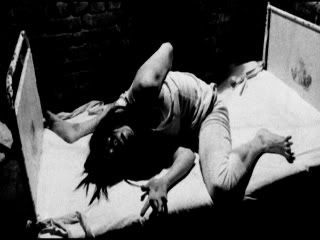 Another one with twist fever and a double case of guitar blues.