I could seriously spend the next four paragraphs describing in vivid detail how thoroughly tonight's review sucks.In fact, the last time I experienced sucking of this magnitude, I felt compelled to buy her fucking roses afterwards(Don't get excited, I didn't). The latest casualty of Hollywood's recent shameful cheap buck remake pitch is none other than Wes Craven's 1972 cult classic, Last House on the Left, another movie that probably should have been left well enough alone, despite being a low budget remake of Bergman itself.At the very least, if you're gonna tackle a remake of this magnitude, try to pay homage to the original by doing it some justice with respect to its fanbase, instead of leaving it in the ineffectual mitts of those eventually responsible for such an ephemeral mess as this.Though I wasn't a big fan of the tweaks in the new script, apart from the complete ommission of the bumbling cops storyline(and the less I have to see close-ups of cackling toothless chicken-tending hags, the better), the fault clearly lies in the casting.Looking at the updated Krug and company, as portrayed by Garret Dillahunt, Aaron Paul, Riki Lindhome, and Spencer Treat Clark, respectively, leaves me thinking the worst crime any of these cats would ever commit would be pirating internet connection off of an upstairs neighbor.The original cast had a vérité scumbag vibe that permeated every frame they occupied, that frankly, still makes me a little itchy whenever I watch it today.What Iliadis has created here is less edgy than a jam spreader, little more than a glorified episode of Dawson's Creek with a few uninspired gore set pieces.Don't even get me started about the friggin' microwave...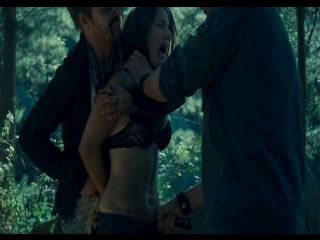 "Help! I'm being shanked up by soap opera actors!"
After a daring escape from police custody orchestrated by his lanky squeeze, Sadie(Riki Lindhome) leaves two transporting officers dead, Krug(Garret Dillahunt), Francis(Aaron Paul), and company hole up in a nearby hotel room where Krug's son, Justin(Spencer Treat Clark) has been entertaining two teenaged girls, Mari(Sara Paxton) and Paige(Martha MacIsaac), with his boyish charms and his seedless stinky buds.With Krug's grill all over the local paper, they decide to take the girls hostage, jacking their vehicle to flee the state.As cruisers speed past them and Krug searching for the road to the highway, Mari directs him down the road to her parents' summer home on the lake, instead.She puts the vehicle's cigarette lighter out in Sadie's face in an attempt to distract her kidnappers long enough to jump out, which culminates in the front end wrapped around a tree and a hearty beating from Krug and his furious, disfigured arm decoration.Krug tries to force his son to score some cheap grope-jollies off of the terrified girls, but decides to impose some surprise sex on Mari himself, instead, when the boy is reluctant.Paige deducts that insulting the would-be rapist is the protocol for getting him to leave her girlfriend alone.She turns out to be wrong, mistaking the procedure for getting repeatedly stabbed in the labonza by Krug and Francis for it.Mari watches Paige bleed out on the ground a few feet away while she's assaulted by the leader, who shoots her in the back afterwards when she tries to swim away to safety.A coming storm forces the fugitives to the nearby house of John and Emma(Tony Goldwyn, Monica Potter), the parents of the girl they've just left floating in the lake to die.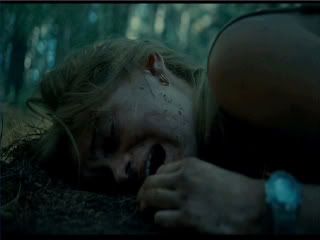 It's barely a movie.It's barely a movie.It's barely a movie...
At the house, Justin realizes exactly who his family's hosts are, and is instantly wracked with guilt, leaving Mari's necklace on the counter for her parents to find later.That night, John and Emma find their daughter, barely clinging to life, slumped on the porch after having swum and crawled from the lake in a seriously wounded state.Her father, a doctor, performs some impromptu dining room table surgery to alieviate her suffering, then later plants a hammer's claw into Francis' skull after jamming his mitt into the trash compactor in the sink drain.When the couple goes into the bedroom to finish off Krug and Sadie, they find Justin holding his old man's burner.He gives the doctor the gun, but Sadie awakens and distracts the vengeful father long enough for Krug to high tail it outta there.Emma puts lead in Sadie's loaf while her husband hunts down the gang's leader, who eventually gets K.T.F.O.ed by his own son(can you imagine the schoolyard chants that woulda grown outta something like this?)and Mari's desperate folks, who speed away in a boat towards medical care for their daughter.Krug, on the other hand, rendered paralyzed by the good doctor, lies with his head precariously laid on the tray of an open microwave that John has impossibly rigged to nuke the villain's head even with the door ajar.One exploding dome later and Death in Vegas takes us into the end credits.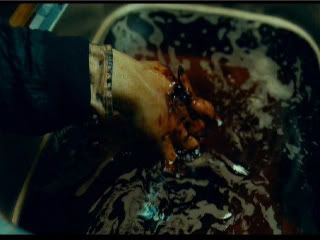 Palmolive dishwashing liquid? Why, you're soaking in it.
I'm not surprised by the fact that I hated this boring plate of
re-
re-heated leftovers, as I'd once told the
real
Krug that it was destined to be a trainwreck that I'd never willingly sit through(Sorry, Hess, wherever you are, I finally gave in for the sake of a good laugh).What surprises me is how many of
you
out there actually dig this mess:The fact that this actually has a
higher
user rating on imdb than the Craven original(6.6 to 5.9) currently does is proof positive that a lot of people out there these days like their horror movies glossed over with bad guys that look like a perturbed Burger King manager, his cashier, and the respective fries jock, and neutered with no scares or tension to speak of and obligatory happy ending.I reiterate.Even without the inevitable comparison to the 1972 film, Iliadis' movie is about as tense as two kittens wrestling on a yarn afghan, relying on antagonists who are as threatening as a skinned knee.His earlier effort, 2004's Hardcore, about two Greek chicks in a brothel, looks entirely more interesting than this ended up being.Zero biggies on the scale for you, Last House, in the hope that you really are the
last
Last House I'll ever have to visit.Skip altogether, if you know what's good for you.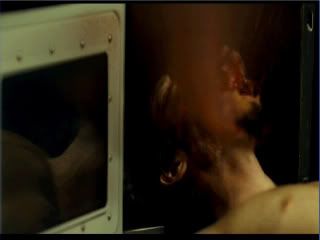 Lazy revenge:Sure, half of his face'll be exploded, but the other half is bound to turn out all rubbery and overcooked.