Chances are, if you saw tonight's review, not to be confused with the mint reggae-ish pop tune of the same name by The Payola$, back in the early eighties at the cinema, on cable, or on VHS after being raped of most of Tom Savini's effects work(basically everything but a final head shot) by the censors to garner it's R rating, you were probably as unmoved as I was.Of course, thanks to the advent of digital versatile discs, horror fanatics of every generation are able to resdiscover this one in all its uncut g(l)ory; a decent slasher-thriller hybrid despite it's numerous instances of deja vu to earlier, more effective genre films like Wait Until Dark, Black Christmas, Halloween, and even He Knows You're Alone, whose FX tech, longtime Savini bud and Romero regular, Taso Stavrakis tackles a nearly identical head-in-a-fishtank effect, to a much less satisfying end.Problem is, the whole thing plays like a made-for-tv drama with a bit of gore and nudity thrown in(Don't start hyperventilating, you creeps, Tewes doesn't break them out here, but Vic Morrow's daughter doesn't have a problem with doing it, if only briefly), more than a typical slasher of the day.Even still, it's not a bad hour and a half, especially if finally seeing the damned thing uncut appeals to you the way it did for this guy over here.Onwards...
Jennifer Jason Leigh-licious.
A wildlife photographer catches the lifeless form of a half-naked young girl submerged in the mangrove swamp in his camera lens, as the rape-murder(potentially the city's third) is reported by local tv newswoman Jane Harris(Lauren Tewes) as seen on a television in a seedy bump n' grind, where a blonde waitress named Debbie(Gwen Lewis) is about to embark on a lonely walk home in the dark.At home, her screening of 'Shock Waves'(1977)(one of the director's films!) is interrupted by repeated obscene phone calls from a man who's followed her from the bar.He remarks about her bra-less cones and vows to fuck her and kill her, as well.Before the police can stop by to take a statement in the morning, her boyfriend is beheaded with a meat cleaver, and she's punched up, slapped, raped, and strangled with a belt as his disembodied head looks on from inside the fishtank.Elsewhere, Jane argues with her boyfriend about her younger psychosomatically challenged sister, Tracy(Jennifer Jason-Leigh) putting a strain on their budding relationship, before witnessing fellow tenant Stanley Herbert(John DiSanti) displaying some suspicious behaviour in the parking garage(what guy
doesn't
preen himself in a car window's reflection, I ask you).The radio reports the earlier murders as Tracy, blind and dumb, gropes around the kitchen for some toast then down to the laundry room.Through Jane's guilt-laden flashback, we see a pubescent Tracy abducted right in front of their house by a Russ Tamblyn lookalike.Still haunted by her inability to stop the abduction and subsequent implied trauma that followed, Jane begins to obsess about the current murders, and more specifically, her pudgy nearsighted neighbor's suspected involvement in said killings, snooping around his car in the garage like a live-action Velma Dinkley minus the tight sweater and enormous...goggles.
"ZOMG!There's soooo much algae on the walls of this fish tank..."
Through a call to management, she discovers his identity and location in the north tower, right across from her place.Meanwhile, Stanley's threatening to stick it into Annette, a secretary for a law firm, who happens to be working late, the way chicks often do in these movies.Before she can drive to a friend's house for the night, she's grabbed up by a stocking-headed sex fiend in the back seat of her car.When Herbert dumps her violated body out in a gravel pit, he gets his tires stuck in the mud, and the incessant engine revving that follows alerts a couple making out in a car a few yards away."Hey baby, you wanna get bottomed out in the back seat at the...
gravel pit
, tonight?" Okay, I'll stop.The guy stifles his shirtless tongue-joust long enough to get shivved in the neck when he goes over to offer a push out of the rut.Horrified at the sight of her boyfriend bleeding out on the passenger side window, she doesn't notice Stanley as he gives her some jugular vein-tilation with his stiletto.When Jane hears about the latest bodies being discovered in mud, she races out to scrutinize Herbert's tires, which had been covered in mud earlier, but her neighbor has already been through the car wash.Jane steals the master key to Herbert's pad and rummages around inside while he's out being creepy, being forced to dangle off the high ledge by her fingers when he returns home unexpectedly.After a movie date goes stale, she returns home to repeatedly crank call Herbert, smoking a cigarette after getting a sexual charge(!) from all the excitement.Careful Jane, you wouldn't want to force the killer to target your helpless sister while she's alone in your apartment, because you're in
his
looking for more clues.I think we have ourselves a tension-packed finale...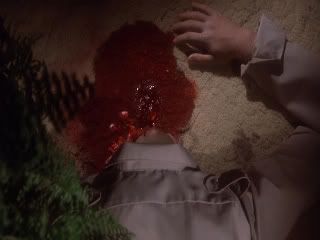 "Eegads!On the night of my reefer consortium, and out of Swiffer WetJet pads!"
To go along with the Shock Waves(1977) insert, a one sheet for Dawn of the Dead(1978), Savini's high water mark to that point, makes a cameo in the theater scene.Besides Waves, Wiederhorn directed Meatballs Part II(1984), Return of the Livng Dead Part II(1988), and 1993's A House in the Hills, as well as several episodes of tv's Freddy's Nightmares.Apart from tonight's review and The Doom Generation in 1995, the vast majority of Tewes' acting work has come on television shows like The Love Boat, Murder, She Wrote, T.J. Hooker, and Vega$.Leigh, on the other hand, would feature prominently in films like 1982's Fast Times at Ridgemont High, Easy Money(1983), The Hitcher(1986), Single White Female(1992), and Cronenberg's eXistenZ(1999).DiSanti would score roles in numerous television shows over the years, as well as appearances in movies like Hardly Working(1980) with Jerry Lewis, Hot Stuff(1979), Absence of Malice(1980), and The Star Chamber(1983)."This might seem like a crazy question...but can a cuckoo clock make music? Or does it just go 'Cuckoo!'?" With dialogue like that, and lens-dressing like Leigh and Tewes, with a few effective Savini pieces thrown in for good measure, Stranger merits a look, even if you'll probably come away from the screening with other better movies on your mind in the end.Two Wops.Worth checking out.
"Captain Stubing...it's Julie...Gopher's trying to kill me!"