Tonight's review, not to be confused with the
Activision Atari 2600 cartridge of the same name
(Yeah, I scored a million on it back in the day, what's up, bitches.), was all over the pages of Famous Monsters and Starlog growing up, and with glorious color pictures of Dave Allen's stop motion alien handiwork fresh in my recent memory, I bought the Media VHS print when perhaps fifteen titles on video existed in
total
.Sort of a bullied-Mark Hamill-lookalike-finds-a-cheap-looking-laser-weapon-in-the-desert-and-blows-lots-of-shit-up-with-it movie, cheap n' silly, with lots of genre value and a cast comprised of former Jeff Beck frontman, Kim Milford, Cheryl "Rainbeaux" Smith, Roddy McDowall, Keenan Wynn, and longtime cinematic nerd, Eddie Deezen in his film debut, as...yeah, the gangly, obnoxious nerd he
always
plays.
There's
a shocker.Despite having the dubious distinction of being "the worst sci-fi movie ever made" in some circles, it really isn't all
that
bad, once you put aside the badly matched laser explosions, one-time director Michael Rae's uncanny ability to make explosions seem boring, the hokey alien makeup fx by Steve Neill, the plastic space-weapon(that resembles one of those NERF cannons they were pimping years ago) and matching intergalactic grenade necklace, Gianni Russo as a poor man's Dirty Harry with a peacock's ass worth of leisure suits...okay, okay, the movie sucks, but it's a bad that
could
be enjoyable to revisit every ten or fifteen years, perhaps, and here's to hoping I'm partying with Keith Moon by the time the next screening rolls around.Two sci-fi reviews in the same month?What the hell is going on here.Onwards!
Yup, Eddie Deezen just burned you.How's that feel right about now...
We see a green-tinged gent(fx man Steve Neill in a cameo) with a laser cannon on his arm being pursued by a spacecraft, whose occupants are turtle-aliens in gold and silver lame' gloves n' boots, respectively, and who zap the piss out of their greenish target and abruptly blow the earthly clambake for space, leaving the weapon and gaudy necklace combo behind in the smoldering pile of ashes in the desert sand.Enter Billy Duncan(Kim Milford), a Luke Skywalker-looking chap who's constantly getting mucked about by everybody, as in the town's two drawl-spittin', jibber-reefin' deputies(Dennis Burkley, Barry Cutler), his girlfriend Kathy(Cheryl Smith)'s shellshocked grandfather, Colonel Farley(Keenan Wynn), and even local gearhead/rapist, Chuck(Mike Bobenko) and his wiry weenbag pal, Froggy(Eddie Deezen).If a guy like Froggy is harrassing you, well, you'd better score yourself a sweet intergalactic weapon of mass destruction while feeling sorry for yourself and kicking around the dust bowl, which is exactly what Billy does.He finds that when he dons the ugly pendant that accopanies it(and looks like something you'd find around the neck of Joanne Worley on an episode of "Love:American Style!"), the cannon obliterates all in its path, with a cheap slo-mo explosion sequence, to boot.Back aboard the spacecraft, the aliens are alerted to the weapon's misuse by their leader via a video screen playback of Billy shooting up tumbleweeds and the like, and they turn their ship around, new mission in place.After Billy takes it upon himself to blow up Chuck's convertible
real
good after he and Froggy try to spring some surprise sex on Kathy at a groovy pool party, the scene is made by Tony Craig(Gianni Russo), a government agent who puts the town on lockdown, from the smart comfort of a leisure suit.
"Dispose of that infernal weapon...and bring me some lettuce..."
After Kathy discovers the strange inflamed growth on his chest while tonsil-jousting in the grass with him like a couple of Dead show stragglers, Billy visits Dr. Mellon(Roddy McDowall) who surgically removes a small metallic disc from the wound, but gets blown up before he can deliver it to the local police lab tech(Mark the McDowall electric bill:paid).Craig investigates the crash scene and skirts away the perplexing metal to the tech, who determines that it is indestructible, of otherworldly origins, and redeemable for six coin-op arcade games of your choice at participating Top Dog chain restaurants.Just kidding.The next day, Kathy unwittingly props the space grenade on her boyfriend's chest while they're rolling around in the grass again, this time causing him to spring up from the blanket, green-grilled with pointy teeth and colored contacts.Now you've done it, woman.Billy goes on a drawn-out laser-fuelled vendetta against everyone and everything, from gas stations and police cruisers to cherry '55 Chevys and cheap billboards announcing the coming of "Star Wars" to theaters(get it?ehhhh).Craig and Kathy trail him into town, where he's been prancing around, laser-cannoning junk cars and newsstands, slo-mo victory jumping, until the aliens make the scene and blast him with a pleasantly pink-blue destructo ray from a matte painting of the city buildings, effectively killing him and destroying the weapon, before breaking the fuck out like poison sumac, in the process.Scrolling futuristic end credits interrupt Kathy, weeping over the lifeless body of her boyfriend on the street.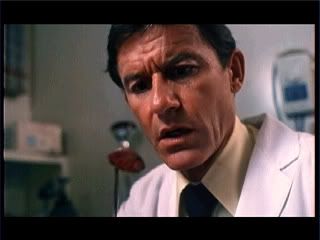 "Did I really use that much electricity this month?" thinks Roddy McDowall.
Rae never directed anything else, for those of you that think we've got nothing to be thankful for these days.Milford would ironically play the antagonist to Mark Hamill's lead in Corvette Summer(1978), before succumbing prematurely of heart failure at thirty-seven in 1988.Rainbeaux Smith, always one of my favorites, would follow up her panning here at the fingers of vicious movie critics(leave mah Rainbeaux alone, ye bastards) with roles in Cheech and Chong's Up in Smoke(1979), and Vice Squad(1982), before succumbing herself in 2002 due to complications from liver disease and hepatitis from her long-standing problems with heroin.We'll be looking at another feature with McDowall, another favorite of mine, later this month.Then there's Eddie Deezen.Grease(1978), Grease 2(1982), 1941(1979), Wargames(1983), Zapped!(1982), if there's a late seventies/early eighties social misfit in the script, chances are, he's it.After cutting his stop-motion teeth in Equinox(1970), David Allen would lend his talents to films like Flesh Gordon(1976), The Howling(1980), Caveman(1981), and Q(1982).As you woprophiles might have figured, Laserblast earns a single Wop on the ratings scale(I never go
too
hard on the seventies stuff, old softie that I am), for Allen's excellent stop-motion alien footage, and schlocky fun all around.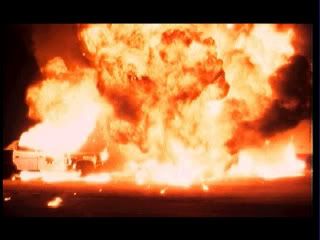 Weeeeee-ooooooooo!Sumbitchin' gas station blowed up real good, dadgummit.