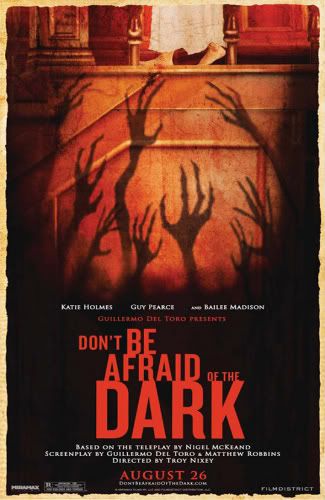 When I first heard Guillermo Del Toro's name was attached to the much ballyhooed remake of the
unforgettable 1974 made-for-tv cult classic
that provides us with an entry tonight, I was cautiously optimistic for a minute there.Afterall, Del Toro has proven time and time again that he's a filmmaker with a artistic vision and style all his own, and if
anybody
of late could successfully recreate the terror of the original, I'd probably put a bundle down on him.On the other hand, it wasn't difficult seeing him mount up on the whole fairytale/storybook angle and ride it into the unfrightening dust, if left to his own devices, either.I'm here to report that he's mostly accomplished the latter here, though the film itself isn't terrible;Comic book artist-turned-film director Troy Nixey does offer up some of the lush visuals we've come to expect from a Del Toro production, and the film is choice to look at, it's just that the scares that were abound in '74 are nowhere to be found in '11.Can't let Bailee Madison shoulder any of the blame in her portrayal of the now-youngster Sally(an interesting twist), she does a remarkable job purveying the mixed-up emotions of a complex kid, and is probably my favorite aspect of the movie overall.Katie Holmes and Guy Pearce both give adequate turns as the little girl's grown up interaction as well, it's probably the (unneccessary) exposition-heavy script that anchors their boat in mundane waters.I wasn't crazy about the creature design either, being overtaken in the basement by a wave of cartoon mice with eighteenth century British graverobber-esque human heads sounds a lot better than it actually comes off on the screen.For serious...
"Aren't you hitched to that Mapother weirdo that spazzed out all over Oprah's couch?"
Through a flashback, we see Lord Blackwood eighty-six his housekeeper with a hammer and chisel, offering her teeth to unseen entities that dwell in the ash pit of a fireplace in the basement of his spacious mansion in hopes they'll return his kidnapped son.After specifying that it's
children's
teeth they dig the most, they tug the brokenhearted wildlife painter down into the pit.One title sequence later, we're introduced to Sally(Bailee Madison), an Adderall-chewing eight year old who's arrived in Rhode Island to live at Blackwood Manor while her father, Alex(Guy Pearce), and his girlfriend, Kim(Katie Holmes) restore the old place for the real estate market.That first night, Sally's carousel nightlight tune rouses the creatures from their long slumber, and the next day, she discovers the basement skylight, hidden by overgrown foliage outside, spurring on a cautionary scolding by Mr. Harris(Jack Thompson), not to enter the basement.Nobody listens to him, of course.Sally, depressed and lonely, uses Harris' tools to open the grating on the fireplace's ash pit, curious to meet the tiny creatures who've been whispering her name.Inside she finds a tooth, which she places under her pillow, that the creatures later replace with an antique silver coin.They steal her father's straight razor and shred one of Kim's dresses, which the little girl is blamed for.When Alex and Kim go into town on business, Sally uses the opportunity to go down to the basement to talk to the little beasties, but is interrupted by Mr. Harris, who sends her upstairs and tries vainly to bolt the ash pit shut, but is overtaken by a small ocean of the blasted things, who use his own tools to slash him up but good.Alex arranges for Sally to see a therapist, as her encounters with the basement fairies become more and more frightening, and she sketches one of them as it appears to her under the sheets of her bed.
I think I see one of Al Capone's old wine bottles through the grating...
Kim visits Mr. Harris, who's recovering in the hospital, about Sally's wild stories, and is directed by the frightened man to the local library to seek out Lord Blackwood's unpublished works, which reveal artwork depicting the menacing little tooth fairies(Scared yet?Me neither.), who enjoy transforming humans into one of their own from time to time.Meanwhile, Sally is harrassed in the bathtub by one of the fairies, who turns out to be Lord Blackwood himself, boasting that he and his minions will take the child and make her one of his own.Kim uncovers a large mural in the basement of the unearthly things making off with Blackwood's son, as painted by the artist himself.Of course, Alex is unfazed by all of this, concerned only with impressing his boss Mr. Jacoby(Alan Dale) at a hosted dinner, until the creatures trap his daughter in the library, as she uses her camera flash to keep them at bay; the bright light hurting their itty-bitty eyes.Awww.Finally convinced that his daughter's life is in jeopardy if they stay, Alex packs up and planbs to split with Kim and Sally in tow, but the fairies kibosh that notion, and hogtie little Sally, dragging her down to the basement.Kim comes to the rescue, cutting the girl loose, but getting tangled in the ropes in the process, and ultimately, shattering her leg as the beasties drag her down into the ash pit instead.Sally, distraught over the loss, brains Lord Blackwood with a flashlight, just as Alex manages to make the scene in time to mourn the loss of his girlfriend with his daughter.After some time has passed, we see Alex and Sally visiting the abandoned mansion, where Sally leaves a drawing of Kim on the floor, which is taken up by a gust of wind and whisked into the fireplace where we hear Kim telling her new pals that they've got all the time in the world to wait for another victim.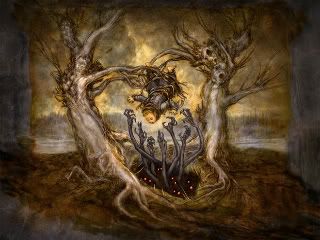 Didn't they uncover a mural very similar to this on Penn State's main campus?Oof.
If you're into Katie Holmes, you're better off checking her out in Christopher Nolan's Batman Begins(2005) or Sam Raimi's The Gift(2000) if it's her bobblers you fancy seeing(nice as they are, they don't save that particular flick from being any less boring, I'm not afraid to tell you).Pearce is better represented in L.A. Confidential(1997) and 1999 genre fave/cult cannibal hit, Ravenous.Nixey understandably drew inspiration for his creatures from
sand puppies
(!), while Del Toro once again went to the
fairy
(!!) well for subject matter, all of which
might
be terrifying to you...if you're a skirt-wearing Nancy.Though I've given the Dark remake two Wops, a score it deserves, no doubt, it has to be looked at as an overall disappointment in comparison with the original, which accomplished so much more with less.Softer core horror nuts might be taken by Del Toro's beautiful visual style, but substance is non-existent here.See the original instead, and if you're up for a decent tooth fairy-flick, see:Jonathan Liebesman's Darkness Falls(2003).The scariest thing I can imagine at this point, would be having to sit through this one
again
.Two biggies.
"Is it just a trick of the light, or isss the ceiiiilin' peeeeeeelin'?!"