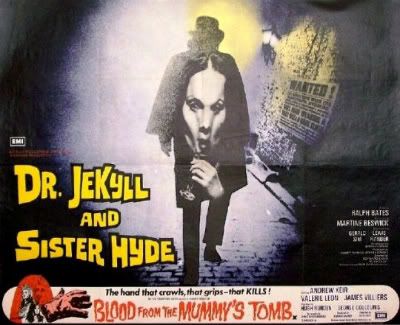 With another Valentine's Day in the rearview mirror and guys everywhere teary-eyed at the sight of the smoldering pile of ashes formerly known as their self-respect and vacuous hum of empty wallets(hopefully it got you laid, at least), there's no better place to get back to what's fourth best in life(genre movies and the lamentations of your enemies' women are neck-and-neck at the time of this writing) than here at the Wop.Here's an interesting little number from the folks at Hammer, a thought-provoking twist on Robert Louis Stevenson's historic take on duality, Strange Case of Dr. Jekyll and Mr. Hyde, with Hyde taking the form of a sinister seductress, as portrayed by the lovely Martine Beswick, and unsung Hammer lead Ralph Bates as the masculine Jekyll with good intentions, as
always
.As well as the gender-bender angle, the film's producers managed to amalgamate two historic criminal cases, Jack the Ripper and the Burke and Hare murders of Edinburgh, into the plot, handled with a dark wit, and a seeming undercurrent of debauchery just off-camera, making for a highly enjoyable viewing experience to be had, indeed.In the chair for tonight's affair, was the prolific Roy Ward Baker, who handles the potential for graphic depiction with reservation and class in adding another minor horror classic to his flourishing genre credentials late in his career with Hammer and a year later, Amicus.I always thought Bates was quite good during his tenure with the studio, and he's once again strong here as Jekyll.Beswick also exudes an aura of danger about her, during her scenes, chewing scenery in every frame.Gore fanatics will be pretty underwhelmed(pretty tame stuff considering all the whore-rippin' goin' on), as per usual with Hammer, but find solace in all the implied violence within.Pressing ahead....
Distressed by the blade at her breast, this working girl's laid to rest.
Jekyll(Ralph Bates), faced with the harsh reality that his research towards a cure-all for mankind's ailments might take decades to come to fruition, sets his sights considerably lower for the time being: an elixir of eternal youth, created from female hormones as extracted from the corpses of dead prostitutes.Makes sense.After extending the life of a common housefly past hours and into days, Jekyll finds himself visiting the likes of Burke and Hare for his "materials" when they become increasingly harder to come by through natural means.Dodging the advances of lovestruck upstairs tenant, Susan Spencer(Susan Brodrick), he tests his formula upon himself, physically transforming into Hyde(Martine Beswick), a beautiful brunette
woman
who introduces herself to his neighbors as a widowed sister, after first playing with her tits in the mirror and laughing maniacally.My kinda dame.Naturally, Susan's brother, Howard(Lewis Fiander), is instantly taken by the alluring beauty(and not impressed at all by Jekyll, if he only knew who he'd be kissing later on...), who has already begun taking over Jekyll's personality, as evidenced by the number of gowns and frocks being delivered to his apartment.Must be how Eddie Izzard got his start, eh.Unable to resist the urge to change and low on whore-bits, Jekyll receives another wrench to his experiments when an angry mob sets upon Burke and Hare for their fiendish crimes, lynching the former and blinding the latter, forcing the good doctor to frequent the Whitechapel area at night himself for his...ahem, supplies, when Susan remarks about the needs of the many outweighing the suffering of a select few.
Fanky set o' malloons for the homicidal half, Sister Hyde(Martine Beswick).
When Jekyll's old friend and colleague, the womanizing Professor Robertson(Gerald Sim), begins to suspect that he's responsible for all the Whitechapel ripping, Henry is forced to loose his sociopathic feminine side on the streetwalkers.Of course, this is an unpleasant means to an end for Jekyll's progress, while the cigar-smoking Hyde takes sadistic pleasure in the killings, which are carried out with surgical precision.Hyde finds her power over men and women alike very intoxicating, with Howard and Robertson vying for her affections and various nameless hookers dying under her surgical implements. Jekyll finds it increasingly difficult to control his female outbreaks which occur at the least opportune times, having finally tuned in to Susan's romantic vibe(I'd imagine one of your hands going feminine while you're entertaining female company's
gotta
be right up there with sprouting a 16 oz facial pimple on prom night).After seducing Robertson, who's still got the notion that his old chum has blood on his hands, she erases him from the equation, and, with unbridled lust for Howard, she plans on removing Susan, as well.Though Henry manages to stymie sister Hyde in killing his love interest, he realizes he must kill again to regulate his chaotic transformations, but the constabulary interrupts him, acting on a statement from the blinded Hare that draws upon the similarity between Jekyll's experiments and the recent rash of murders.Cornered like a wild animal, Jekyll finds himself precariously dangling from the rooftop of a high building when he's suddenly gripped by a metamorphosis into Hyde, who's simply too weak to hold on, and plummets to her end on the pavement below, her face showing masculine and feminine features in death.Credits.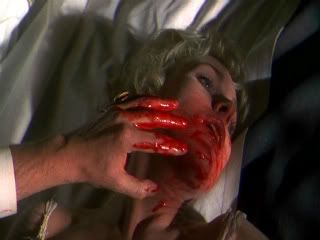 Cor!You ought to wear a bib when you get into the preserves like 'at.
Ward Baker would direct such Hammer classics as Quartermass and the Pit(1966), Scars of Dracula(1970), and Vampire Lovers(1970), before helming Asylum(1972) and Vault of Horror(1973) for Amicus.Bates, who portrayed Gaius Caligula on BBC's The Caesars series(no wonder I like the guy), would also star in Taste the Blood of Dracula(1970), Horror of Frankenstein(1970), Lust for a Vampire(1971), and Fear in the Night(1972) for Hammer, before succumbing to pancreatic cancer at the age of 51.The Jamaican-born Beswick made a name for herself in two Bond films, From Russia With Love(1963) and Thunderball(1965), later starring in Hammer's Prehistoric Women(1967) and Oliver Stone's debut Seizure(1974), and scoring genre credits in 1987's The Offspring, 1990's Evil Spirits, and Critters 4(1991) after moving to Hollywood.Susan Brodrick's only other genre credit was Hammer's Countess Dracula(1971), while Sim turned up in fare like Dr. Phibes Rises Again(1972) and Hitchock's Frenzy(1972) in his long career.On the scale, Sister Hyde scores three Wops, a solid all-around effort, and certainly one of the stronger late entries for Hammer.Recommended.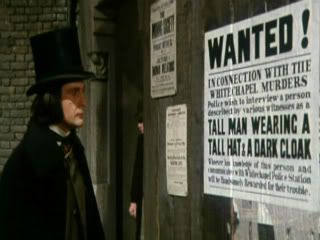 Rotten good luck that there's no one who fits that description 'round these parts, eh wot?