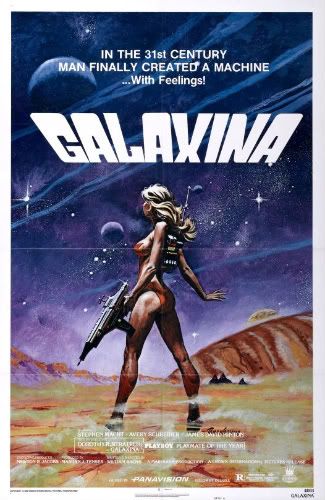 It's pretty rare that I'll tackle a sci-fi movie, as most of you know, but when faced with this 1980 low budget comedy as directed by the man who brought you The Incredible Melting Man(1977) and starring whisk broom-lipped Avery Schreiber, aka/ "The Doritos Guy", and statuesque 1980 Playboy Playmate of the Year, Dorothy Stratten, well, how could I resist something like that.The twenty year old Stratten would be famously raped, murdered, and abused post mortem by her estranged husband, small time pimp/hustler/male strip club entrepreneur/exercise bench salesman(
there's
a resume), Paul Snider, later the same year, leaving behind a small body of film and television work to remember her by.New York Times film critic Vincent Canby dug her screen presence.Hugh Hefner believed she could have crossed over as a successful actress.Nothing personal, fellas, but for as beautiful as she was, she had a hard time portraying a lycra-clad robot that was silent for better than half of the movie, ferchrissakes.I can see her scoring a few "Busty Rollergirl #2"s in low budget sex comedies and some iconic pin ups had Snider done her solid and let her split that fateful day, but it's safe to say she would have never given Meryl Streep or Helen Mirren any sleepless nights.Accompanying Ms. Stratten to Davy Jones' Locker here are Avery Schreiber, who treats the whole affair like a ninety-five minute long Doritos commercial from the seventies(like
this
, for those unfortunates who were born too late), soap regular Stephen Macht, and J.D. Hinton, who you'll remember as an extra in Andrew Stevens' direct-to-video Night Eyes 3(1993).In between all the miss-and-miss jokes, there's a Party City-worth of latex Halloween masks and rubbery fx provided by Chris Walas, whose work would score big in Cronenburg's Scanners the following year.Onwards!
I never got a rail-on over C-3PO. Advantage: Galaxina(Dorothy Stratten).
Aboard a dick-shaped intergalactic police cruiser out looking for speeders, are Captain Cornelius Butt(Avery Schreiber) and his motley crew of miscreants:the row machine-addicted, cigar-chomping Sgt. Thor(Stephen Macht), the bong-hitting cowboy, Buzz(J.D. Hinton), the bat-eared n' winged engineer, Maurice, an old proverb-spouting Asian named Sam Wo (Tad Horino), and of course, Galaxina(Dorothy Stratten), the voluptuous silent android in a white body suit with plastic windows sewn in for her abundant cleavage, and radio transistors behind a skin flap in her hand, as we're shown ad nauseum.The space cops exchange some inanities with a robotic rogue with flashing light up eyes and mouth named Ordric in a hawk-shaped space ship, and Butt trades insults with an imprisoned rock eater with a Yiddish accent.At the dinner table, Buzz flips his superior a miniature Alien(1979) rip-off egg, which he cracks open and drinks, causing him to choke and catch a fake beating from his crewmates, until he finally spits a rubbery creature out of his mouth that skitters off across the table out of sight.Thor tries grabbing Galaxina's ass and gets shocked, then plants one on her, causing her to rewire her own circuitry to make herself more appealing to him, with features like temperature adjustment to make her warm to a human touch and speech.Probably should have just stopped with spinning around in your countoured chair and the warm skin thing, sweetheart.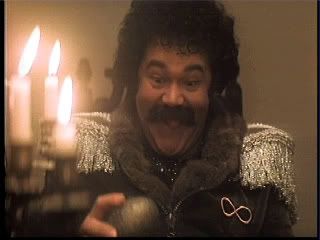 Never trust a Butt(Avery Schreiber) with egg on his face.
The boys receive a mission that requires a twenty-seven year journey, and thus a lengthy bout with the cruiser's cryosleep chambers, after an evening stop-off at an alien whorehouse on an asteroid for good measure.Oh, the one-liners.Somebody make them stop.Later, on Alta, or as it's sometimes known around the galaxy, the "western movie set full of people in rubber Halloween masks", Galaxina is forced to retrieve an energy source called the "blue star", which comes with a divine orchestral choir anytime anybody mentions it, which is probably like every third line of dialogue from here on out, mind you.She stops off at a saloon that promises "human food", only to discover that humans comprise the unfunny menu items, and an awful Mr. Spock clone with withered ears tending bar.She has a laser showdown at high noon with Ordric, and is taken prisoner by a cult of humans whose God is a bike named Harley Davidson, which they dance around.With Butt aged prematurely by the grown up alien-who-thinks-he's-it's-mother(famous dwarf Angelo Rossito) monkeying with the cryosleep controls and looking like one of the Hair Bears, it's up to Thor and Buzz to rescue the android, and much red filtered motorcycle with sidecar footage ensues.Back on the cruiser, the entire crew is thrown in the brig with the rock eater by Ordric, who gets his ass bitten out by the alien creature fixated with Cap'n Butt, and short circuits.Wow, is that the time already?
Same thing happened to me one time I bogarted this Wonka cat's blueberry kush.
Besides Melting Man, Sachs also helmed the drive-in-friendly Van Nuys Blvd.(1979), and crypto-documentary The Force Beyond(1978), among others.Apart from Doritos commercials, Schreiber, who most of you will remember as Cap'n Manzini from the hit tv comedy, My Mother The Car(1965)(I'm joking), was all over television and the movies in the seventies, appearing in things like Silent Scream(1980) and Caveman(1981), and voicework for cartoons, like Here Comes the Grump(1969), with Rip Taylor, of all motherfuckers.Apart from small cameos in things like Skatetown USA(1979) and Fantasy Island, Stratten also appeared in Peter Bogdanovich's They All Laughed.Looking at Dorothy Stratten in skin-tight bodysuits and leg warmers isn't a bad way to spend ten minutes, but there's little else here to see, you'd think the producers would have at least had the common decency to let her break that beauteous body out from it's datedly spacey confines once or twice along the way.Rhonda "Up All Night" Shear is in there somewhere, too, if you're eagle-eyed enough to spot her.On the scale, a single Biggie for Galaxina, a direct result of not being very much fun to watch at all.Avoid.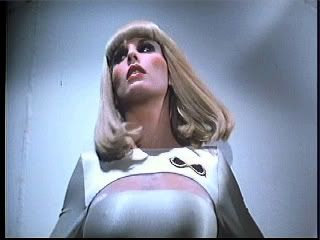 What's wrong, you look tits, uhhh, err, concerned.