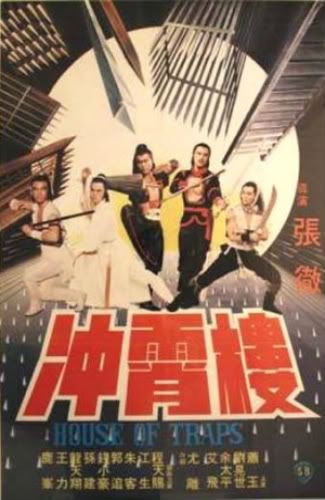 Tonight we look at the last Chang Cheh film to feature his second stable of action stars: Kuo Chui, Lu Feng, Chiang Sheng, Sun Chien, also known as "The Venoms", in near entirety; only strongman Lo Mang is absent from the goings-on.Also on board here are Cheh regulars Chin Siu Ho, Lung Tien Hsang, Cheng Tien Chi, and Wong Lik.Cheh's cinematic efforts had become increasingly bloody and baroque by this point, as evidenced by Spearmen of Death(1980) and Masked Avengers(1981), and with tonight's feature he would push his concepts to the brink with a tale of treason and greed set during the Sung Dynasty, centered around a trap-laden pagoda of death, sort of a fancy roach motel for pugilists.Though the fights, as choreographed by the Venoms, are on par with the brilliant standard they'd established some five years earlier, there aren't a whole lot of them here to enjoy.Instead, there's plenty of confusing plot and hilarious dialogue(If I had a buck for everytime somebody mentions the titular "house of traps", I'd open a nationwide chain of martial clubs.) provided by the usual two or three ADR dubbers lending voices to every character in the movie, or so it would seem.What the production lacks in combat sequences, it makes up whenever some unwitting bastard strolls into the aforementioned house, and gets jacked up by lever-pulling, gear-turning death.Make no mistake, the cleverly brutal House of Traps is the main attraction here, and even gung fu takes a backseat to it.Still, if you're a Shaw Bros or Venom Mob completist, you'd do well to add this fitting farewell to Cheh's second stable to your martial collection, regardless.Onwards!
House of Traps-1, Intruder-0.
During the Sung Dynasty, a womanless era for China, apparently(there aren't any in the whole movie), the treacherous Prince of Xiang Yang(Ai Fei) conspires to usurp the throne from his uncle, while hiding stolen artifacts, lists of traitors, and incriminating documents inside an elaborately-built booby-trapped house with floors that spikes spring out of, walls that hurl spears and revolving panels that hide archers and various sword-wielding henchmen, swinging axe-edged support beams, and razor-lined stairs.The Emperor dispatches his best men to retrieve the latest theft, an antique jade sculpture, but they never make it out of the house of traps alive.Loyal to the young prince is thief, Butterfly Hua(Lu Feng), whose spear skills keep opponents from asking too many smart-assed questions about the weird doily he's got wrapped around his head.Also striving to win the usurper's favor is Black Fox(Kuo Chui), who wears a sort of furry toothache wrap around his face(Cheh never cared much for reality in his period costumes) at all times, and the two martially mix it up, one-upping each other to the delight of the prince.Meanwhile, intruders to the titular house lose the tips of their feet, get skewered on spikes, and shot full of arrows in attempting to procure the artifacts for the investigative-scholar-who's-really-Judge-Pao-in-disguise(leg fighter Sun Chien, who doesn't fight at all here).The Prince's associate-who-may-or-may-not-be-secretly-working-with-the-courts, Shen(Lung Tien Hsang), namedrops the "House of Traps" a
lot
in conversation.Seriously.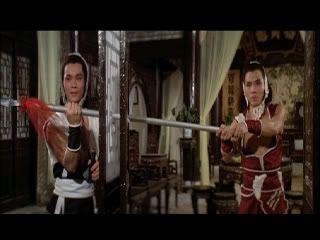 The Black Fox(Kuo Chui) momentarily disables the Butterfly(Lu Feng)'s spear.
After several scenes-worth of nefarious treachery and backstabbing of the double and triple-cross variety and head-scratchingly perplexing introduction of various heroes who meet their bloody fate in the aforementioned house, a troupe of acrobatic performers-who-are-secretly-the-infamous-gang-of-thieves-known-as-"The-Rats" descend upon the house on the Prince's birthday, to dismantle it in the name of justice, after entertaining the locals with crazy gymnastic feats and physical skills.Together with Black Fox, Bai "The Rat"(Chin Siu Ho), Jiang "the River Rat"(Chiang Sheng), Xu "the Mountain Rat"(Cheng Tien Chi), Han "the Ground Rat"(Chui Tai Ping) and Lu "the Sky Rat"(Chu Ko) use eclectic weaponry, such as an umbrella-drill and a grappling claw-on-a-stick to battle the Prince's henchmen and infiltrate the house to snare it's hidden treasures for the court.Mountain Rat gets walloped by a swinging axe-bladed support beam, while the Rat gets turned into an arrow cushion, as Black Fox and Butterfly duel to the death.Ground Rat burrows in from underneath, severing the pulley-system of ropes and levers, allowing his comrades to get to the top level and pickpocket the antiques and lists from the mechanical birdcage they've been kept in.Fox slashes Butterfly's midsection open in mid-slo mo flip, and wonders out loud about the evil at the root of man's greed.Insert signature Shaw Brothers freeze frame end title here.
"How did this porcupine get into the House of Traps?"
Cheh had taken this kind of film as far as it could possibly go in this direction, and after his masterpiece, Chinese Super Ninjas/Five Elemental Ninjas(1983), he would helm supernatural kung fu fantasies with colored lights, smoke, vengeful ghosts, and gaudily-garbed demi-gods who can fight on top of water and in the air, in titles like Attack of the God of Joy(1984), and The Nine Demons(1984), while his Venoms, minus Sun Chien and Lo Mang, who would stay behind with Cheh, would produce their own independent features, starting with the Kuo Chui-directed The Hero Defeating Japs(1983), starring Ti Lung and Shoji Kurata.Though Traps certainly isn't the best feature these guys put together, it's still heads and tails over what most of the other studios were churning out at the time, and stands as a pretty wild ninety-five minutes to invest, as finally served up on dvd by Image, missing some twenty minutes of footage from the rare VHS orginal, of which very few are known to exist.Speaking of traps, I'm gonna finally shut mine, and lay three big ones on tonight's review.See it.
Acrobatic labonza surgery, as provided by the Black Fox's wushu sword.