Humongous is a dated eighties term that describes a lot of things in my life.My dvd collection,my collection of traffic tickets,my genitals...When describing this particular movie though,it best describes the pile of dogshit that Prom Night director Paul Lynch committed to celluloid here.It feasibly
could have
been much better under different circumstances:if the cinematographer bothered to turn on some lights,if the two female sfx artists bothered to show up on the set,if the titular deformed killer was indeed humongous instead of on the average side of puny,if anyone involved took some pride in their work and cared what kind of film they completed for mass consumption,the list goes on and on.Besides a decent release poster that emptily promises thrills that just aren't present,there isn't much here at all.
A wealthy teen spinster's guard dogs turn a rapist into snausages.
In the golden age of surprise sex back in the 1940s,Ida(Mary Sullivan)prickteases the wrong guy,who smokes a cigarette and rapes her,unaware that the rich girl has some voracious guard dogs who show up and bite him a lot.Ida finishes the sex offender off with a brick to the skull,then secludes herself on an island to give birth to a deformed monster child that we never really see clearly.We fast forward to the present day,and are introduced to a gaggle of promiscuous yet unattractive teens who have been vacationing on a nearby island and are preparing for the long boatride home.Eric and Nick,their sister,and their two girlfriends make up the partying protagonists.When Nick's girlfriend gives him a big negatory on the trim front,Nick decides to unwisely steer the boat pissed through rocky shallows in the dark.Always one,isn't there?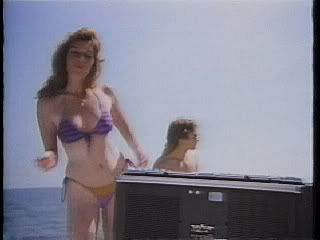 There's always a slut boogieing to a ghetto blaster on a boat in these films...
Needless to say,he crashes the boat on the very same island where Ida has reared her awful offspring years earlier.A few things she never bothered to teach little Hugh,was how to play well with others or how to keep his hands to himself.He's busy stalking the kids through the island's woods,growling like a feral beast every chance he gets,and never hesitating to step on a poor bastard's neck,or squeeze some floozy's head like an overripe zit.After several systematically unlit and gore-less murders,the audience is down to Nick's prudish gal left to fend for herself against Mr. Mongous.In one instant reminiscent of Friday the 13th Part 2,released the year before, she dons some of Ida's clothes and poses as the monster's mother,fooling the snarling fiend momentarily.In the end,she burns up a boathouse with the bad guy inside,having to skewer him with a signpost when he turns up crispy and pissed afterwards.She sits vacantly on the dock looking out over the water as the credits roll.I know the feeling,sister.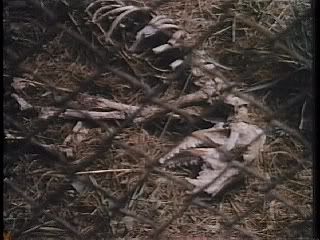 Our protagonists arrive at Michael Vick's estate.
The last time I watched this one was probably the week it was released on VHS.Back then I'd do five videos at a pop,so the miserable taste of ass this thing leaves in the viewer's mouth was most likely sweetened by three or four backup movies at the time.Those were the days.This time around,I had just
this
to watch the other night and I was rationing cigarettes to boot.Afterwards I seriously considered throwing in Prom Night afterwards,which looks like The freakin' Godfather compared to this flick.That's not a good thing for Lynch.In fact,I would've scored this zero Wops if I didn't momentarily lapse into Atari 2600 high scores and Nardone's sorry but delicious excuse for real pizza they used to serve up at high school football games around here.Generously,I gave this:
Yeah,I kinda had the same look when all this was said and done,too.