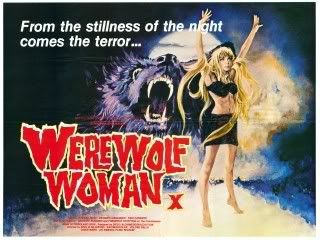 This one had been my list of wants for some time,before finally being able to sit down and screen a copy for myself.If the director, Di Silvestro,the man responsible for "Deported Women of the SS",doesn't clue you in on what you're in for here,I'll oblige gladly.SLEAZE.Lots of it.'70s nastiness you could only get in mother Italia.If you want a coherent werewolf movie,full of transformations and tragic heroism,go somewhere else,eh disgraziata?Multiple rapes,softcore sex,graphic nudity,chunky gore?You've come to the right place.You may need to visit your local confessional or bathhouse afterwards,but that's what it's all about!
Okay,paisani,where's the rest of the werewolf?
Daniella(Annik Borel),a victim of childhood rape,develops a festering hatred towards all men,which she channels by summoning the spirit of a long dead bestial ancestor who looks strikingly similar to Daniella,mind you, who herself,was a murderous werewolf.Once possessed by the spirit,Daniella extracts bloody vindication for misdeeds of the past,usually chowing down on some poor fuck's jugular vein before,during,or after having sex with him.While under her father's watchful eye,she spots her sister and her husband making love,which spurs the wolfgal to lure the husband out to the barn and abruptly bite his throat out!The death is ruled accidental(!) and blamed on watchdogs,but gets our heroine tossed into a rubber room.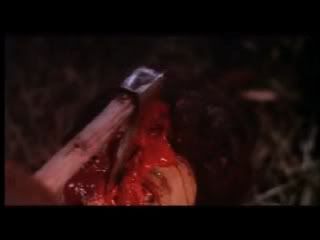 A sleazy Italo-axe finds a home in some poor bastard's domepiece.
In the loony bin,she spouts obscenities at an innocent nurse,and her now-widowed sister,later escaping with the help of the resident nymphomaniac(!!)who gets shanked during the getaway.On the lam,she snacks on several male and female victims before falling in love with a cinema stuntman.In a shameless attack,her boyfriend gets shanked by some unsavoury characters,and poor Daniella gets gangraped all over again,reverting her back to her animalistic subconscious split personality,cueing more death.In the end,a narrator boldfaced lies to the viewer,claiming this whole mish-mosh was based on ACTUAL events in 1968!Oh those tempestuous sixties,maaaahn!
Seriously,regular applications of lotion will clear that right up.
Shriek Show/Media Blasters released the long awaited dvd of this one,and did a pretty bang up job indeed,as always.Gore and "creature" effects(meh!) were handled by Italo-legend Carlo Rambaldi who did admirably gore-wise,but left out potential choice werewolfism for some unknown reason.Not enough lira in the budget?Eh,whattayagonndo.Either way,this is a nifty little slice of Italian exploitation,and will not dissapoint those who set out for it with that in mind.Star Annik Borel strangely never went on to much after this,paying the bills as set dressing in flicks like Truck Turner and Ted V. Mikel's Blood Orgy of the She Devils.She's nude a whole helluva lot in this one,I'll give her that.On the scale,it merits a decent:
She may not turn into much of a werewolf,but she knows how to bite necks with the best of 'em.