John Waters' underground films are among some of the funniest,most twisted flicks you may ever see in your life.Think of the most outrageous,gross,hilarious situation you can imagine,and it's usually waiting for you in the next scene.Granted,his acceptance in Hollywood has watered down his filmography a great deal,but here's a guy with a camera who just started making movies as a hobby,and they've turned his visions into hit Broadway shows and remade them into big budget box office hits.I think he's made out pretty well for himself.Tonight's entry was his first big venture into synch sound,directly after the hilarious short, "The Diane Linkletter Story",which he shot to test the equipment.What transpires on the screen hereafter,is pure genius.
Mr. David(David Lochary) leads unsuspecting suburban Baltimoreans into the "puke eater" tent.
Mr. David(Lochary)is the barker for Lady Divine's Cavalcade of Perversion,a twisted suburban sideshow of pornography,drug abuse,sex fetishes,queers who kiss each other like lovers on the lips,and the puke eater.He'll lap it right up for you.He loves it.When the main attraction takes the stage,she(he? it?) nets the unsuspecting crowd and robs them of valuables and any drugs they may have,shooting a few to prove she means business.Unbeknownst to this criminal behemoth,her boyfriend is having an affair with Bonnie(Mary Vivian Pierce),a coprophagiac/gerontophiliac who's working on perfecting her own twisted act with Mr. David,who is compelled to stay with Divine because she holds him responsible for the Tate murders(!).He sneaks away to meet his platinum liason at Pete's Bar,where barkeep Edith(the one and only Edith Massey in her first appearance)rats them out to Divine with a phone call.She storms out of her daughter Cookie's place with vengeance on her mind...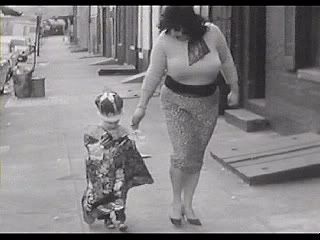 The Infant of Prague(!)rescues Lady Divine from bag-huffing,cross dressing rapists.
On the streets of Baltimore,Divine is raped by bag-huffing cross dressers,only to be saved by the Infant of Prague(hahaha!)who leads her to a church,where she meets Mink(Mink Stole),who puts rosary beads up her ass as they review the stations of the cross.A junkie,shooting up near the altar,is unconcerned.Divine declares herself a lesbian(!!),and she and her new girlfriend mug a policeman.Meanwhile,Mr. David and Bonnie have killed Cookie and tied up one of the showhands,planning to kill Divine when she returns if she doesn't release David from her web of criminality.Divine kills Bonnie,then disembowels her boyfriend with a steak knife,cannibalizing his organs,before turning on her recent love interest,Mink,killing her as well.As she wallows in her own depravity,a fifteen foot lobster,aptly named Lobstora,shambles in and rapes her,further turning her into a lunatic,before the National Guard shows up and puts her out of her misery with multiple gunshots.
Fix yourself up at church.Personally,I prefer sex on the altar...
Threadbare production,non-actors,and pirated soundtrack music only add to the film's charm here,and the dialogue is both outrageous and hilarious, in a bow to Waters' hero,Russ Meyer.Look for Waters' regulars George Figgs as Jesus Christ feeding canned tuna and Wonderbread to his disciples in a fantasy sequence and Paul 'Eggman' Swift as Cookie's weatherman/political activist boyfriend.Watching early Waters offerings may come as a bit of a shock to anyone who only knows his work through titles like Serial Mom or Cry Baby.But honestly,I love the early films so fucking much...I could shit.This gets: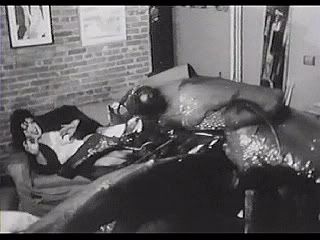 Lobstora's here,and he's got rape on his mind.