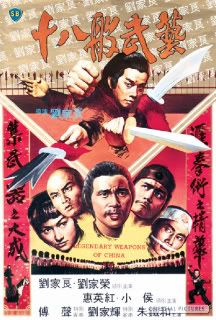 Let it be known on this drab and awful weekend,in a break between partying and entertaining
monthecunts
,I put before you,arguably, the greatest kung fu movie of all time.Liu Chia Liang was indeed the greatest director the martial world had seen,responsible for such epics as The 36th Chamber of Shaolin,Heroes of the East(both starring adopted brother "Gordon" Liu Chia Hui),and Jacky Chan's Drunken Master II.In your humble N's eyes,this is his masterpiece,showcasing all
eighteen Shaolin weapons
and weaving a fantastic tale of traditional kung fu and Taoist maoshan folk magic around an all-star cast that included my personal fave Fu Sheng,returning from
breaking both legs
during the filming of Deadly Breaking Sword.Amazing stuff transpires.You need to see this if you havent already.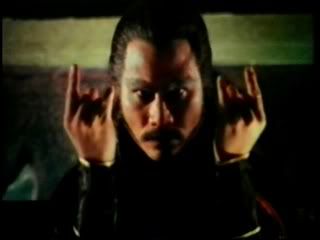 Ti Hau's master pauses to give a metal salute to Helloween.
The Yi Ho Society,a branch of the anti-foreigner Boxer movement,practices Pugilism kung fu,a mix of fighting skills and dark magic,to combat Western bullets for the Empress Dowager's behalf.Only thing is,they arent impervious to bullets(!).Clan leader Lei Kung(director Liang himself) knows this and dissolves his branch,preferring to spare his pupils a death by gunpowder.The other branches set out to kill him for his believed treachery,led by Ti Tan(Gordon Liu,of Kill Bill-fame),Ti Hau(Hsiao Ho),and Fang Shao Ching(Hui Ying Hung).Kung's brother,Lei Ying(director's brother,Liu Chia Yung)is also looking for him,hiring a local conman(Fu Sheng) to pose as Kung to throw the others off the trail.In Yunan,all involved parties cross paths,unaware of who anyone is or what side they're on!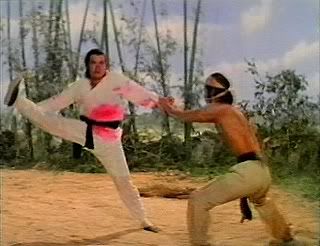 A conman's(Fu Sheng) body,controlled by a voodoo doll,does some seriously choice shit.
The Yi Ho practitioners use ventriloquism,smoke,darts,and magic,as well as kung fu and weaponry to weed out Kung,who is posing as an old woodsman in the village.Kung is a wily adversary though,and soon enlists Fang and Ti to help him regain his depleted martial skills,leading up to lengthy grandiose battles with Ti Tan,who he deafens(!), the Yi Ho leader himself, and his own treacherously greedy brother Ying,who only wants fame and money.The final battle encompasses all eighteen weapons in a knock down,drag out fight to the finish!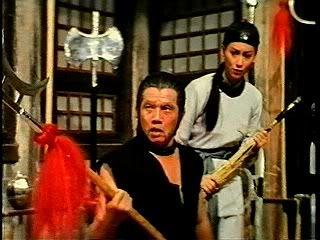 Lei Kung(Liang) prepares for a battle to the death with Lei Ying(Yung).
Liang started his career as a choreographer for the Shaw Brothers,and nowhere more than here does he prove he is a true master at his craft.A martial artist myself for the past twenty-six years,I could go on at great lengths at the dazzling display of weapons,forms,and fighting styles displayed herein,but I'll digress,instead asking you,the viewer,to see for yourself.If you're into kung fu,this is as good as it gets.If you're on the fence about the genre,this will turn you into a full-blown fan.There's only one score on the Wopsploitation scale this movie is worthy of,and that's the highest rating,which is: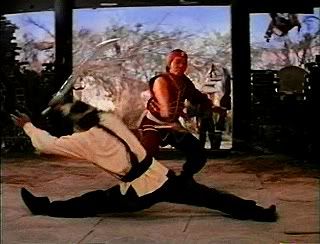 If you blink,you'll miss some truly dazzling real kung fu here.