Ah,the eighties.I must've watched this twenty times or more back in the cable box days(probably because I had nothing better to do as your average deranged 13 year old,burdened with fragstache,zits,and a mullet).A manic,
thirty-five hit or miss jokes a second
comedy and updated piss-take on Robert Louis Stevenson's classic story that borrows heavily from Jerry Lewis' The Nutty Professor, in the vein of Airplane,Top Secret,or even Robin Hood:Men in Tights.The film takes the low road in exploiting the increasing popularity of cocaine at the time,video arcades,punk rock,and non-existent political correctness,as was so often the case in comedy back then.They
were
the good ole days,dadgum it!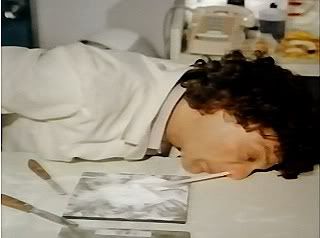 Jekyll(Blankfield)inadvertently inhales experimental booger sugar in his sleep...
While working as the star surgeon at Our Lady of Pain and Suffering Hospital,Dr. Janiel Dekyll...uhh,Daniel Jekyll(Blankfield) has been experimenting with medicinal methods of doing away with surgery altogether that involve...drugs(insert crowd cheer).His boss Dr. Carew is trying to convince him to perform a total transplant(heart,lungs,kidneys,testicles....ASS)on multi-millionaire Hubert Howes,dangling his engagement and impending marriage to Carew's daughter Mary(Bess Armstrong of Jaws 3-D fame)over his head.One night while working slavishly on his formula,Jekyll falls asleep at the table,snores a soda straw into his own nostril,then blows a shneezer of the untested powder directly into his brain,turning him into Mr. Hyde,a polyester blazer-wearing,razorblade necklaced,fright-afro sporting cool disco pimp,complete with coke pinky nail.Hyde scrapes some of the powder into a baggie and heads out looking for action,ending up at new wave punk club/sushi parlour,Madame Woo Woo's,where he beds Ivy(Krista Erickkson,a fellow Pennsylvanian who went from
this
to
THIS
...blech),the lead singer of the Shitty Rainbows,the house band,and prior patient to Jekyll when he was forced to remove a foreign object(a Chinaman,har har)from her vagina in the ER.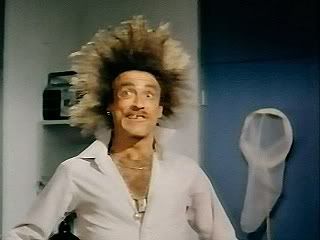 ...which tranforms him into cool(?) disco/new wave pimp Hyde.Uh huh.
He awakens after a night of debauchery as the good doctor again,but is now torn between the new outta sight feelings he's awakened inside himself with his drug,and the complacent life he already knows too well at the hospital.Does he flush the remainder of the powder down the toilet,perform the expensive surgery,and marry Mary?Or does he snort some more of it,causing chaos along the way in his pursuit of the sex-packed dynamo Ivy?Yeah,plan B here,of course.Soon he no longer has to cut himself wonder rails to transform into the swinger,and the change comes unannounced without warning.The whole frantic narco-tale comes to a head in dear ole Blighty,where Jekyll is scheduled to receive the Putzpuller Prize for Medicine(get it?Har har.)and Ivy has followed him,vowing to shoot him for treating her less than honorably.As Rick James used to say:Cocaine a vurr' powahful druuug.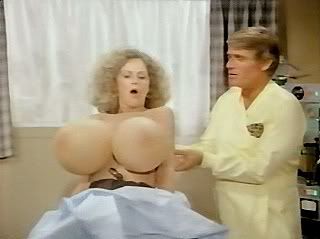 Transvestite plastic surgeon Dr. Lanyon(Tim Thomerson)transforms patient into Christy Canyon.
There's still a few good chuckles left in this USA Up All Night staple which I'll leave you to discover for yourself.Blankfield,the former "Fridays" star(remember that show?)who gives an electric performance here,went onto a career of mainly television roles and a star turn in the forgettable tv sequel to The Jerk(!Did you even know they made one?).It must also be noted that Cassandra "Elvira" Peterson is hiding behind a nurses outfit here too,but her unmistakable voice and uhh...assets are a dead giveaway.I keep my copy next to other eighties comedies like Poliziotto Super Piu'(Super Fuzz) and Last American Virgin,but when it does come off the shelf for an occasional viewing nowadays,it gets: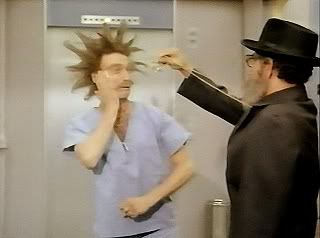 Hyde oy!s at the sight of the Star of David.Who knew?