Horror of the fifties,thy name is big ass bugs.In the Atom Age,all sorts of denizens of the insect world grew to size "Holy Shit!" and terrorized mankind.From ants in Them! to mantids in The Deadly Mantis,most of natures nasties exacted multi-legged retribution for man's scientific curiosity on the silver screen.Perfect drive in fodder if you think about it...you and your chick in a roadster,chicks naturally hate bugs,giant cinematic bug creeps chick out and into your lap,where,inevitably,much necking and heavy petting will commence.I'm all about that sort of thing myself.Hell,I've even used the "blue ball" excuse that probably pre-dates the drive in era by fifty years or so.This entry is one of my personal favorites of the sub-genre for obvious reasons...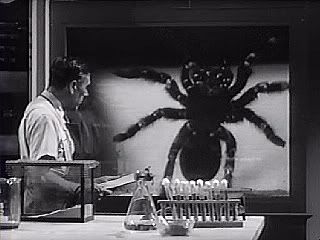 You know,I'll bet that thing is gonna get outta there later on...
The good professor Deemer(Leo G. Carroll)has been working on solving the world's hunger problems by developing a nutrient formula that causes giantism in animals out in his southwestern desert laboratory.You'd think he'd be more concerned with making
communists smaller
instead,but we continue...He's succeeded in growing guinea pigs,rats...tarantulas(insert incidental theremin here)...but failed in administering his serum to two of his assistants.Doesn't have the same effect on humans,apparently.One of which turns up very deformed and very dead,baffling authorities,but the other,he's deformed and PISSED OFF.He pays Deemer a social call,going knuckle up with the prof,injecting him with his own serum,smashing valuable equipment,starting a raging lab fire,and freeing a giant tarantula who legs it the hell outta there into the scalding sand.Dr.Hastings(50's journeyman John Agar)has a two-fold problem:figuring out the weirdness going on out in the desert and getting into Deemer's new assistant Stephanie Clayton's(Mara Corday)big cotton fifties britches.
The monstrous mygalamorph sets its eight eyes on some horses to chow down on.
When some horses turn up as bone dry skeletons with strange white puddles nearby,Hastings deducts that perhaps not all of Deemer's lab animals died in the fire.In the meantime,the professor's physical appearance is steadily gaining in whacked-out zaniness,due to his involuntary nutrient injection,much to his dismay and our chagrin.The escaped spider,now over 100 feet,has focused its venom-dripping chelicerae on human prey,dining on some hobos,truck drivers,and state troopers who learn the hard way that the beast is impervious to shotgun blasts and even dynamite!The boisterous beast even returns to the scene of the crime,pulverizing Deemer's pad,taking down the gruesomely deformed professor with it.Things look bleak for the small town as the tarantula converges upon them,until it learns a valuable lesson about humanity:If you piss us off,we'll call in Clint Eastwood in a jet fighter armed with napalm.
The town trembles in terror as the towering tarantula traipses towards them.
Along with Earth vs. The Spider,always my favorite among the many atom age fifties
nature gone awry
flicks.The film's producers used air jets to get the live action tarantula to move in the directions they wanted it to over the miniature set,which probably stressed her the fuck out in the process,as blasts of air from above do not occur in nature.Yeah,sorry,I've always been a hopeless arachnophile,if you hadn't already guessed from earlier posts.Anyway,to all my readers,I wish you a happy holiday today with friends,family,and loved ones,but know this:if the tryptophan in your turkey dinner caused you to doze off around me,I'd probably take a Sharpie marker to your face.I'm a lot of fun like that.Tarantula rates:
Feeling lucky,spider?!!Well,are ya?