We got to watch this on tv,the poor Columbians had to pay to see it in theaters...
Originally aired three nights before Halloween in 1978,this made-for-television movie plays like a live action Scooby Doo episode with worse acting(Hanna-Barbera was responsible,go figure).I was nine when I sat glued to the tv set watching it for the first time,and as a nine year old KISS Army member,I have reason to believe I was probably the target audience for this.All the members of the band do more than prove they should stick to bubblegum arena rock and never act again.Gene Simmons,who does little more than snarl and growl like an animal on camera,ironically enjoyed somewhat of an acting career in the eighties when the band took off the makeup.Go figure.An uber-cheezy and dated good time to be had,regardless of how badly the band have trashed this one over the years.If you ever liked KISS,you'll enjoy it.
Peter Criss plays a mean Tilt-a-Whirl.
Super group KISS is scheduled to play to a throng of screaming bra-bereaft Farrah-lookalike chicks and their van-driving boyfriends with feathered back hair at an amusement park that employs a man named Abner Devereaux,who has designed expensive animatronic robots for display.Little does anyone know,Devereaux has been working slavishly in his laboratory(!)to clone human beings into his remote-controlled robots and take over the world.With the help of Sam(Terry Lester,of Young and the Restless fame,god,I'm embarrassed I even knew that),equipped with some Radio Shack circuitry behind one of his ears,he exacts silly vengeance on some "punks" who get their kicks punching expensive animatronic robots at the park,turning them into future park robot displays(poor Slime,Chopper,and Dirty Dee!),before setting his sights on bigger fish in pancake makeup to fry when the park owner diverts some of Abner's robot money towards a big rock concert:the talisman-rocking,super-powered,hooded purveyors of bubblegum stadium rock known only as KISS!Well,that's not entirely true.They also go by these cheezy nicknames:Star Child,The Demon,Space Ace,and Catman.(sound of Cheez Whiz can emptying onto paper plate)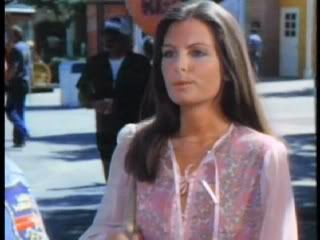 Deborah Ryan,of Bigfoot and Wildboy,and The Misadventures of Sheriff Lobo fame...
Devereaux unleashes Robo-Chaim on the park guards to frame the real Witz and company,but when that plan fails,he imprisons the real rockers in his laboratory and sets robot KISS on stage in their place,doing "Hotter than Hell" with "Rip and Destroy" lyrics in their place to incite the fans to riot.With the help of Sam's girfriend,the boys retrieve their magical talismans,fly onto the stage and defeat their animatronic impersonators,and give the crowd what they came for;the obligatory rock n' roll awl nayyyyyite an' pawty evahree day!After the spectacular show,the band returns to the laboratory,presumably to make a rockers' arrest on Devereaux,only to find the mad genius dead(?) with white hair and a frozen look on his face.Did he finally see the script?Did he look into a crystal ball and see the band's 1979 disco album Dynasty in the works?We may never know.They free Sam from his robo-trance and reunite him with his best gal.Gee,that KISS is swell...as Space Ace would say..."Ack!"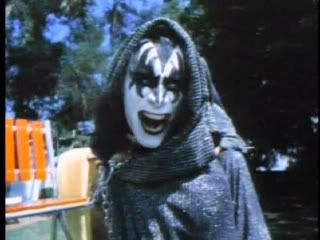 The Demon(Gene Simmons) says "Roooooooaaaaaaaaaaar".
About a half step ahead of Hanna-Barbera's OTHER live action show,Banana Splits.Some may argue that Splits had better tunes and acting,but hey,they probably didn't have a mylar poster of Gene Simmons over their bedroom mirror in 1978 either.Cough,cough.The band has gone on record condemning this whole affair numerous times,but really,is it any worse than overweight and ancient hairplug-rocking Gene pushing sixty years old STILL throwing on the platform dragon boots for his celebrity roast,OR blaming fans (the same people responsible for making the guy a multi-millionaire)for the decline of the music industry today?Regardless of the circus surrounding KISS members these days,I was one of their biggest fans in their heyday and this flick brings back all kinds of memories.I give it:
Devereaux would have succeeded if it wasn't for you meddling New Yorkers in kabuki makeup and platform boots!