With Hollywood's creativity indefinitely out to lunch,it's no wonder we've been pummelled with a myriad of low budget horror flicks concerning everyone's favorite cryptid,Bigfoot himself.And where the wild man of the woods raises cinematic hell,Lance Henriksen can't be far behind.If there weren't any direct-to-home-video releases of putrid Pumpkinhead sequels or Bigfoot flicks,the guy would have fallen off the radar ten years ago,ferchrissakes.Luckily for horror fans,this particular entry ambitiously aims for the heavens,weaving a "Rear Window" meets "Night of the Demon" symphony of savagery around a cast of solid B-movie players,with deliciously demented old fashioned red stuff by the bucketful.One gore effect in particular is especially choice,but I'll touch on that later.Composer Lalo Schifrin's son Ryan's second outing in the directorial chair features the late Paul "Breakfast Club" Gleason,Dee Wallace,Jeffrey "Re-Animator" Combs,scene queen Tiffany Shepis,and of course,Lance Henriksen,while boasting of a soundtrack(which won the 2006 Jury Prize,mind you) laid down by the director's Grammy winning dad himself!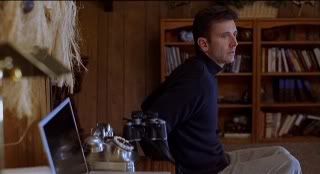 What's Steve Carell doing in a wheelchair?And why does Sasquatch want to eat him?
Preston Rogers(a Steve Carell lookalike named Matt McCoy)manages to cripple himself in a mountain climbing accident,and six months later during the process of rehabilitation,finds himself dragged out to a cabin in the woods by his therapist,Otis(makeup FX artist Christien Tinsley).Staying in a cabin across the way from Preston is a gaggle of hot broads letting their hair down for the weekend.Out in the woods around both the isolated cabins,is a big,angry sasquatch with a penchant for human flesh.Hmmm,methinks trouble lies in the not-so-distant future for some of these people...
Jamie Lee Curtis never had to bend herself in half backwards for a movie...
Preston,left to his own devices in the lonely cabin while Otis rides into town,takes a shine to a nifty pair of binoculars,and begins harmlessly peeping at the cabin of curvaceous cuties next door.I'd do the same thing even if I
wasn't
a hapless wheelchair gimp.Well,during his hot eyeballin' session of vapid airheads,he notices something big and hairy snatch up an unsuspecting stonata as she talks on her cellphone in a clearing.Otis returns much later and doesn't buy his horny,hungry hominid story for a second,forcing Preston to sedate him with his own meds,and take matters into his own hands.He tries firing off e-mails to the police,who naturally think it's a joke.Meanwhile,out in the forest a trio of biggie hunters(which includes Combs and Henriksen)is on the cryptid's fresh trail of spilled blood when the giant pays their campfire a visit and dispatches them all off-camera(boo!).
Otis(Christien Tinsley) closely inspects Bigfoot bicuspids.
Before too long,our ravenous yeti is going through sparsely-dressed dingbats like your humble narrator with cigarettes,much to the dismay of our invalid hero,who desperately tries to warn the chicks from his window,but not before 'Squatch yanks one bent the wrong way through a window,bites out another one's pulsing throat,and steps on and squashes another frantically fleeing floozy.Finally there's only Amanda(Haley Joel)retreating to Preston's cabin,and the two try to repel from the back porch to the car below before the missing link can munch them both.At this point Otis wakes from his med-induced stupor and takes the yeti on himself,only to get his head bitten in half by the brute(nice effect!).There's a desperate struggle between the two star-crossed survivors and the savage 'Squatch,police intervention,and a dim-witted denouement that'll leave you shaking your head for a few minutes after the dvd returns to the screen saver menu.But you'll have to check it out for yourselves!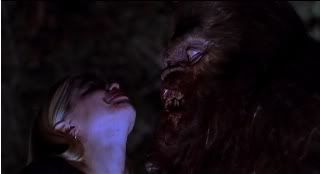 Amanda(Haley Joel)and Squatch share a pensive moment together.
Though its no "Creature from Black Lake",this little dittie certainly surpasses Boggy bottom fodder like Ivan Marx's "Legend of Bigfoot" and recent CGI toilethon "Sasquatch Hunters" with ease,even though that's not really saying a whole helluva lot at all.I enjoyed the inventive gore and retro-style creature effects,the cast was a cult crowd pleaser,and despite a botchjob of a twist ending that packs more cheez whiz than a Pat's steak,it was an adequate midweek screener,and these days that merits:
"Namnamnamnamnam!"says our hungry hominid.