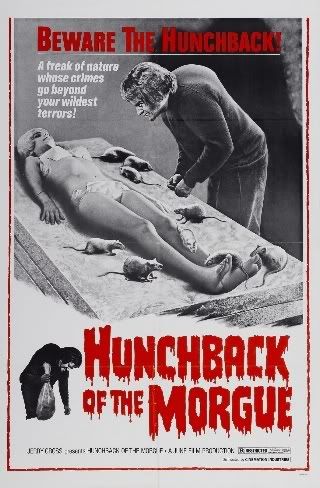 Spaniard Paul Naschy(real name Jacinto Molina)has had a long successful career in horror movies,most notably portraying the heartiest old school lycanthrope this side of Lon Chaney Jr.,though this entry is arguably the most
insane
of his early movies.That's saying a lot for a guy who's squared off as a werewolf against vampire women,and even a yeti!This classic headspinner has rats,rotting corpses,graverobbers,hunchbacks,mad scientists,underground labyrinths,live burning rats(!),decapitated heads(they used a real cadaver for Jacinto to behead,but even after two swigs of whiskey he couldn't get past the initial neck slice!),and the single best flesh-devouring walking pile of burnt scrapple vs. enraged hunchback finale ever filmed!That's no typo,fiends!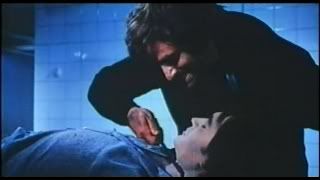 Even a hunchback like Gotho likes to get a little head now and then.
The local tavern is filled with boisterously drunken miscreants who like big beers, and big bobbly boobs,but none more drunk or mentally challenged than Udo,who decides to stumble home on his own.Its his bad luck that he ends up getting parted out on a slab in the basement of the medical school by local hunchback Gotho(Paul Naschy).Udo's squeeze is Ilsa,a terminally ill young girl who is one of the few townspeople who ever treated Gotho with respect.Everybody else cruelly namecalls,throws rocks and maltreats the titular morgue-dweller,and when Ilsa buys the farm,Gotho isn't there for her,as he's busy catching his daily dose of ridicule from the med students,enraging the human camel,killing one of his tormentors while stealing Ilsa's body and lumbering off to his subterranean lair with it.There in his labryinth,Gotho awaits Ilsa's awakening,keeping the hungry rats off of her body with a torch(insert shots of actual burning rats scurrying in all directions,sorry PETA).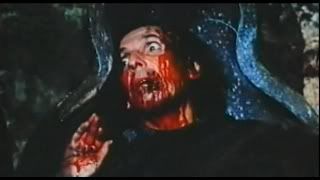 This guy now knows the extent to which Iron Maiden rules.
Logically,this would be the point in the story where the mad scientist is introduced.Enter Dr.Orla,who wants to create life from dead people,and promises Gotho he will awaken the hunchback's rotting love interest if he will only:move the doctor's intricate laboratory setting(complete with full electricity and obligatory sulfuric acid pit) down to the catacombs,and supply the M.D. with fresh specimens for his research.Check,aaaaaaand...check.Gotho does both with reckless abandon,proving he's very handy for a homicidal heartbroken hunchback.As usual,Orla renegs on his promises,and instead creates a huge humanoid-esque scrapple monster,that needs to be fed live humans in order to grow to its full potential(naturally).From here on in,anything goes,as people get snuffed by the hunchback and the scrappleganger,there's teenaged sadomasochistic lesbians in a woman's reformatory,iron maidens,acid baths,more rats,and the boffo square-off between Gotho and Scrapple-o!If your head isn't spinning 360 degrees by the film's climax,you need new ball bearings in your neck!
Like most Spanish hunchbacks,Gotho is a misunderstood head-stealing,rat burning teddybear.
If you're not familiar with Naschy's work,this one,possibly the dictionary definition for "Eurosleaze", serves as an outrageous introduction to it.The shortcomings may be numerous(low budget effects,ridiculous dubbing,etc),but the payoff is worth it,and Morgue remains a very enjoyable screener for rabid fans of the gruesome and the grotesque.Director Aguirre,the man responsible for Naschy's earlier effort,"Count Dracula's Great Love",still takes the directorial chair to this day.I'll be taking a look at some of Naschy's other shroud-pleasers some time next month,but until then,I recommend this movie, and score it:
I don't exactly know what it is,either,but I'm ordering a plate of it next time I go to the Moosic Diner.