I paid forty bucks for this on Beta in the eighties while you safely nursed on your mother's lactating teats.
Here it is,the
ultimate
piece of Brucesploitation ever filmed!When the Little Dragon joined the choir invisible on July 20th,1973,filmmakers in Hong Kong tripped over themselves to churn out hundreds of celluloid stinkpies with countless imitators trying to capture the on screen energy of Bruce Lee and cash in at the box office.There was Bruce Li,Bruce Le,Bruce Lai,Bruce K.L. Lea,Dragon Lee,Bruce Ly,Bruce Liu...by the gods,it was neverending for a while there!Though some of these exploitation films aren't all THAT bad to sit down to,this is arguably the
worst
one of the lot.Seriously.And that in itself makes it highly entertaining!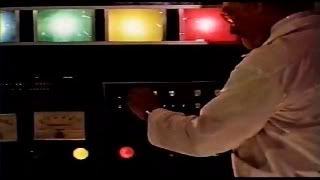 Professor Lucas(Jon Benn) and a very colorful super computer indeed.
When Bruce Lee dies,the BSI takes matters into their own hands.Aided by the brilliant Professor Lucas(Jon Benn,the Roman gangster in "Way of the Dragon"),they manage to clone the martial arts master not once,but three(four?) times!Amazingly,none of the clones resemble Lee all that much,and even more incredibly,the identical clones don't even look like each other at all!First on the agenda,Lucas controls their minds with a state of the art combination spaghetti strainer/mind control device,and gives them each ingenious names of their own:Bruce Lee Number One,Bruce Lee Number Two,and Bruce Lee Number Three...must have lost hours of sleep deciding on those,huh.Next up,he incorporates Yang "Bolo" Sze and Chiang Tao to train the clones in the martial arts,making sure that all three kiai like a horny cat in a back alley dumpster every two and a half seconds,lest we forget these guys are supposed to be Bruce Lee!As if the giant seventies-tastic sunglasses and gold pimp medallions weren't giveaway enough already!The Lee three are given separate missions:Dragon Lee is sent to take on a gold smuggler,and Bruce's Le,Lai,and Thai are sent to shut down an evil mad scientist in Thailand.Where'd the fourth Bruce Lee come from?Ah,nevermind...
The aptly named "Bruce Lee number three"(Bruce Lai)and a combination mind control device/spaghetti strainer.
Dragon Lee is successful,no doubt due to the seven hundred and fifty three times he thumbs his nose during his fights(was he cutting himself some rails of booger sugar in between takes?).And the three other Bruces also succeed,but not before two of them take to the beach in speedos(!)and purposely avoid a bevy of horny naked Asian women playing with each other's tits in the frothy surf."They'll eat you alive." warns Bruce Le.What's wrong with that,exactly?Next they take on a hoard of slightly overweight bronzemen in underwear,who they defeat during the battle by feeding them poison grass(?).Yeah.Anyway,when they get back to Lucas,he turns them on each other in a huge rumble to the death,so he can have the strongest one to do his bidding.The prof's assistants manage to unplug the big colorful box of lights,effectively ending his mind control over the imitators,and the three clones(what happened to the fourth one?)win the day!
Three Bruce Lees,three pairs of friggin huge sunglasses.
Anytime a kung fu movie travels to Thailand,you know what to expect:floral print shirts with butterfly collars,bellbottom slacks,platform shoes,and a sleazy low budget feel.Add to the equation four Bruce Lee imitators,hokey movie science and technology,flabby bronzemen who are allergic to grass,sub par fight choreography,atrocious dubbing,gratuitous nudity,music culled from "Rocky" and "The Warriors" and you have Clones of Bruce Lee,the most entertainingly idiotic chopsocky movie of all time!But it still gets: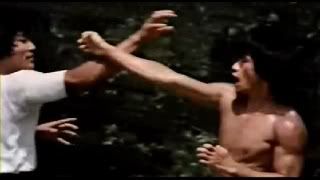 Dragon Lee and Bruce Le square off to see who's the best Bruce Lee clone.Nobody wins on screen,nobody wins in the audience either.