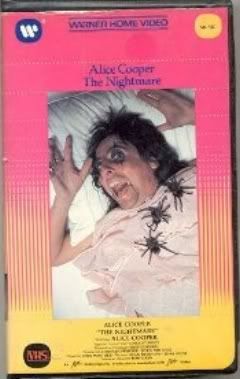 This television special cemented the Coop in my personal "Hall of People Who Will Remain Cool Forever"(visit it the next time you're on the Blackhorse Pike between Philly and Atlantic City) back in 1975,and it's easy to see why.Giant cyclops,black widow spiders,dancing skeletons,witches submerging the Coop into a simmering cauldron,the legendary Vincent Price tying the whole theatrical production together with his inimitable hammy interludes;it was like Christmas for a creepy little six year old kid like me.The original Alice Cooper band had called it quits the year before,and the "Welcome to my Nightmare" album was Alice's premier solo effort,backed by Bob Ezrin's Hollywood Vampires,and an ambitious concept album it was,overbrimming with bombastic orchestral pieces and incendiary guitar riffs in the same four bars.So naturally when it came together as an ABC special that fateful April 25th,1975,yours cruelly was glued to the big woodgrain floor model television in our living room.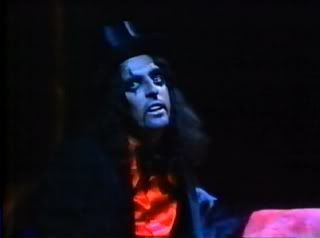 A nocturnal vacation,unnecessary sedation...
The Coop is Steven,in the midst of a terrifying(maybe if you thought "Cats" was terrifying)nightmare.He is led through by the "spirit of the nightmare" as aptly portrayed by maestro Vincent Price,who pulls our rock hero around on a short leash(!).Alice performs "Welcome to my Nightmare" in a signature top hat,then is poked and lowered into a bubbling cauldron by a witch and her cronies as he sings "Devil's Food".He then tapdances with skeletons through "Some Folks" before slowing it down with the ballad "Only Women(Bleed)".In between songs,Price reminds him that everything he sees and experiences are creations of his own mind,and that he will be fine...so long as he reminds himself he cannot escape.
She's cool in bed...yeah,she oughta be,cos Ethel's dead.
Out of a refrigerator comes Alice's dead lover, (Cold) Ethel,who dances around a frozen stage as he sings to her.Price then shows the Coop his spider collection,becoming sidetracked when he comes to Lycosa Raptoria,the Black Widow,which Alice sings as he's harrassed by dancers in goofy black widow costumes on a giant spider web.The nightmare becomes nostalgic,as Alice rides a merry go round to the tune of "Years Ago".He's then superimposed over his own newspaper clippings and magazine articles as he sings "Department of Youth".He reprises "Years Ago",then sings "Steven" and "The Awakening",before harkening back to the Love it to Death album for the memorable track "Ballad of Dwight Frye" which he croons sinisterly in trademark strait jacket.The show ends with "Escape" and Alice being chased by a giant cyclopean monster with a spotlight eye,and Price's minions dragging Steven out of bed back into the nightmare to strains of "The Awakening".
The bedroom is only a temporary safe place from nightmares...
This Emmy winning special never gets old to me,but has yet to be released on DVD,lucky fans having had to pick up the VHS or Beta(!)tape way back in 1983.The Coop has always been a master showman,and here he shines amidst his own creepy theatrics for the tv audience.The producers had Alice change the "Man's got his woman to take his seed" line for youngsters watching at home,but Cooper has always been notorious for flubbing his own lyrics live so it doesn't really matter anyway.If you can get your hands on this classic,do so,as I bestow upon it,my highest rating: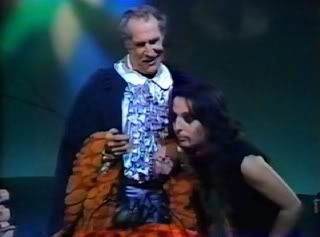 Man has ruled this world as a stumbling,demented child-king LONG ENOUGH!