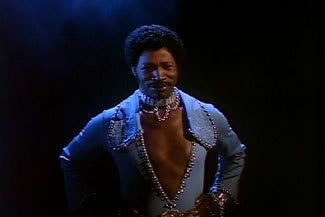 Taken from his official MySpace page:
Legendary actor, filmmaker, comedian, singer, Godfather of Rap and King of the Party Records, Rudolph Frank Moore better known as Rudy Ray Moore or Dolemite has left this earthly plane.
A 60 + year veteran of the stage, the first x rated comedian, one of the first African American filmmakers and the third most sampled man in the world, his self made comedy records and films have inspired and influenced generations from a thousand walks of life and a hundred nations.
He had recently finished work on "The Dolemite Explosion" with longtime friend and costar Jimmy Lynch (his first self made film in 30 years), an album of soul ballads called "Let Me Sing To You Before I Drift Away" with his daughter Rusty, and had been Highlighted by Hadjii in an episode of "Somebodies" and was looking forward to a resurgence and a country album.
After a long battle with diabetes and obscurity, he passed peacefully on Sunday at the age of 81.
He was a good God fearing man who loved his friends and family.
editor's note:
The world is a little less pimp-o-docious without Dolemite and his humour.I'll be doing a post or two about him and his exploitation films at a later date.
Wop