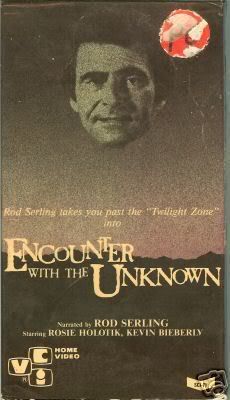 The video box almost looks as disheveled as Serling does in this one.
A tv staple in the seventies,I wonder which aired more often,this Canadian horror anthology,or Don't Be Afraid of the Dark.Answer?That's right:Who cares.Narrator extraordinaire Rod Serling looks more than a bit under the weather here,rocking a frazzled toupee and looking as though he's just smoked seven thousand cigarettes with Yul Brynner somewhere.Director Thomason utilizes several of S.F. Brownrigg's regular players here,including 70's mega-fox Rosie Holotik(I may have to do a tribute post for Rosie one of these days,she was cute as a basket full of kittens in knit mittens,she was).Serling didn't write any of the three stories featured here,and though they suffer for that,there is a good deal of suspense and atmosphere present,and it succeeds in being adequately creepy after all these years.
Whoa,easy with the eyes,lady.You're giving me the effin heebie-jeebies.
After being informed that certain cemeteries in the country tend to draw more unexplained phenomena and strange deaths than others,we're introduced to the first allegedly true story.Three sporto-type college pukes play the obligatory cruel trick on the local groovy-looking nerd,only to get the dork killed when he pays an amorous call on a girl and he's accidentally shot in the process.At the funeral,the dork's mother,who looks like she's just hatched from a creepy egg,binds the wrongdoers together with a wide-eyed spell/puzzle,and informs them they will all be dead once seven has come around three times.One by land and two by air,beware the heptagon,Salagadoola mechicka boola bibbidi-bobbidi-boo,etc.,etc.They all die just like she predicted.Insert Serling's gravelly "I told you so" right here.
Creepy lady warned me and my buddies we'd die,two by air,one by land.Skydiving sounds pretty choice right now...
Next up,is a small rural community at the turn of the twentieth century that stumbles upon a sinister hole in the earth,that billows smoke like Michael Landon behind the prop barn between takes on the Little House set, and inhuman groans and growls echo out of.A young boy coaxes his father to get lowered down into the hole to search for their dog,but when he's pulled up,he's gone perma-crackers and runs off totally out of his mind.Cue Serling again.Last up is the familiar "ghost on a bridge" story,where a senator returning home from a party offers a young girl(Rosie) a ride home when he sees her standing on a bridge,but she disappears from his back seat,and is later informed by the girl's father that she died when her car drove off the bridge some years earlier.Rod,we're gonna need you to wrap this one up for us.You can smoke after you lay the audio.Yeah.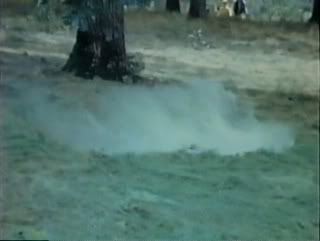 This hole in the ground billows more smoke than Rod Serling's lungs between takes.
In a decade that heavy-hitting anthologies like "Trilogy of Terror" and "Dead of Night" were released,this sleeper usually gets forgotten in the wake.In the spirit of the season,your humble N asks you to screen it for yourself,and see if it doesn't have a little bite to it.If this was 1973,I'd make Rosie Holotik a piece of my personal arm candy.If you're reading,Ro,appy-polly-lodgies in advance,because Christina Lindberg would STILL have to be my main squeeze...Anyway,I always enjoyed watching it when I was a kid,and you probably will too,if you can hunt down a copy.It merits a decent score of: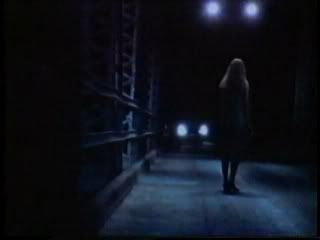 For the record,I'd ALWAYS give Rosie Holotik a ride ANYWHERE she wanted to go.Ghost or not,she's still a cute ghost.