An alien has descended from the heavens unto Earth to hunt man with the help of small,living,flying toothy discs that suction to their victims and eat their flesh.The film is loaded with B talent(Martin Landau,Jack Palance,Neville Brand,Cameron Mitchell,Larry Storch,and an early David Caruso appearance) and features creature and make up effects by Greg Cannon.Sound cool?It isn't.The single glaring reason I can drum up on why this film reeks like dog shit,is the all-too familiar director.Greydon Clark,the hack who brought us "Skinheads:Second Coming of Hate" and "Greystoke:The Legend of Tarzan",is the man responsible for this film's total failure.The one sheet for this waste of 89 minutes hung for years in my bedroom,and is probably the only good thing about it.The story,what little there is,goes like this:
You think CSI:Miami's David Caruso(middle)ever mentions this film? Me neither.
A hunter(Cameron Mitchell) takes his liberal namby pamby son out into the wilderness to prove his manhood by shooting wildlife.He never gets the chance to do his old man proud,as he and his father are overtaken by wobbly hairy discs with teeth that fly awkwardly out of the dense underbrush.A troop leader(F Troop's Larry Storch)is lost in the same woods with his scouts,when the same discs wobble out of nowhere and dispatch the man in front of his terrified troop,who run screaming towards the river.A pair of couples(Caruso is one of them)planning a lake date,stop for gas at what seems to be a deserted station,when they are surprised by a kooky old man(Palance) who warns them to steer clear of the lake during "hunting season".They don't.Two get disc-sucked.Two escape.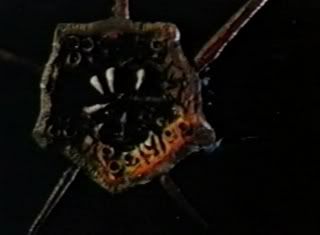 Newsflash!B movie actors terrorized by hairy tentacled flying personal pan pizzas with teeth.Story at eleven.
In the midst of the couple's escape,they stumble upon a shack in the woods,chock full of dead bodies.This is where the alien stores his "kills".They flee to a diner,inhabited by a bonkers Vietnam vet(Landau),Leo(Brand),and Joe Taylor(Palance),among others.The sarge still thinks he's knee deep in rice paddies,but Taylor demands that the terrified couple lead him to the alien's shack.Nothing happens for about forty minutes.The young girl's boyfriend eats it.She comes face to face with the alien,who stalks her back to Palance,who's set up explosives outside the shack.Landau,who shot the sheriff Bob Marley-style during a flashback,confronts the two and accuses them both of being aliens(!)before the real alien covers him with frisbees.Palance runs screaming at the alien,shouting,"ALIEN!ALIEEEEN!ALIIIIEN!"and the girl blows up the shack with the alien and Palance both in the scope of the blast.That's it.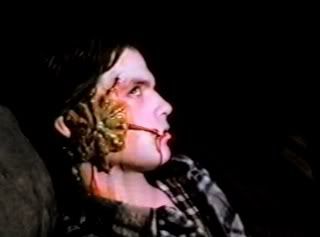 What's that on Christopher S. Nelson's face? An acting-sucker. What's it doing? Starving.
I'm thoroughly convinced that NOTHING Greydon Clark ever directed was any good,this sci fi/horror(?)cheapie being no exception.Clark builds zero tension,paces the film terribly,utilizes piss-poor lighting throughout most of the scenes,wastes a cast of able actors on awful dialogue,scrimps on effects shots,the list of fuck ups here is dismal and long(sort of like this movie).Thankfully unavailable on DVD as of this writing,let's hope it stays buried for another 28 years.Boots are highly sought after,but I can't recommend paying up to thirty dollars for a copy of this to even my worst enemy.Sandy!Push the plunger!ARRRRRRRRRGGGGGGGHHHHH!Yeah.This gets:
Kevin "Predator" Hall earns his paycheck in the last fifteen minutes of the movie.Sort of.