"There's nothing funnier to me than big breasts."-director Frank Tashlin
I'm not all that into blondes,but if I had to pick a favorite,it'd be Jayne Mansfield,hands down.The broad was not only beautiful,but she knew how to party.She even hung out with Anton LaVey and his gaggle of satanic rascals towards the end there.Gotta respect that.This Tashlin vehicle exists to showcase the rock n' roll and r & b acts of the day in glorious colour,and Jayne's massive mammarian mcgillicutties.It succeeds on both levels.If you came here for an intricate storyline or Oscar-worthy performances,you're in the wrong gin joint,Jack.But if you want sweet Jayne at her finest,dressed in skintight outfits,showing off her outrageous 40-17-36 meausurements,exuding sex at every juncture,you've come to the right place.Let's make it,cats!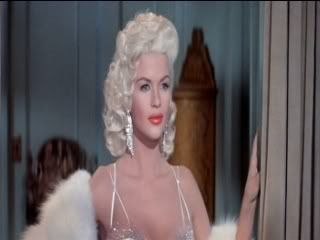 Fuck Marilyn.I'm a Jayne-iac myself.
Fatso Murdock(Edmond O'Brien) is a gangster in the midst of a steady downward slide in reputation.In desperation,he hires an alcoholic music agent(Tom Ewell) to transform his moll Jerri Jordan(Jayne) into a singing star in six short weeks,the catch, being Jerri herself.No man alive can resist her buxom charms,as she melts ice,cracks eye glasses,and causes milk to bubble over merely by strutting down the street.At first she feigns having a voice that resembles a tea kettle's shrieking whistle,but despite that,the agent falls in love with her.By the time Murdock realizes he's lost his girl to the agent,he has a chart topping gimmick single about prison rockpiles and enjoys his newfound teenybopper idol status,allowing Tom and Jerri to further pursue their love together.And there's some boob jokes,too.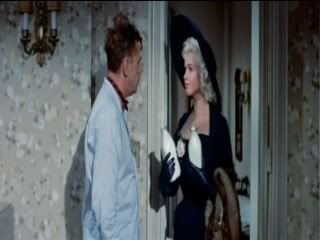 Whatever I say here,it'll be obvious anyway,so I'll leave it out instead.
Performing live in the film,are Little Richard,doing the familiar title track and She's Got It,The Platters doing You'll Never Know,Julie London doing Cry Me A River,Fats Domino doing Blue Monday,Eddie Cochran doing Twenty Flight Rock,and a myriad of others that includes Eddie Fontaine,The Chuckles,Abbey Lincoln,Ray Anthony,The Treniers,and a spirited Gene Vincent and the Blue Caps doing their trademark hit,Be Bop A Lula,the top act showcased in this film, methinks.Jayne actually lends her pipes to the soundtrack,recording the siren screech for "Rock around the Rockpile",obviously a very silly little number in its own right.
Gene Vincent's Be Bop A Lula can't even make powder blue cabbie hats cool.
As airheaded as these gimmick music movies can be,I do enjoy one every once in awhile,especially when an actress of Mansfield's...ahem....stature is on the bill.The wedding dress she wears in the film was loaned to her for her real-life wedding to weightlifter Mickey("Bloody Pit of Horror") Hargitay in 1958.The film's producers wanted the King himself on loan for one tune for the film,but manager Tom Parker wanted too many samoleans for three minutes worth of gyrating pelvis and Billy Idol-lip.Give this one a shot,and you may be pleasantly surprised by what transpires on the small screen.For its energy and eye candy,I'm giving it...
Little Richard being himself on camera.