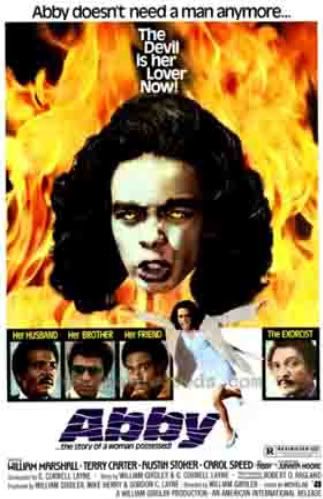 Our main course this evening, a delightfully rotten and rare blaxploitative Exorcist rip-off from the man responsible for
The Manitou(1979)
and
Day of the Animals(1977),
the late William Girdler.Served upon a gilded platter for your unwavering approval then, a golden turd known as Abby, the only Exorcist clone to ever be pulled from the theaters, after AIP maven Sam Arkoff caved to pressure from a Warner Brothers lawsuit, even after a similar suit against Film Ventures' Beyond the Door(1974) proved ineffective.As a result, Abby plummetted from a profitable first theatrical run to an urban legend of sorts, rarely seen but often discussed.Luckily for proponents of such fare, the movie finally turned up as half of a budget double feature dvd with Magdalena(1974), yet
another
Exorcist rip-off, from a company called Music Video Distribution in 2007.Granted, the print stinks, but then that's a vast improvement over the shoddy eye-straining, tenth generation, ghostly VHS-ripped bootlegs that had floated around for ages beforehand.Girdler might have had himself an original horror movie on his hands had he chosen to explore the possibilities of the actual Nigerian Yoruba religion, or its trickster deity, Èsù, but he went for the quick, exploitative buck instead, as was par for the course of his entire filmography.Lovers of inept schlock can rejoice over his hasty decision to copy Friedkin's hit, as his total failure on every level is often unintentionally hilarious stuff, making for a pretty good time for anybody interested in watching it.Like trying to reproduce the ceiling of the Sistine Chapel with a chunk of drywall and a paintball gun...
Who's a black archaeologiss wiff a pith helmet dat juss don' miss?Garnet Williams(William Marshall)!Can you dig it?
We meet Dr. Williams(William Marshall) as he's rappin' with his students in a park about an upcoming trip to Nigeria, and learn through badly delivered dialogue that some of his students have been grooving on the Yoruba religion of that region themselves, recently.To compliment his doctorate
and
his PhD(!), the funky world-travellin' humanitarian/archaeologist receives a going away present from the group:a hulking silver cross necklace that's just outta sight,baby.Cut to a Nigerian cave where Williams-in-pith helmet discovers a hollow ebony vessel decorated with carvings of the deity Eshu, which the doctor recognizes by "hair in the shape of a cock's comb" and the "erect penis"(!!).He unwittingly opens it, unleashing the contents upon he and his hapless colleagues, when a vengeful wind machine throws them around the cave amidst a frame-flash of a nappy headed, green latex grillpiece, all sneering away an' sheeeit.Meanwhile, Dr. Williams' son Emmitt(Terry Carter),a minister,and his wife, Abby(Carol Speed) are moving into their new home, bequeathed to his church, with the help of Mama(Juanita Moore), her brother Cass(Austin Stoker), a detective, and Emmitt's deacon, who's a dead ringer for Urkel from 'Family Matters'.Through lots of God-inspired banter, we learn Abby is a certified marriage counselor, on top of being involved in a youth program, and junior choir work.Hurry up and possess this bitch, Eshu, before I toss my cookies.A cold wind blows through that night, shaking the furniture and slamming doors.The next morning, Abby's shower takes on added sexual dimensions, as we see her shadow enveloped by a massive phantasmal apparition.The entity toys with her in the laundry room, and again while she and her mother prepare some chicken(It's Kentucky, what did you expect?) for a social function at the church.The bloody poultry suddenly turns her on(!!!), and she's soon writhing about, flicking her tongue around and slashing her own arm with the knife.
I'll give you a few moments to fully drink this screenshot in...
Emmitt takes notice of Abby's behavior, when, clad in a towel and trying to initiate some in-out with his spouse, a gruff unfamiliar voice tells him that she isn't his ho, and then she pulverizes his junk with a well-placed kick, bouncing on the bed and laughing as he writhes in pain on the floor.During a pre-marital counselling session, she's overcome again by the demon, tearing open her dress in front of the uninterested-looking couple, and exclaiming, "I'm gonna take ol' long George upstairs and fuck the shit outta him!", and when Emmitt drags her upstairs("My God, Abby! Whatever
possessed
you to do a thing like that?!!?",he says with a straight face), she tosses him on the bed, slapping the piss out of him and laughing maniacally, before raping him off-camera.After Abby is hospitalized for testing(you know, the same ones Linda Blair had to undergo a year earlier), Dr. Williams returns from Nigeria, causing the young woman to break out of the hospital, bitchslapping anyone who gets in her way("I'm goin' home, bitch!" she exclaims, as she throttles a nurse).After throwing Emmitt and his dad into the walls at the homestead, Abby takes her husband's car and drives downtown, looking to score some real action.The minister runs out into the road and carjacks an older white woman(!), which the detective Cass somehow sweeps under the rug.Abby sataically seduces some soulless homeboys at a disco(and a white guy whose A game consists of W.C. Fields impersonations...seriously), as evidenced by Emmitt's car rocking rhythymically with smoke billowing out of the windows when the preacher and cop finally locate her, and Dr. Williams preparing for the inevitable exorcism
right there at the discotheque
(!!).Garnet's giant silver cross causes the woman to flee in slo-mo across the dance floor, dripping white foam, levitating, and sprouting furry eyebrows.Williams notes that she is possessed by a minor deity impersonating Eshu, and throws on a daishiki, mixing christianity with Yoruba to cast out the demon, ultimately causing the disco ball to explode(!!!) as her body is freed and the demon is trapped inside the wooden vessel.Abby and Emmitt embrace, despite the fact she's forgotten to take her possession eyebrows off.We then see the couple leaving on vacation, apparently free of criminal charges for the murders Abby committed earlier in the film(not to mention the priest's carjack).Nice.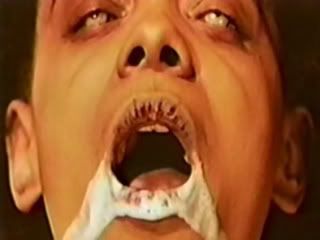 "I'm not your ho! Shit, you ain't got enough to satisfy me!" jeers a possessed Abby(Carol Speed).
Marshall will be best remembered by genre fans for his participation in Blacula(1972)and its sequel, Scream, Blacula, Scream!(1973).Girdler followed this one up with Asylum of Satan(1974),and his second foray into blaxploitation, 'Sheba, Baby'(1975), starring Pam Grier(generally believed to be her worst effort of the era, well done, Billy!).Though Abby only scores one wop on the ratings scale due to its clearly visible ineptitude, it's never boring, and there are a lot of laughs to be had should you choose to check this one out for yourselves.Worth a look.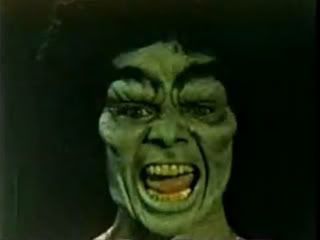 Nigerian sex demon or Lou Ferrigno after a night of base-piping. You decide, baby.