Our feature tonight is an epic documentary concerning everybody's favorite incarcerated-for-keeps nutbag, Charlie Manson, as pieced together by Zeena LaVey's husband and ex-frontman for goth outfit Radio Werewolf, Nikolas Schreck, and once called the best documentary
ever
on the subject by Film Threat magazine.I'm guessing they've never taken a gander at Robert Hendrickson's Manson(1973) in making such a bold claim, but there you go.As it stands, Schreck's film is pretty entertaining; a mixture of interview footage from San Quentin, stills, news footage, and updated treks to several keynote locations in the media-induced Manson legend.In the proper mental state to make heads or tails of the often hilarious proceedings found within yesterday afternoon, me and the Doctor sat down to screen my copy, with much laughter and repeated rewinds to follow.
The thing about Chuck is he's a lot like Kurt Vonnnegut's cuckoo clock in Hell from 'Mother Night'.He'll make perfectly logical sense for eight minutes and twenty-three seconds, then jump sanity barriers two seconds, then make sense for two hours and one second, before jumping sanity again for two years.Frustrating to follow, but a riot to look at once in a while.And in Superstar, he dusts off his crazy hat and wears it from start to finish.
Uncle Charlie, still trippin' face twenty years later.
The scraggly old acid-soaked beatnik with beard and fingernails by Howard Hughes is released from his shackles and interviewed by Nick Bougas, a true crime nut and longtime friend of Manson's and the man ultimately responsible for such shockumentary classics as the Death Scenes series, Murderers, Mobsters, and Madmen Vol.1-2, and even Sinatra: An Unauthorized Biography of the Legend.Bougas stays off-camera for the most part, asking questions that vault Manson off into lengthy harangues about his own innocence, A.T.W.A.(Air, Trees, Water, Animals), the
environmental
group he was immersed in at the time with Lynette Fromme and Sandra Good(aka/ "Red" and "Blue"), Jesus Christ, Satan, Adolf Hitler, the flawed justice system, and even his jailed co-conspiritors.For every thoughtful insight he makes on any subject(and he makes a few, believe it or not), he often drifts quickly into lysergic-born psychobabble and frenetic, flailing arm gestures and funny faces, taking the piss out of his own arguments before any viewer ever could.Director Schreck intersperses grainy news clips and poor quality video footage whenever Manson slips too far from the real world, with varying success.The Spahn Ranch is shown to have disappeared completely due to fire, with only a few rusty automobile remnants marking the site.The video camera also travels into the desert where Manson and company once retreated from society, stripping cars into gun mounted dune buggies, as evidenced by junked vehicles with chipping psychedelic paint still baking in the sun and full gas cans still camoflaged in the rocks.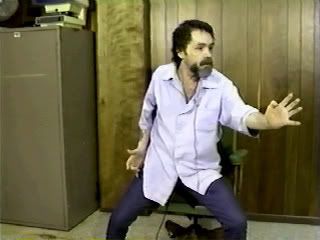 "Haaaaaaaannnnnnh!" Charlie demonstrates some Manson Fu for the cameras.
Schreck also documents remote desert cabins the 'family' once occupied, with Charlie's John Hancock spraypainted and dated in the wooden door.Manson's ties to the Satanic Church, Straight Satans motorcycle club, and the neo-nazi Universal Order are discussed, with vague coincidences played up for the camera.Mansonite Susan Atkins is shown to have participated in Anton LaVey's stage show as a nude vampire in a coffin before joining Manson, and Manson's ties with Beach Boy Dennis Wilson are also touched upon(The Beach Boys even recorded Charlie's "Cease to Exist" as "Never Learn Not to Love" on their 20/20 album), though Manson's introduction to record producer Terry Melcher, who lived at Cielo Drive in the home later owned by Sharon Tate is not, for some unknown reason.Schreck also seems content to paint Manson as a misunderstood visionary villified by the media,and though that is certainly arguable to a degree, I think Charlie is neither a wronged prophet nor a devil with supernatural powers to ensnare innocents looking for direction in life.He's more like a career petty criminal who was unfortunately released into an age where free love and gurus were commonplace, and perhaps took the hippie decadence a little
too
far on a few tragic occasions(Hinman, Tate, LaBianca,et al).Interestingly enough, while Schreck is
wrongly
giving credit to Manson for the rise of the skinhead cult(which predates any Manson and co. head-shaving hijinks, btw), a crowd shot flashes across the screen with what looks to be none other than
Chubby Chris, ex-frontman of British Oi band Combat 84
, sieg heiling while wearing the obligatory White Power fist t shirt.Sorry, to any "Spirit of 69'ers" who might take offense to that, but it is what it is.
If I had a dollar for every time Charlie says,"Ya dig what I'm sayin'?", I'd build 'The Charles Mansion' for myself.
The soundtrack features some interesting music from jailed Mansonite, Bobby Beausoleil, from a soundtrack he'd done for filmmaker Kenneth Anger's "Lucifer Rising", as well as excerpts from Anton LaVey's "Satanic Mass", Polish composer Krzysztof Penderecki's "Apocalypsis", and some of Manson's own compositions off of the "Lie" and "Completion" albums, although the music often drowns out the softspoken Schreck's narrative a little too often for my liking.Whether you're curious as to where this wacky cat is comin' from, dig? or you just groove on his mile-a-minute insanity, Superstar delivers a seldom-seen insight into a man who's spent most of his life behind bars and never quite got getting along with others right, leading him to his current housing at Corcoran State Prison; in his 64th year in the prison system.Four wops and the highest recommendation.Snag a copy!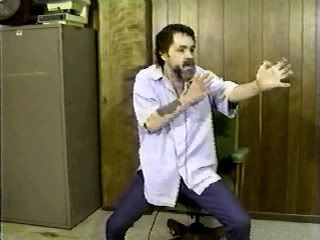 "...You might say I'm kinda like Satan."