Aja, Aja, Aja.To avoid stupefaction on the subject, we won't be touching on
this Aja
tonight(Troll 2 or two trolls,you decide), or
this Aja
(I wouldn't rule out future entries though), but
this one
, and his breakthrough film, a controversial return to the blood-spattered gory/glory days of the eighties slasher movie, and an unauthorized re-envisioning of Dean Koontz' novel, Intensity.I've been wanting to review this one for ages.Better late than never, as I, a terminal procrastinator, always say.Out of the four horror projects he's taken the director's chair on thus far, this one is far and away my favorite.I'm aware I've previously mentioned Alexandre in a list of directors to watch, and that he's gone ahead and made remakes since, effectively making me look like a big fat liar, but I
still
think he might have what it takes to be one of the next generation of greats, with a little
more
effort, of course.Il est temps d'être sérieux déjà, Alexandre!
Cécile de France sort of comes off as and strongly resembles a French Ellen Degeneres for the most part as Marie, while Maïwenn Le Besco appropriately conveys being fully terrified and terrorized with great aplomb as Alex.Phillippe Nahon, on the other hand, is unforgettably diabolical as the grimy killer, whose on-screen handiwork is deftly handled by the Italian gore maestro, Gianetto De Rossi, who blows NC-17 level chunks of gore skyward here with masterful precision, as is usually the case.On a good day, few could match him, and he may have outdone his own best on tonight's movie, released a year later as "Switchblade Romance" in the U.K., and two years later in the U.S. and Canada as "High Tension".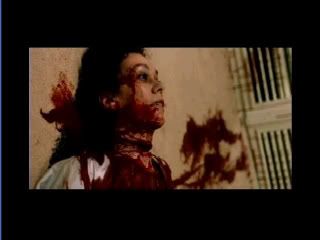 All kashrut and halal dietary laws were observed in this exsanguination.
Marie and Alex(Cécile de France, Maïwenn Le Besco) drive to Alex's parents' house for the weekend.After the obligatory boring tour of the country estate and equally unmoving dinner, the girls hit their respective sacks, with Marie doing some mouse double-clicking in bed to strains of reggae on her headphones while Alex saws logs.The doorbell ominously rings(those middle-of-the-night doorbells are
never
any good,as history shows us), interrupting both Marie's masturbatory exercise and Alex's father's sleep as well.He answers the door to find out that it's only the friendly neighborhood homicidal maniac(Philippe Nahon), eager to do some spirited candle-snuffing and kidnapping.After slashing the man with a straight razor and wedging his head between two staircase railing posts, he uses a bookcase as a makeshift guillotine, severing his head with a well-placed shove.10.0, 9.9, 10.0, say the judges.Marie, hearing Alex's mother's screaming discovery of her husband's displaced domepiece, frantically rearranges the guest room she's been in and crawls under the bed, to give the murderer the notion that no one's been staying there when he inspects it for new vics.Once the coast is clear, she clambers downstairs to Alex's room to find her chained there(this guy works fast,huh).While looking for a phone in Alex's parents room, Marie is forced to hide in a closet with a slatted door, through which she watches as the fiend cuts Alex's mother's throat(air cut? blood cut?I think he covers both with one good slash) before her very eyes.The girl's younger brother makes a break for a nearby cornfield, but the killer foils his escape plans with a shotgun blast.Alex gets herself dragged into the pyscho's truck, but Marie manages to sneak in with a butcher knife before they're both locked in and he drives off.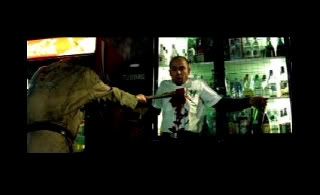 You've got a bit of red on you, matey.
The maniac stops at a gas station as Marie hands the shiv to Alex before sneaking inside to get help.Hiding in an aisle, she witnesses the night clerk as he's midsection-hacked with an axe by the burly killer, who returns to the truck and drives off, with Marie taking the dead worker's car keys and follows after, down a desolate road.After driving her car off the road and chasing her, badly injured from the wreck, on foot into the forest, the killer finds himself on the wrong end of a fence post wrapped in barbed wire, but when Marie inspects his motionless body, he springs at her throat.She manages to wrap his barbed wire beaten-grill in a plastic sheet, finally suffocating the bejeezus out of the sick bastard.After returning to his truck, she notices that Alex seems to be less than pleased to see her, perhaps a tad bit terrifed even.The police finally arrive at the gas station, investigating what the tape of the in-store camera, which clearly shows...you ready for it?
Marie
planting the chopper in the clerk's chest.Wait...whaaaa?We're then treated with how Alex's family really met their untimely late night demise(Marie again).Seems there never was any hulking,smelly pyschopath on the loose afterall, except inside Marie's twisted grey matter.Alex asks the pyschiatric hospital orderlies if the two way glass will hide her visit from the lovesick sappho-schizo, and when a sutured up Marie turns and reaches towards the mirror, well, she has her answer,doesn't she?
Ever wonder what the marriage between a concrete saw and a man's torso would look like? Fret not, Gianetto's got you covered.
The cop out twist ending, a half-hearted, illogical break from Koontz's plot if you ask me, really busts up an hour plus of well-crafted tension and suspense.Luckily for Haute, I really like the rest of the movie enough to look past it, as weak as it is.Cécile de France followed this role up with one in the Around the World in 80 Days(2004) remake beside Jackie Chan(I'd rather not voice an opinion on anything he's done post-Rumble in the Bronx, if you don't mind).Maïwenn worked with director Luc Besson in the nineties on Leon:The Professional and The Fifth Element.The 72 year old Nahon's cinematic resume'(which begins in 1962) is much more genre-friendly than the two female stars, having appeared in French fare like the bizarre Calvaire, Gaspar Noe's Irréversible, and The Pack recently.Director Aja has several projects in the works, including a big screen adaption of a Japanese manga, Space Adventure Cobra.Not
my
bag, man.Tension gets three big ones on the scale.
Dory's short-term memory loss and constant swimming lands her a place in the fishbowl for mentals.