This was an extremely hard movie for me to come by for years, having only the excellent one sheet and trailer as a gauge of its immense genre possibilities.With Ivan Reitman, whose late seventies/early eighties comedy output was second to none, at the helm, and with Eugene Levy, who I grew up laughing at on SCTV on a regular basis, and Andrea Martin, who's strangely dreamy and sexy here(it must be because she's in a horror-comedy)in the cast, how could it fail?I wouldn't know for sure until a bootleg VHS landed in my lap years later; only then did I know the disappointing truth.This was Reitman's second full length feature(he wouldn't take the chair again until his 1979 hit, Meatballs with Bill Murray), made painfully apparent by his choppy editing, pedestrian camerawork, and crypto-script(did one even exist?).Reitman plays the whole thing for laughs rather than screams, and achieves neither for the most part.The majority of gags within range from snickeringly silly to embarrassingly stupid, and Levy and Martin hadn't quite put it together themselves either, though Levy's wardrobe and hairstyle merit an honorable mention at the very least on the All-time Most Outrageous in Film category.There's some fairly satisfying exploitative-level splatter, though it comes with little suspense to compliment it.If the poverty cheese block budget didn't glare through in certain sequences along the way(along with an extremely photogenic boom mic), well, that might have helped a little, too.Blame Canada, I guess.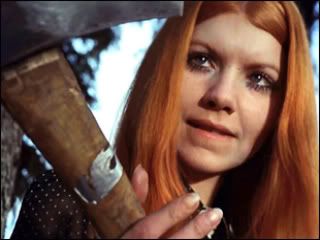 Hey Match-head, I hear if I pass three of you in the street in Poland, I'll win the state lottery...
A couple spreads out their best make out blanket on a comfy snowbank for to lie down n' make out upon.Only in Canada.A skirt-wearing ginger with a pickaxe moseys outta the woods and bloodily nullifies both of them.The local sheriff, who sounds more than a little like Flatface Frog from the Courageous Cat cartoons(or Edward G. Robinson, for you purists), acknowledges the latest deaths with a familiar apathy.Meanwhile, new couple, Cliff and Gloria(Eugene Levy, Andrea Martin), have an initial weekend of sin in the blustery snow-covered outskirts of nowhere planned, until the car breaks down outside of Farnhamville amidst some forced attempts at humor(Gloria hits the horn instead of turning over the engine, Cliff hits his head on the hood, you know the type).At a nearby motel, the antediluvian proprietor acquaints the young would-be lovers with the local mythos concerning three young girls who lived on the outskirts of town with their mute hunchback, and their unorthodox eating habits.After picking up wayward travellers at the tavern with the promise of good eats and fleshy treats, the girls, cannibals all, would slay the men and procure their meat, as we're about to see in a plebeian flashback involving three stereotypical meals:a parade organizer, a dork in horn-rimmed glasses, and an ice cream man(!).The first gets a good,sharp pair of scissors introduced to his neck, the second gets axed by a titular cannibal girl stripped down to her unmentionables, and the third, handcuffed to a bed and believing he's about to experience some memoir-quality group sex, gets special sauce administered to his body via gravy boat and is eaten alive, screaming, by all three girls like hogs at a trough/hogs at Old Country Buffet(take your pick).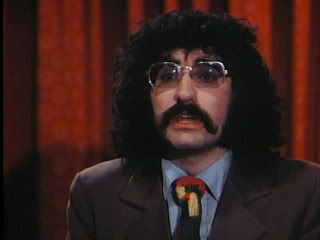 Was the Gene Shalit look really popular in Canada in the early 70's?
Of course, the house still stands, and wouldn't you know it, serves as the town's only
gourmet restaurant
these days.You can't really blame Cliff and Gloria for wanting to check it out and groove off the anthropophagical vibes there.No, really, yeah you can.At the restaurant, we're introduced to Reverend St. John(Ronald Ulrich), a hippie decked out in a top hat and tails and red satin-lined cape with the subtlety of a Boris Karloff impersonator, who treats the guests to the house specialty(the
only
menu item,btw)as served by three young ladies(You know, I've got a hunch that those are probably the cannibal girls themselves...) and invites them to stay the evening.He shows them their room where the previous occupant, Aunt Priscilla, died("...poor thing, burned at the stake.Oh well.") then bids them a good night, and his Aunt Priscilla, too.It turns out that St. John is a practitioner of the black arts, who indoctrinated his stable of titular meat eating bitches(and eventually the whole town) into occultish ways, using the consumption of human flesh to obtain magical powers and immortality.Unsuspecting male tourists end up on the menu, while females who are easy on the eyes are given the opportunity to buy into the unholy meat-masticating circle.As you may have guessed(in like fifteen seconds or so), the reverend has ulterior plans for Cliff and Gloria.Will Gloria end up as a main course or as the newest member of St. John's oft nude harem?Will somebody explain how thunderstorms occur in the middle of winter?Could you possibly endure another sexual allusion about meat?All these questions will be answered when you screen "Cannibal Girls" for yourselves.
After a talk from Mr. Furley, Janet and Chrissy reduce their rent by a third.
A warning bell(more like a car horn in my estimation) sounded in the theaters just before a scene of eroticism or terror would begin; the gimmick has been restored to the print in the dvd release, though paying more than the price of a pack of smokes for it would just be dumb.Even dumber than the movie itself.Reitman, whose only other genre credits would comes as producer of both Ilsa the Tigress of Siberia(1977) and Death Weekend(1976), went on to enormous success directing comedy classics like Meatballs(1979), Stripes(1981), Ghost Busters(1984), and even Kindergarten Cop(1990).Andrea Martin would follow up her appearance here with a role in Bob Clark's slasher opus, Black Christmas, the following year, before going on to enjoy a rich career of comedic roles in television and movies,as did her co-star, Eugene Levy.This is simply a movie whose potential was never reached due to time and budgetary restrictions, and with the right director, could be re-envisioned to much greater success.A nominal cult classic worth a look for Reitman completists and 70's exploitation nostalgists only, anything more might leave the viewer with some serious indigestion.Two wops.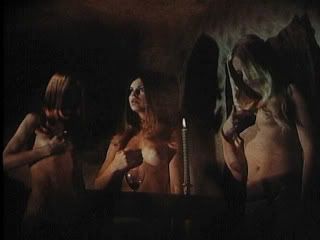 Whoever said "Good things come in threes" forgot about the other three good things on display here.