Tonight we look at an indie horror flick made in Rochester, NY by then 26 year old writer/director Frank LaLoggia, who also financed and found distribution for the film on his own, shooting in and around the ruins of Boldt Castle on the St. Lawrence River with a cast comprised mostly of unknowns and local amateurs.Originally titled Lucifer, this was his first full-length effort, after completing three short films while in his teens, and it is an ambitious one, to say the least.The scenic locations allow for some atmospheric cinematography, with at least one dolly that'd do Orson Wells proud.The soundtrack contains essential punk and new wave tracks by The Sex Pistols, The Ramones, The Boomtown Rats, Talking Heads, Richard Hell, and Patti Smith, while the original score, also written in part by LaLoggia, wouldn't sound out of place in an ABC Afterschool Special.The script is peppered with some appropriately long-winded pietistic dialogue(some more professionally trained actors might have handled it better) , I'm just thinking the movie's vision of the dark lord and master falls a little short of what most people would imagine an all-powerful evil entity would look like.A sissified, gangly Satan with mouse shoulders?C'monnn.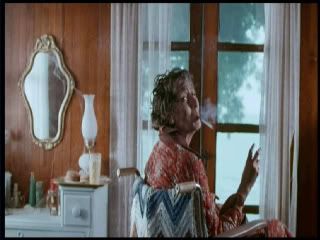 Mrs. Williams(Alice Sachs) enjoying the fringe benefits of being Satan's mom.
After a pre-credit battle between Father Damon(who's really archangel Rafael in human form)and Lucifer, where Ol' Scratch gets mounted to a tree by a holy staff, we see the reincarnation of the horned one in the Williams' baby boy, Andrew.When his parents try to baptise him, he makes everyone in the church spout blood.Fast forward eighteen years.Andrew(Stefan Arngrim) is now an effeminate high school senior, a straight A student, and, of course, Lucifer himself.His mother makes him a birthday cake that accidentally hits the floor, spurring on some mutual domestic abuse between his parents that climaxes with his mother braining herself with the iron, leaving her a mute, chainsmoking, invalid covered in cobwebs.At school(which looks like a factory from the outside) he takes classes with a gaggle of twenty-something jocks who listen to punk on the "two hundred dollar sound system" in the convertible of apex meathead, Tony(Daniel Eden), a poor man's caricature of John Travolta, who smokes pot in the parking lot, slaps his satin jacket-wearing girlfriend a lot, and torments Andrew.At one point he decides to make out with him while they're both naked in the showers, not standard bully protocol by anybody's standards(Hey! Look at that faggot!I'm gonna
kiss
him while we're both naked and wet!).With Tony preoccupied with all the explaining he's gotta do to his buddies, Andrew does things like appear in Julie's(Kathleen Rowe McAllen) dreams and put scratches on her back.The next day in gym class(where severely retarded kids take gym with the regular students),Julie's beau is murdered against the bleachers with a Devil-driven dodgeball(!!) when Andrew gets pissed off over doing pushups.Not a typo.
" 'My Son's the Devil' ain't on this jukebox?!! I gotta hear that song, dammit!!"
Elsewhere, an elderly lady named Margaret(Elizabeth Hoffman), who happens to be the archangel Mikhail, who's spent most of her time trying to get the reluctant local clergyman to take her back, searches for Gabriel in human form.Meanwhile, Andrew seems to be coming to grips with his true identity, drinking chalicefuls of dog blood and raising small armies of zombies from their unmarked graves just outside the castle, and getting acceptance letters from Yale and Harvard.If that's all it takes to get into an Ivy League school these days...The priest with the laissez-faire approach to defeating evil is putting on his annual passion play in view of the castle ruins, leading Andy(who's now draped himself in a sheer black Satanic moo moo) to cause the actor portraying JC on the crucifix to experience real stigmata, and several of those in attendance to suddenly bleed from the scalp and/or be struck by lightning.While most of the local populace runs for the hills, screaming and doused in red stuff, Tony and his battered squeeze decide to take a group of their friends by boat to Boldt Castle to party, where they're set upon by zombies and an unappreciative Tony grows a decent set of golden bozos(!!!) and stabs himself to death.Margaret and Julie arrive on the island with the holy staff Damon used to skewer Lucifer in the opening, and chase Andrew all over the castle, until they end up in the exact same place that the dark lord bought it some ninety minutes earlier.Instead of shafting him outright, Margaret forces Andrew to recite the Lord's Prayer which buys her a snapped neck.The spirits of Raphael and Mikhail unite to give Gabriel the power necessary to shower Lucifer with some beautiful animated beams until a flash of lightning explodes Andrew and his castle in a flurry of colors.Somehow,I think
this
devil probably would have wanted it this way...
Tony(Daniel Eden) grows a pair of B cup bobblers.Oh, that Satan!
After this feature, LaLoggia helmed Lady in White(1988) and Mother(1996).Arngrim went on to appear in the cult hit, Class of 1984, and in just about every television series you could possibly imagine, from TJ Hooker and Millenium to Battlestar Galactica and V, as well as a turn as one of Cap'n Blake's men in the craptastic Fog remake.Hoffman also did an assload of tv, and appeared in the direct-to-video Silent Night, Deadly Night III:You Better Watch Out!.Rowe McAllen found work in soap operas like As The World Turns and All My Children.Overall, this one's got nearly as much originality as it does fog machines, and makes for a decent viewing or two.I'm a little disappointed LaLoggia didn't make more movies over the years, he seems to have had a pretty unique vision.On the scale it merits two biggies.Worth a look.
This Lucifer(Stefan Arngrim)just wants to take you fabric shopping.He's more like Bruce-ifer.