Tonight's entry, also known as "Rosemary's Killer", is an early eighties slasher helmed by Joe
"Friday the 13th:The Final Chapter"
Zito;a long-time favorite for many whose ultra-realistic gore effects by FX maestro Tom Savini(some of his best and most brutal work ever)are the real draw for any self-respecting genrephiles out there.I should probably state for the record here that this one
isn't
one of my favorites of the slasher sub-genre.For me, the humdrum, cookie cutter plot drags along behind like a bum leg for the most part, and any alleged suspense mentioned in passing discussion of the film eludes me completely.Without Savini's trademark flair for explicitly gruesome death, Prowler would find itself rubbing shoulders with flaccid fare like
Final Exam(1980)
in the slice and dice sweepstakes of the time period.From 1978 until around 1985, Savini was the unchallenged grandmaster of gore, and his unparallelled and inventive on-screen snuffs here only solidify that status.The cast includes Farley Granger of "Strangers on a Train" fame, as well as legendary silver screen tough guy, Lawrence Tierney, but few others worth mentioning.Some tension and pacing to pair up with the atmospheric setting and moody score by Richard(Dont Go in the House) Einhorn might have vaulted Prowler into the upper eschelon of splatter movies, instead of the plebeian standing it ended up with.Onwards.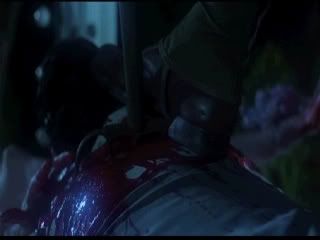 Ya fork around, ya get pitched.
Grainy newsreels show the 1945 return of allied troops from Europe, one of which is a jilted sumbitch who receives a "Dear John" letter from his sweetheart, Rosemary, who's given up on her soldier boy in favor of a more readily available lover close to home.The GI serves up broken-hearted vengeance to his ex and her new beau at a graduation dance in Avalon Bay with the help of a trusty pitchfork, leaving a single long-stemmed red rose in her blood-stained hand.Thirty-five years later, Major Chatham(Lawrence Tierney) has ensured that the town has remained grad dance-free since the tragic night his daughter's life was lost.Thanks to current high school graduate, Pam MacDonald(Vicky Dawson), the superstitious streak is about to be broken, as she relates her plans to the local sheriff(Farley Granger).He warns her that someone has committed a robbery and slain a young man in nearby Columbus, and that he fears the killer plans to return to Avalon because of the dance.Then he leaves town to go fishing.
Huh?
Pam expresses concern about the homicidal possibilities first to Mark(Christopher Goutman), the deputy left in charge, then to her abhorrent girlfriends, Sherry and Lisa.Equally concerned, Lisa flashes her worried bobblers at the wheelchair-bound major in the house transverse to them.Meanwhile, someone gears up in his combat uniform, complete with shotgun, bowie knife, and shotgun.Hmmm, I'll betcha those'll come into play later on...While Sherry showers, her boyfriend Carl unexpectedly makes an early appearance, expecting some pre-dance aqua sex, but as he undresses in the dark bedroom, he's grabbed from behind by someone who plummets a bayonnet into the top of his skull with such force, his eyes go white.
Accupuncture.The prowler(Peter Giuliano) is doing it wrong.
Suddsy Sherry is surprised not by Carl, but the fatigue-garbed killer, who shanks her labonza with a pitchfork, leaving a red rose on her lifeless form.At the dance, Lisa drunkenly cats around with Pam's date, culminating in a clumsy spill on her dress that Pam returns to the dorm to change out of, failing to notice the two corpses in the bathtub.She catches an unnerving glimpse of what looks like a soldier, and is grabbed by Major Chatham during her escape, but she breaks free to find the deputy.Mark investigates the dorm, finding only wheelchair tracks(how about those bodies upstairs?).He reunites with Pam, and the two investigate Chatham's place, finding an old scrapbook revealing Rosemary was the major's daughter killed thirty-five years earlier.They return to the ill-fated dance, warning teacher/chaperone Miss Allison of the lurking prowler, and she advises the boogieing students to hold off on splitting until the perpetrator has been arrested.Lisa, who's decided upon a late night swim, gets kicked in the grill and eats bayonnet-throat-death for her troubles.When Miss Allison looks for her, she gets bayonnet-necked herself.Mark and Pam receive news that a grave at the local cemetery has been desecrated, but when they arrive, it's Rosemary Chatham's grave that's been excavated, and a very dead Lisa has replaced her in the coffin.At the Chatham house, the deputy gets kayed the eff out, leaving Pam to square off against the killer.After a tension-free hide and seek, we discover that the sheriff is the killer, who Pam dispatches with a nuff-gooey shotgun blast to the chin.The next day, she returns to the dorm and stumbles upon Sherry and Carl's bodies in the tub(somebody finally found these dead rascals) and imagines Carl coming to life to reach out for her.Yeah, boo.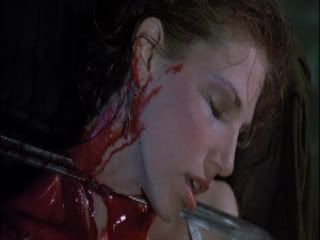 The killer gloats as he aerates her throat and that's all she wrote.
The uncanny resemblance of tonight's entry to Mihalka's
My Bloody Valentine(1981)
is only reinforced by the mere months between both films' theatrical releases.Of course, Valentine is a superior film and a much better ninety minute investment, but that's a no-brainer.I'd only recommend tonight's review to slasher completists and hardcore Savinisti out there.Worth a look, but keep a ready finger on the FFWD button on your collective remotes.Two wops.
Nobody exploded a prop head like Tom Savini in the eighties.Nobody.